Comedian Emerges as Leading Candidate to Win Ukrainian Presidency
(Bloomberg) -- Chatter about Ukraine's presidential election next month has often focused on whether the incumbent can beat back the charge of Orange Revolution heroine Yulia Tymoshenko. But the latest polls suggest they could both miss out.
Three surveys in the space of a week put Volodymyr Zelenski, the country's most-watched comedian, in the lead. Tymoshenko, a former prime minister, is second and President Petro Poroshenko is third.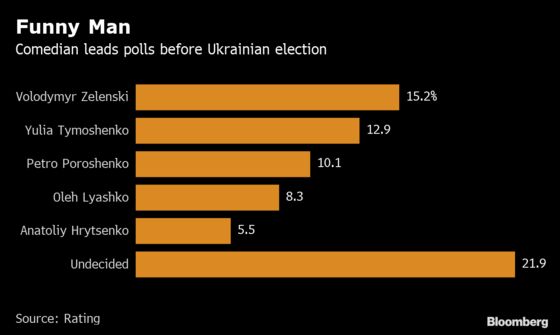 Zelenski is targeting the anti-establishment vote in the mold of populists who've popped up elsewhere in Europe and beyond. Appetite among citizens is strong. Five years after Ukraine's second pro-European revolution in a decade, corruption remains rife, economic growth is muted and a war with Kremlin-backed fighters drags on.
Zelenski, 41, is famous for a TV show called Servant of People, where he plays a teacher who accidentally gets elected as president. A third season is planned for March, when campaigning will be at its peak. He's already demonstrated his talent for harnessing publicity, unveiling his official candidacy on TV at midnight on Jan. 1, to coincide with the president's New Year's address.
But there remains a large swathe of undecided voters and his success is far from assured. The latest odds from bookmaker Bwin still point to a victory for Poroshenko.