Colombian Leader Says He Hopes Ratings Agencies Like His Work
(Bloomberg) -- Colombia's President Ivan Duque called on rating agencies to recognize the efforts of his new administration to cut the fiscal deficit and boost growth. So far, the voters haven't.
Speaking at the World Economic Forum in Davos, Duque touted development opportunities in Colombia's airports, highways and ports, and said the nation enjoys strong fundamentals, including a narrowing fiscal deficit and slowing inflation.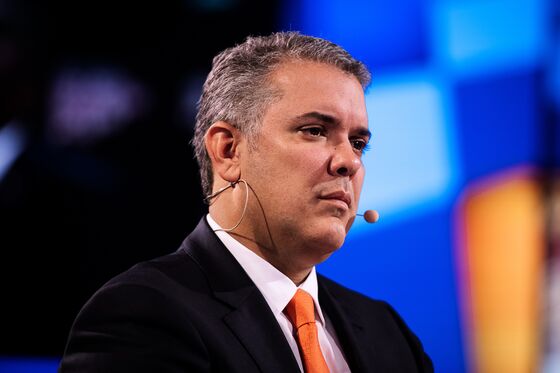 "We hope that the rating agencies value all the efforts that we've been taking in order to strengthen the economy and achieve high levels of growth," Duque said in interview in the Swiss resort.
Duque's attempts to raise taxes on individuals while cutting them on corporations caused a slump in his approval ratings at the end of last year. Moreover, the tax bill he eventually managed to get through congress raised only half of the revenue the government wanted, leading analysts from Credit Suisse and Nomura to warn that the nation risks a credit rating downgrade.
Colombia's peso rate has weakened 8 percent since Duque took office last August. At its current level it is helping to boost exports, he said.
Duque said he understood these concerns and the government is taking the right decisions on that front. The tax cuts on company profits will help boost growth, while the upcoming national development plan will comply with the "fiscal rule," which limits how much the government can borrow, he said.
The country returned to the global bond market Wednesday, selling more of its dollar bond due 2029, and will also offer debt due 2049, according to regulatory filings. S&P Global Ratings rates Colombia one notch above junk, while Moody's Investors Service and Fitch Ratings rate the nation two notches above.