Colombia VAT Plans May End Duque's Honeymoon Period 
(Bloomberg) -- Colombia's plan to tax to some staples may crimp the sluggish recovery, stoke inflation and end recently elected President Ivan Duque's honeymoon, analysts said.
The core revenue-raising measure of the government's financing plan that's expected to be introduced Wednesday involves charging value added tax on some goods that are now exempt, according to a Finance Ministry presentation seen by Bloomberg.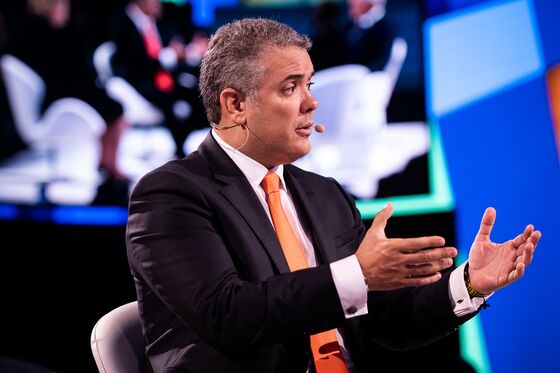 This implies a "significant hit" to household incomes, according to Jorge Restrepo, an economics professor at Bogota's Javeriana University. "The middle classes and lower-middle classes are the ones who are hit the most."
Duque's government, which took office in August, is trying to bolster revenue to preserve Colombia's investment grade credit rating. S&P Global Ratings last year cut Colombia to one level above junk, while Moody's Investors Service and Fitch Ratings rate Colombia two notches above.
The plan also contemplates a reduction in the headline rate of VAT to 18 percent next year, and to 17 percent in 2021. Since utilities, medicine, health care, education and transport will all remain exempt, VAT will need to be extended to basic foodstuffs in order to raise the planned 1.1 percent of gross domestic product, Restrepo said.
The bill contemplates rebates for the poorest Colombians, but lower middle-class families still spend a large portion of household income on food, and will see their spending power curtailed, according to Restrepo.
The VAT extension will also likely ratchet up political pressure on Duque's government to deliver a large increase in the minimum wage next year. Talks between the government and unions get underway in December.
Sergio Olarte, an analyst at BTG Pactual's Colombia unit, estimates that the VAT changes and minimum wage hike could lift annual inflation by as much as half a percentage point next year. Juan David Ballen, head analyst at Casa de Bolsa brokerage in Bogota, said the mere anticipation of the VAT increase may be what caused consumer confidence to fall unexpectedly last month.
Colombia's consumer confidence sank to a record low in January last year, after the government of President Juan Manuel Santos raised VAT to 19 percent from 16 percent. The economy grew at its slowest pace since the global financial crisis during the rest of 2017.
"For lower-income people, the VAT increase will be compensated by transfers from the government," said Banco Davivienda senior economist Andres Langebaek. "But the impact on the middle class could be important and could hamper growth."
Under the proposals, the tax burden on companies would gradually fall. The bill also contemplates an increase in income tax for wealthy Colombians, and the reintroduction of a wealth tax on individuals with assets that exceed 3 billion pesos ($935,000).
Attempting to get these unpopular measures through Congress will be "the real test of Duque," Restrepo said.