Colombian Anti-Police Riots Spread in Second Night of Chaos
(Bloomberg) -- Violent protests against police brutality that started in Bogota spread across Colombia on Thursday in a second night of chaos.
At least ten civilians have been killed in and around the capital since Wednesday when video emerged of police repeatedly tasing a man, Javier Ordonez, who begged for mercy. The man was later taken to a police station where officers beat him to death, according to the Mayor's office.
On Thursday more buses were set on fire, and stores were looted. Local media reported that rioters hijacked a city bus and ran over a woman, killing her. More protests are planned for Friday.
Since Wednesday, more than sixty police stations have been attacked in and around Bogota and, in many cases, torched. The Mayor of Bogota, Claudia Lopez, said police had openly defied her instructions not to use firearms against protesters.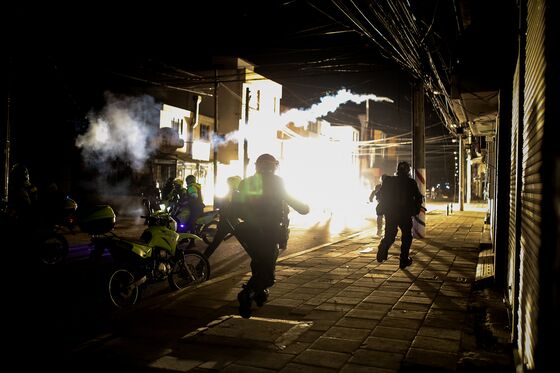 There were also clashes in other towns across the country, from the Venezuelan border, to the western coffee-growing region, to the Caribbean coast. So far, at least 209 civilians and 194 police officers have been injured nationwide over the last two days, according to the Defense Ministry.
The protests come as restrictions to curb the pandemic were eased this month. President Ivan Duque urged citizens to avoid mass gatherings which could risk increasing the number of infections. Colombia has had 700,000 confirmed cases of the diseases, making it the sixth-worst affected country globally.
Defense Minister Carlos Trujillo said Friday that authorities will investigate the police officers involved in Ordonez's death, for murder. Another five officers were suspended over the killing, after two were suspended on Thursday.
Lopez, who is left-leaning, has slammed the police for the "absolutely indiscriminate and disproportionate use of force" while Duque, a conservative, has called for Colombians not to stigmatize law enforcement officers.
The clip of Ordonez being killed reminded many of the death of George Floyd during an arrest in Minneapolis in May, which began months of protests across the U.S.
Anti-government demonstrations last November gained steam and continued for weeks after a teenager in Bogota was killed at the hands of anti-riot police.
After rising to above 60% in May, Duque's approval rating slipped to 54% in a September poll carried out by Centro Nacional de Consultoria. The recent demonstrations will likely further undermine Duque's approval ratings, said Maria Luisa Puig, an analyst at Eurasia Group.