Senate Opposition Grows to Biden Budget Pick Neera Tanden
(Bloomberg) -- Neera Tanden's nomination to lead the White House budget office is all but dead in the closely divided Senate, after two Republican moderates declared Monday they wouldn't support her.
Senators Susan Collins of Maine and Mitt Romney of Utah dealt Tanden's chances of confirmation mortal blows when they announced they would vote against President Joe Biden's nominee. Tanden's nomination was imperiled last week when Democratic Senator Joe Manchin of West Virginia said he would not vote to confirm her.
All three of the senators criticized Tanden's temperament, saying her past habit of attacking Republicans on Twitter -- including Collins, whom she once called "the worst" -- left her unsuited for the budget job. Collins also criticized Tanden for deleting more than 1,000 tweets before her nomination, saying it suggested she wouldn't be transparent in office.
Romney's office said in a statement that "he believes it's hard to return to comity and respect with a nominee who has issued a thousand mean tweets."
Asked at a briefing whether the White House still saw a way to win 51 Senate votes for Tanden, Press Secretary Jen Psaki said "we do."
"She needs the majority of votes to get through and be confirmed as the OMB direction; that's what we're working toward," she said.
Democrats hold a narrow majority in the 50-50 Senate because Vice President Kamala Harris can break a tie. Tanden's nomination would fail if all Republicans join Manchin in voting against her. Without Collins and Romney, it's unclear whether any Republican would support her.
Senate Democratic Whip Dick Durbin said he did not know if any Republicans would do that, but acknowledged "we need to pick up support on the other side."
"Put a gun to my head, I couldn't answer the question because I don't have the information," Durbin said Monday on CNN.
Even with the new GOP opposition, the White House said it would stand behind Tanden's nomination to lead the Office of Management and Budget.
Psaki called Tanden "an accomplished policy expert who would be an excellent budget director" in a statement earlier and said "we look forward to the committee votes this week and to continuing to work toward her confirmation through engagement with both parties."
Psaki's statement was similar to the message the White House sent after Manchin announced last week that the would vote against Tanden. Collins, like Manchin, cited Tanden's past comments on social media in her statement announcing her opposition.
"Congress has to be able to trust the OMB director to make countless decisions in an impartial manner, carrying out the letter of the law and congressional intent," Collins said in a Monday morning statement. "Neera Tanden has neither the experience nor the temperament to lead this critical agency."
Liberal groups and activists had been supportive of Tanden's appointment to the OMB, especially after she had hired a raft of left-leaning economists and policy experts in recent weeks to staff the highest ranks of the agency.
But after key Senate opposition to the nomination emerged, progressives began suggesting other picks including Gene Sperling, former director of the National Economic Council under both Presidents Bill Clinton and Barack Obama, and Ann O'Leary, a top policy adviser to Hillary Clinton's presidential campaign in 2016 who then worked as chief of staff to California Governor Gavin Newsom.
Neither Sperling nor O'Leary immediately responded to a request for comment.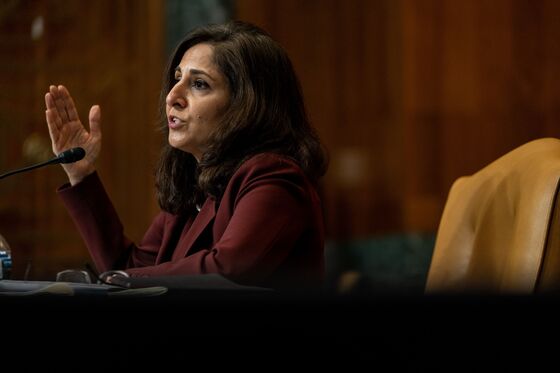 Biden senior adviser Cedric Richmond told NPR Monday, before Romney's statement, that the president still believed Tanden could be confirmed, despite opposition from Collins and Manchin."You named two out of 100, so there are 98 left and we're going to continue to make the case for her, and she's going to continue her meetings and her outreach that she's been doing," Richmond said. She's immensely qualified for the position, and the president believes in her."
Tanden previously led the liberal think-tank Center for American Progress, where she aggressively sparred with critics on social media.
Collins cited Tanden's deleted tweets as part of the reason for her opposition.
"Should Congress need to review documents or actions taken by OMB, we must have confidence that the Director will be forthcoming," she said.
Collins also said Tanden's "past actions have demonstrated exactly the kind of animosity that President Biden has pledged to transcend."
During her nomination hearing before the Senate Budget Committee, Tanden was chastised by Chairman Bernie Sanders for her past tweets and she pledged to refrain from making personal attacks -- such as those she had directed at Sanders himeslf in the past.
It wasn't enough for Collins, who had also been a direct target of Tanden's online venom.
"I believe her overtly partisan statements will have a toxic and detrimental impact on the important working relationship between members of Congress and the next director of the Office of Management and Budget," Collins said Monday.
Senator Rob Portman, an Ohio Republican who was OMB director under President George W. Bush, said the job requires working with both Republicans and Democrats and that Tanden would face difficulty doing so.
"The tone, the content, and the aggressive partisanship of some of Ms. Tanden's public statements will make it more difficult for her to work effectively with both parties in this role," he said in a statement.
Portman, who said he opposes her confirmation, also raised alarm about her decision to delete tweets "and the lack of transparency in her decision to do so."
If Tanden's nomination fails, that could further delay the development of Biden's fiscal 2022 federal budget proposal, which is already behind schedule and is the first step in the funding process for the next fiscal year beginning Oct. 1. The OMB director is also in charge of promulgating regulations and acts as a liaison between the White House and federal agencies.