Collins Says Trump's Pick for Spy Chief Has Required Experience
(Bloomberg) -- President Donald Trump's nominee to be the nation's spy chief, John Ratcliffe, picked up a crucial endorsement Friday from a moderate Senate Republican, just days before his confirmation hearing.
Senator Susan Collins of Maine said in a statement she met Friday with the conservative Texas GOP representative and "concluded that he does have the experience to meet the statutory standard to fill the position."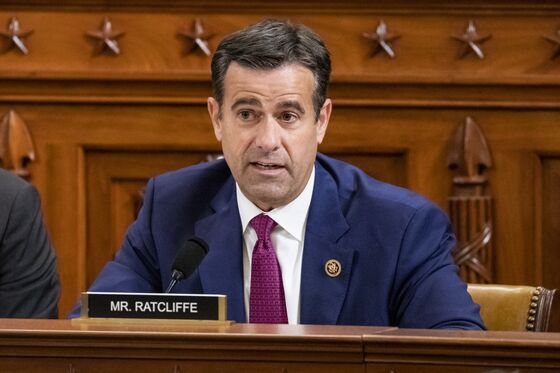 Among the criticisms leveled at Ratcliffe by Democrats is that he is too much of a Trump loyalist, in a post where independence and objectivity is critical.
"I also pressed him for his commitment to deliver objective analysis, regardless of the president's views on an intelligence issue," said Collins, who pointed out that she had co-authored the 2004 law creating the job of director of National Intelligence.
The director of National Intelligence oversees the nation's 17 intelligence bodies, including the Central Intelligence Agency and National Security Agency, on everything from terrorist threats to cybersecurity attacks and election interference by foreigners.
The confirmation hearing for Ratcliffe is scheduled for Tuesday, and it promises to be a main event in a week marking the Senate's return to Washington amid the coronavirus crisis.
Ratcliffe was among Trump's fiercest defenders throughout the FBI's and former Special Counsel Robert Mueller's Russia investigations, as well as during the House impeachment inquiries and hearings into the president's Ukraine dealings. He also served on a team of Trump advisers during the Senate impeachment trial.
Collins' announcement relieves some of the uncertainty over whether Ratcliffe, 54, would be able to clear a 51-vote threshold in the Senate, controlled by 53 Republicans. A member of the Intelligence Committee, she faces a tough re-election race this year, and has been under pressure about her votes on behalf of Trump's nominees, most notably Brett Kavanaugh for the Supreme Court.
This is the second go-round for Ratcliffe, 54. Last August, he withdrew his name from consideration amid bipartisan questions about his qualifications and claims he'd fudged his resume. Collins' statement did not address any of that.
Collins did say that "his knowledge of cybersecurity is particularly important given the challenges our country faces."
Ratcliffe has been a member of Congress since 2015. Before that, he was the mayor of Heath, Texas, and the U.S. attorney for the Eastern District of Texas under President George W. Bush.
His renomination in February underscored how intent Trump is on placing a political ally in the job, now held by Richard Grenell, the U.S. ambassador to Germany, as acting director.