Cohen Will Talk After Mueller Probe Is Complete, Lawyer Says
(Bloomberg) -- Michael Cohen, the former lawyer and fixer for President Donald Trump, is willing to reveal publicly what he knows about his former client once Special Counsel Robert Mueller's investigation is complete and findings are released, Cohen's lawyer said Wednesday.
"There will come a time after Mr. Mueller is done with his work that Michael Cohen will be sitting in front of a microphone before a congressional committee and what he has to say about the truth will be judged by the members of Congress listening and then will be up to people to decide whether he has got the facts or not," Cohen attorney and spokesman Lanny Davis said in an interview on Bloomberg Radio's "Sound On."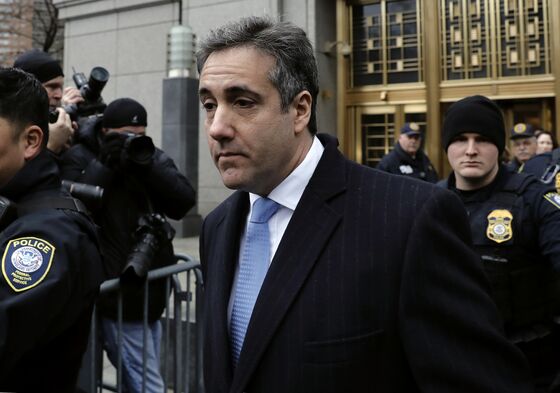 Cohen, who was sentenced today to three years in prison, expects to testify about what he knows in front of Congress at some point, said Davis, who was unwilling to detail what Cohen knows about Trump and Russian election meddling.
The special counsel's team interviewed Cohen for about 70 hours, but little is known about what he shared. Cohen has admitted to lying to Congress and Mueller's investigators about the timing of a proposed Trump tower in Moscow and Trump's involvement in the project. Davis said that false testimony was shared with the White House before Cohen submitted it to Congress and it is possible Trump was aware at the time that Cohen would make false statements.
"Mr. Trump and the White House knew that Michael Cohen would be testifying falsely to Congress and did not tell him not to," Davis said.
Cohen's sentence covered nine felonies, including evading federal income taxes, participating in the scheme to silence women who alleged affairs with Trump in violation of campaign finance laws, and lying to banks and Congress.
It was also revealed today in court filings related to Cohen that at least one unidentified aide to Donald Trump's presidential campaign joined the attorney in an August 2015 meeting with the publisher of the National Enquirer to discuss suppressing negative news stories during the election.