Michael Cohen Fires Back After Months as Avenatti's Punching Bag
(Bloomberg) -- The two lawyers have become household names. Michael Cohen is the self-described fixer for the U.S. president. Michael Avenatti is the crusading defender of a porn star who claims she had a fling with Donald Trump.
After weeks weathering Avenatti's ridicule on social media and cable TV, Cohen is now fighting back -- in court.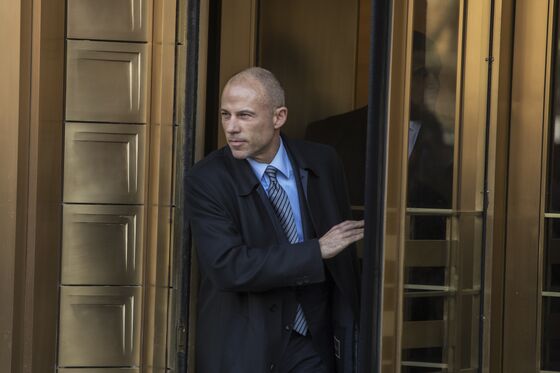 He's taking on Stormy Daniels's lawyer over a seemingly minor issue -- whether Avenatti should be allowed to participate in a case between Cohen and the federal prosecutors who raided his home and office last month and seized documents. But it's quickly getting heated, with Cohen calling Avenatti unethical and Avenatti dismissing the claim as "bogus."
In what's typically a routine request, Avenatti has asked a Manhattan federal judge for permission to appear in the case to ensure that communications from Daniels, whose legal name is Stephanie Clifford, remain covered by the attorney-client relationship. He needs permission because he's licensed to practice law in California, but not in New York.
Avenatti fears that the FBI agents who raided Cohen's offices may have taken material shared with Cohen by Keith Davidson, the Beverly Hills lawyer who negotiated a $130,000 hush agreement requiring the film actress to keep quiet over an alleged sexual encounter she had with Trump in 2006. For the last several months, Avenatti has pushed to void the agreement while launching fierce public attacks on the president and Cohen.
In a court filing Friday, Cohen and his lawyer, Stephen Ryan, urged U.S. District Judge Kimba Wood in Manhattan to deny Avenatti's request to appear in the case, saying he has repeatedly violated court rules and has only a "tangential relationship" to the legal dispute.
Citing Avenatti's public disclosure of Cohen's confidential banking transactions, Cohen's lawyers said Avenatti has disseminated incorrect information -- along with "factually accurate information" about his banking transactions that "had no lawful source." They said "Mr. Avenatti appears to be primarily focused on smearing Mr. Cohen publicly in his efforts to further his own interest in garnering as much media attention as possible."
Avenatti quickly pushed back.
"I find it remarkable that they've effectively conceded the factual accuracy of the document now," he said in response to Cohen's filing. "That's a pretty damning admission."
Avenatti added: "Why are they so desperate to avoid having me in the case?"
Avenatti has won quick fame, at least among the president's critics, as he ups the pressure on both Cohen and Trump, matching the president's combative style, constant TV presence and love of provocative Twitter posts.
On May 16, Avenatti wrote on Twitter: "Weeks ago I described Mr. Cohen as 'radioactive.' I was right then and I am especially right now. The fallout has only just begun."
For his part, Cohen has been a fierce defender of Trump, once vowing he'd "take a bullet" for the boss if necessary. When CNN's Brianna Keilar asked him about polls showing Trump was behind Hillary Clinton in August 2016, he famously repeated "Says who?"
After the election, Cohen was disappointed when he didn't get an important job in the Trump administration. When Trump moved into the White House, Cohen remained in New York, where he lives on Manhattan's Park Avenue. Information released by Avenatti showed Cohen raked in payments from AT&T, Novartis, Korean Aerospace Industries and Columbus Nova, an investment firm linked to Russian oligarch Viktor Vekselberg.
He's now in court trying to block the prosecutors who are probing him from reviewing his confidential communications with clients including Trump.
Cohen's legal troubles come on top of mounting financial woes. He built his wealth as investor in the medallions that owners need to operate taxis, and saw their values plummet with the introduction of Uber and other ride-sharing services. New York State and New York City have made claims against Cohen for almost $300,000 in unpaid taxes on his taxicabs.
Both Cohen and Daniels have been featured on NBC's "Saturday Night Live" with Ben Stiller portraying the lawyer, and Daniels portraying herself. She provided the punchline to a show-opening sketch telling Alec Baldwin's Trump: "I know you don't believe in climate change, but a storm's a-comin', baby."
Avenatti's latest salvo came Thursday, when he said on MSNBC that he's in the final stages of vetting at least two more women who claim they received payments after affairs connected to Trump. He said in both cases they are on "solid ground" and that both had sex with Trump and received larger payments than Daniels.
"I think we're on the verge of saying they're fully vetted," he added.
Cohen blasted Avenatti for releasing the details of his banking information in the Friday filing.
"Mr. Avenatti's deliberate public dissemination of confidential nonpublic information speaks to his character and lack of fitness to appear before this court - as well as his craving to create a 'carnival atmosphere,' in this case," Cohen's lawyers wrote. "This should be extremely troubling to the court."