Buhari Party's Close Win in Nigerian State Signals Tough 2019 Race
(Bloomberg) -- A narrow election victory for Nigeria's ruling All Progressives Congress in the southwestern state of Osun suggests President Muhammadu Buhari will face a tough race in his re-election bid in February.
The ruling party won Osun state's governorship election in a rerun vote after a first round of voting was deemed too close to call, according to the Independent National Electoral Commission. The APC's Gboyega Oyetola got 255,505 votes, defeating main opposition People's Democratic Party candidate Ademola Adeleke by 482 votes, results read by returning officer Joseph Fuwape in a Channels TV broadcast showed.
The rerun was marred by violence with thugs intimidating voters and preventing supporters of one of the candidates from voting without protection from security forces standing by, a coalition of independent monitors, known as the Situation Room, said in a statement on its website. It didn't specify which candidate had been disadvantaged.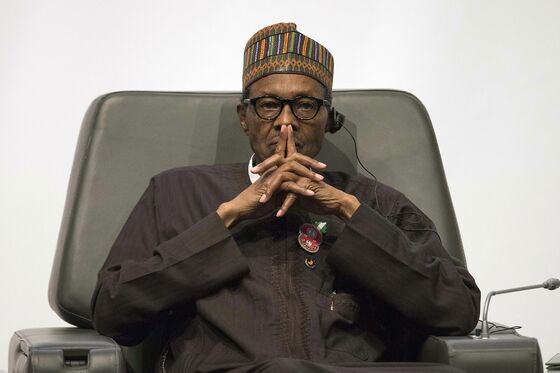 "It is telling that despite how bad the elections were, in terms of passing the basics of electoral integrity, the opposition still came out strong," Idayat Hassan, executive director of the Abuja-based Centre for Democracy and Development, said by phone. The CDD, as the center is known, said in a statement that the vote wasn't credible.
The southwestern region is key to Buhari's chances of securing a second term. Victory there three years ago helped him become the first opposition candidate to win power through the ballot box since Nigeria's independence in 1960. While Osun state gave the APC about 60 percent of valid votes in the 2015 presidential race, the lack of payment of government salaries and pensions in this "civil service state" has hurt its popularity, according to Hassan.
The PDP will take legal action to "reclaim" what it believes is its candidate's stolen mandate, Senate President Bukola Saraki, who also heads the party's Osun state campaign council, said Friday in an emailed statement.
The APC called the rerun "a tough contest and a hard-fought win."
In another close result in July, the APC won back the governorship of neighboring Ekiti from the PDP.
Buhari, 75, won the presidency on his fourth try in 2015 by building a coalition that delivered, in addition to his northern base, swing areas in the southwest and a central region known as the Middle Belt. The narrow Osun victory and a spiraling conflict over grazing land in central Nigerian states that claimed 1,300 lives in the first half of the year alone suggest these two regions will be more difficult to carry in the 2019 vote.