Clinton Warns on China, Russia; Finance's 'Big Bang': NEF Update
(Bloomberg) -- Former Secretary of State and erstwhile presidential candidate Hillary Clinton said at the Bloomberg New Economy Forum that the world must stand up to China and Russia, while Indian Foreign Minister Subrahmanyam Jaishankar blamed Beijing for a "bad patch" in ties.
How geopolitical rivalries and their impact on capital flows, investment and the world's ability to cooperate on issues like climate change were at the center of the final day of talks at the forum on Friday. Cryptocurrencies and supply chains were also discussed at the Singapore event.
The three-day forum has touched on the future of health and strategies to tackle climate change, though the risks of a U.S.-China confrontation have been a repeated theme. 
Clinton Cautions on Russia, China (1:15 p.m. H.K.)
Clinton predicted Joe Biden's administration would remove some punitive tariffs on China, saying she was aware of a review on the issue. But she also said the world can not allow Chinese aggression.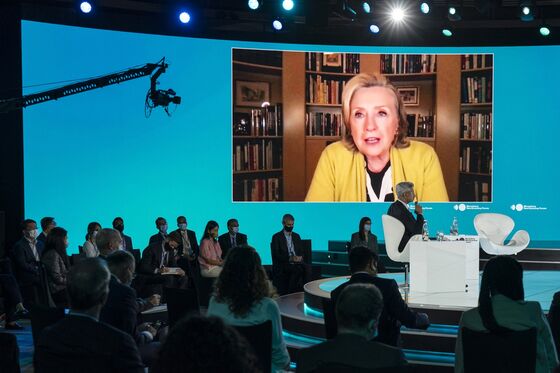 "Of course we should cooperate on a range of issues, but we also cannot permit the kind of aggressive military build up, efforts to dominate maritime navigation, the intimidation of nations in the larger Asia-Pacific region," Clinton told the forum through a video link. 
On Russia, Clinton said that Putin has sought to "hug China" to stave off potential problems in the far east, while also exercising power through non-state actors. 
"He has a very large mercenary force that has been operating everywhere from Syria to the Central African Republic," Clinton said of Putin. "He has a very large stable of hackers and those who deal in disinformation and cyberwarfare, both in and outside of the government. He's engaged in a lot of asymmetric power moves."
Climate Tech in Asia Shows Promise for VCs After Trailing U.S. (12:58 p.m. HK)
Asia offers growth potential for venture capital investors in climate technology after lagging behind the U.S. and Europe, according to Jungle Ventures.
About $50 billion of venture capital went into climate technology startups in the U.S. over the last five years, while Asia attracted not even one-tenth of that amount, Jungle Ventures Founding Partner Amit Anand told Bloomberg Television. 
"We are building data models to decide what should influence our investments in this direction," Anand said at the forum. 
Binance U.S. Unit May Raise 'Couple Hundred' Million in Funding (12:51 p.m. HK)
Binance.US, the American affiliate of top global cryptocurrency exchange Binance, may raise a couple hundred million dollars in its funding round expected to close soon.
Binance Chief Executive Officer Changpeng "CZ" Zhao said in an interview at the forum that the round is likely to close in the next one to two months.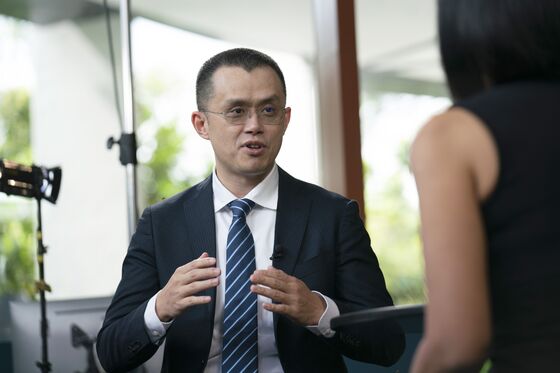 Hong Kong Exchange Sees China 'Big Bang' (12:25 p.m. H.K.)
Hong Kong Exchanges & Clearing Ltd. Chief Executive Officer Nicolas Aguzin said China's continued expansion will bring about the next "big bang of finance" as the country looks outward to expand investments. 
Speaking via video link, Aguzin said China's capital market will triple over the next 10 years and the country will emerge as the largest economy in the world. He downplayed talk of a decoupling with the rest of the world, saying that all indicators show "more and more interaction."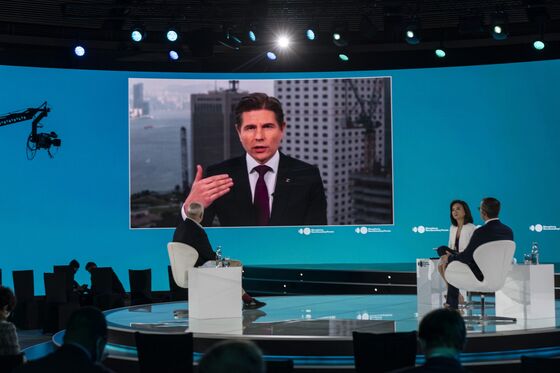 India Says China Must Explain Actions (11:40 a.m. H.K.)
China is to blame for worsening relations with India, Jaishankar said. 
"We're going through a particularly bad patch in our relationship because they've taken a set of actions in violation of agreements for which they still don't have a credible explanation," Jaishankar said in a panel discussion.
The two Asian powers saw their deadliest fighting in decades in the summer of 2020 high on their disputed Himalayan frontier. Twenty Indians and at least four Chinese soldiers were killed.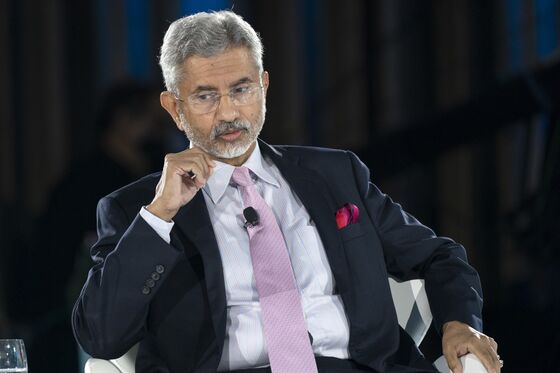 Bayer Sees Growth in China Consumer Health (11:35 a.m. H.K.)
Bayer AG expects growth at its consumer health business in China to be in the high single-digits this year.  
"We are achieving that this year, perhaps even a bit higher," said Heiko Schipper, the executive in charge of the unit.The German firm sees good growth dynamics in China as well as Southeast Asia, where young people are becoming more conscious about health and wellness and seeking out high quality brands.
Mastercard Sees Travel Rebound as Asia Opens (11:25 a.m. H.K.)
Leisure travel is a big opportunity for business as borders slowly reopen throughout Asia, said Mastercard Inc. Asia-Pacific Co-President Ling Hai.
"When you ask consumers if you have some pent up demand, where do you spend it? Travel is the number one thing," he said. While the rise in demand is already evident in leisure travel across the region, business trips are probably six months behind but coming back as well, he said.
Singapore may soon allow quarantine-free crossing at its land border with Malaysia, one of the world's busiest border crossings, the trade minister said.
"I am cautiously optimistic that we will be able to do so quite soon," Gan Kim Yong said, though the city needs a few more days before deciding on whether to relax strict virus curbs in the city.
Micron says Chip Shortage Easing (10:45 a.m. H.K.)
The chip crunch that's curtailed production in everything from cars to PCs is gradually easing, CEO Sanjay Mehrotra said.
The crisis has affirmed the importance of diversifying and globalizing supply chains, he said.
Kerry Wants Coal Ditched Faster (10:00 a.m. H.K.)
U.S. Climate Envoy John Kerry said the world needs to speed efforts to ditch coal. 
"We have to start where the greatest amount of emissions are if we're going to win the battle," Kerry told the forum. "We have to, all of us, be able to put the deals together that will phase out their coal fast."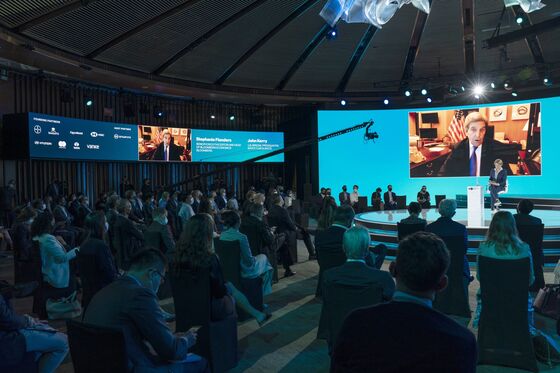 Speaking via videolink, Kerry said "coal is the primary culprit today in warming the planet, and in polluting the air and in creating the intensity of storms that comes with the increased moisture that rises from the oceans."
Rudd Says Biden-Xi Meeting Good for Asia (9:00 a.m. H.K.)
The summit between presidents Joe Biden and Xi Jinping was positive for the West's partners in Asia, said former Australian Prime Minister Kevin Rudd, who also critical of how Canberra has handled ties with Beijing.
"The partial stabilization of U.S.-China relations coming out of the recent summit between Xi Jinping and President Biden is on balance good news for the wider region because it takes the geopolitical temperature down a notch or two," he said in an interview at the forum.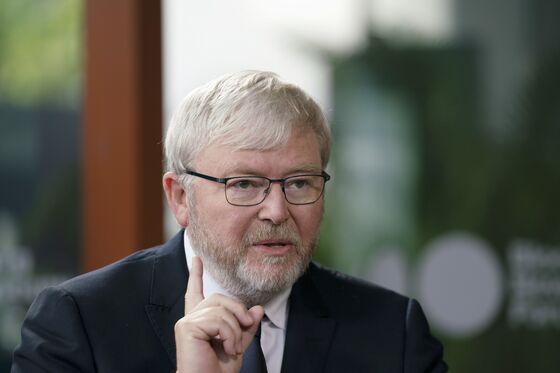 "That actually creates more political space for other bilateral relationships -- either with Japan and China, the Republic of Korea and China, Australia and China -- to enter I would hope into a less fractious period."
Bloomberg Plans NEF Event in Panama (8:40 a.m. H.K.)
Bloomberg Media on Friday announced the start of a new series of events, Bloomberg New Economy Gateway, beginning in Panama next year. The inaugural event in Latin America will be the first of Bloomberg's New Economy series to be held outside Asia.
"We look forward to hosting discussions there with senior business and government leaders that will help shape a more modern global economy," Michael Bloomberg said in opening remarks on the final day of the Bloomberg New Economy Forum in Singapore. 
Gates Wants Pandemic Surveillance System (8:00 a.m. H.K.)
Health has also been a big topic, with philanthropist Bill Gates among those addressing how the world can avoid future pandemics. 
To better prepare, several thousand experts at the World Health Organization level could be deployed to spot and fight infectious diseases, Gates said. Any surveillance system should be able to function even when governments are dysfunctional or uninterested in sharing information, he said, adding that the world also needs to build capacity to develop vaccines and antivirals faster.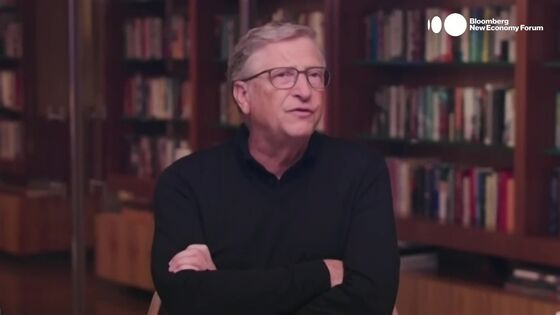 You can sign up for our New Economy Daily newsletter here. The New Economy Forum is being organized by Bloomberg Media Group, a division of Bloomberg LP, the parent company of Bloomberg News.