Japan Says Whole World Wants to Avoid No-Deal: Brexit Update
(Bloomberg) -- Theresa May is looking at a Brexit "Plan B" amid predictions that members of Parliament will reject her Brexit deal in record numbers; opposition Labour Party leader Jeremy Corbyn called for a general election to end the impasse.
Japan's Abe says "whole world" wants to avoid no-deal Brexit
Pound options show traders positioning for delay to U.K.'s exit date
Business Secretary Greg Clark suggests Parliament should test Plan B options
Opposition Labour leader Corbyn says he won't rule out extending Article 50
May Escalates Brexit Clash with Speaker Bercow (5:05 p.m.)
The prime minister made clear she is not happy with House of Commons Speaker John Bercow, who infuriated pro-Brexit Tories when he changed Parliamentary rules on Wednesday, opening the door to another defeat for May.
She suggested Bercow should explain his decision, and appeared to criticise him for changing the rules. Members of Parliament "need to know that there's a set of rules" for the way the House operates and that these rules will be interpreted consistently, May said.
"The Speaker made a decision on a particular amendment," May told reporters at the press conference with Abe. "I was surprised at that decision."
Japan Tells Parliament to Back a Brexit Deal (4:50 p.m.)
Japanese Prime Minister Shinzo Abe said the world wants the U.K. to avoid falling out of the EU with no deal. Speaking at a press conference with May in Downing Street, Abe backed the agreement she's reached with the EU. "We truly hope that a no-deal Brexit will be avoided," Abe said. "In fact that is the whole wish of the whole world."
May in Talks With Unions on Brexit Deal (4:20 p.m.)
As part of May's last-ditch efforts to broaden support for her Brexit deal, the prime minister held talks with Unite union chief Len McCluskey and Tim Roache, head of the GMB union, her spokeswoman Alison Donnelly told reporters.
"There will certainly be further engagement with various business groups and unions," she said, adding that the talks focused on the impact of the Brexit deal on workers.
But Donnelly made clear the issue of keeping Britain in a customs union with the EU "was not even raised" on the call. Both Unite and the GMB have backed the Labour Party's call for a customs union to protect manufacturing jobs and the just-in-time supply chains they rely on.
"The government has systematically refused to engage with trade unions over workers' rights and is now trying to buy off MPs with legally unenforceable tweaks," Roache said in a statement on the GMB's website earlier. "These assurances are meaningless at best, and at worst a cynical attempt to use workers' rights as a bargaining chip for self-preservation."
Vote Numbers Still Look Impossible for May (3 p.m.)
The BBC has analyzed the numbers of MPs who might vote for May, and it looks even worse than it did when Bloomberg ran the numbers in November. Since then, more pro-Brexit Tories have come out against the deal. The BBC reckons there are 206 votes for the deal, and 433 against. If it were correct, that would be a defeat by a margin of 227 votes.
Phil Cowley, professor of politics at Queen Mary University of London, says that in the last century, there have been just three defeats of a government by a margin of more than 100, and the largest of those was 166.
Pound Traders Position for Brexit Delay (1:05 p.m.)
There are signs in the currency options market that traders are positioning for the possibility that the U.K. will delay its exit from the EU. Investors are now more pessimistic on the prospects for the pound in nine months' time rather than on three-month contracts that capture the March 29 departure date, risk reversals show.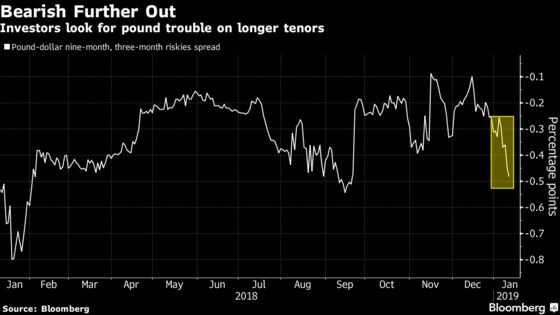 EU Still 'Reflecting' on Backstop Assurances (12:25 p.m.)
European Commission spokeswoman Mina Andreeva didn't deny the possibility of offering further reassurances to appease British lawmakers before Tuesday's vote.
The EU is "reflecting" on what form these reassurances might take, Andreeva told reporters in Brussels. "The process is very much ongoing." Still, she also reiterated the EU's mantra that the agreement is the "best and only" possible deal and that no changes are possible.
She added that no further contacts are foreseen between EU Commission President Jean-Claude Juncker and Theresa May at the moment, but such contacts may take place by the end of this week.
May Will Put Plan B to a Vote Quickly (12.07 p.m.)
The implications of May's defeat in the Commons on Wednesday are becoming clearer. The issue focuses on what May will do next if -- as expected -- she loses the crucial Parliamentary vote on ratifying her Brexit deal next Tuesday.
According to a government official, the prime minister will need to put forward a new motion for debate in Parliament setting out the next steps within three days of losing Tuesday's vote -- so by Jan. 21.
In theory, this motion on what happens next would not need to be voted on any time soon, but in reality May is likely to call a vote on it in the Commons within a week, the official said.
Corbyn: Not Ruling Out Article 50 Extension (12 p.m.)
Labour leader Jeremy Corbyn said in a speech in Wakefield his party is not ruling out extending Article 50 if it came to power. He laid out a best-case scenario in which May's deal failing in Parliament ultimately leads to a general election, which his party would fight on a manifesto promise for a negotiated Brexit.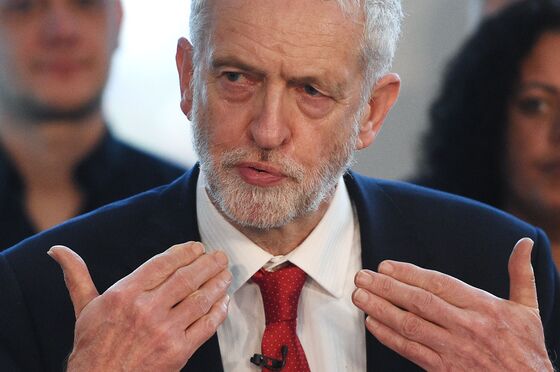 "An extension would be a possibility because there needs to be time to negotiate" with the EU, Corbyn said, adding that a newly elected Labour government would be "right against the clock."
That's likely to disappoint Labour Party members seeking a firmer commitment to a second referendum or even opting to remain in the bloc. Corbyn instead stuck to his line agreed at the party's annual conference, that Labour's priority is to secure a general election and failing that, all options are still open -- including another vote on Brexit.
May 'Seriously' Considering Backing Labour Motion (12 p.m.)
May's spokesman, James Slack, told reporters that the government will "seriously" consider backing an amendment to the motion on her Brexit deal by rank-and-file Labour lawmakers that seeks to guarantee workers' rights and environmental protections.
It's a reminder that the prime minister is trying to reach out to Labour lawmakers to support her Brexit deal, after months of criticisms that she's failed to seek consensus with opposition parties. An official told Bloomberg on Wednesday that May had met earlier in the week with a group of Labour lawmakers.
May gives Japan's Abe the full British pomp (11:26 a.m.)

Prime Minister Theresa May is meeting her Japanese counterpart Shinzo Abe in London and giving him a warm welcome, with a guard of honor at the Foreign Office and lunch in Number 10 Downing Street. On the menu is smoked salmon with blood orange and wild nettle, followed by black treacle-rolled fillet of Yorkshire beef, May's spokesman told reporters.
Later May and Abe will attend a reception with business leaders. The pair will also hold a press conference on Thursday afternoon.
Clark: Investors Watching With 'Mounting Alarm' (10:45 a.m.)
Speaking to BBC Radio on Thursday, Business Secretary Greg Clark said the world's investors were watching the U.K. with "mounting alarm," and urged Parliament to be an "active participant" in finding a Brexit compromise.
His comments come after various media, including the BBC, reported that Jaguar Land Rover will announce today it is cutting as many as 5,000 jobs in the U.K.
Clark also reiterated his position that a no-deal Brexit would be unacceptable.
"We need to act to avoid a no-deal because I don't think there is anything remotely like a majority in Parliament that will tolerate this," he said.