Civil Rights Groups Vow Protests, Lobbying to Fight Voting Curbs
(Bloomberg) -- A group of civil rights leaders told President Joe Biden and Vice President Kamala Harris that Americans will march this summer to pressure Washington to pass voting rights legislation as Republican-led state legislatures make it harder to cast ballots.
Leaders including Marc Morial, president of the National Urban League, Al Sharpton, leader of the National Action Network, and Johnnetta Cole, leader of the National Council of Negro Women, among others, said they conveyed to Biden the urgency of protecting the right to vote.
"Democracy is under vigorous, vicious and sinister attack," Morial told reporters outside the White House. "We plan to elevate our voices, elevate our activism."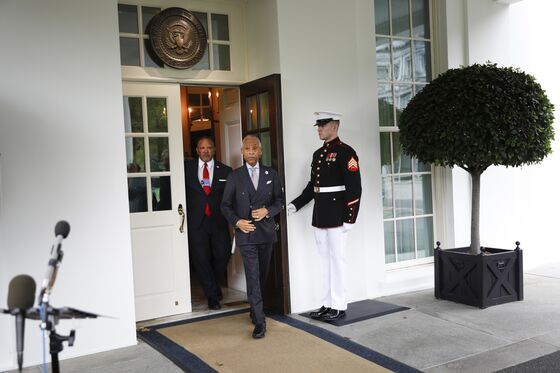 Sharpton said that he told Biden and Harris that they must do all they can to pass legislation known as the John Lewis Voting Rights Act and the For the People Act to protect access to the ballot, particularly for people of color. He said he made it clear that pressure would begin to swell from the ground up in the form of marches across the U.S.
"We had a very candid, no-holds-barred meeting with President Biden and Vice President Harris for about an hour and 40 minutes, scheduled for an hour," Sharpton told reporters afterward. "It was our task to tell the president and vice president that not only do we need the White House to do all it can, that we are going to build a movement around this country to resist that, what is clearly a move to try and disenfranchise people of color from voting."
Republican-led state legislatures have either proposed or passed a raft of bills tightening voting rights. The moves are in response to former President Donald Trump's false claims that widespread fraud -- particularly in cities with large Black populations -- resulted in his November defeat by Biden.
Sharpton said that he and Martin Luther King III have called for a national march on Aug. 28 centered on voting rights.