LA to Cut Police Budget in Wake of Floyd Death: Protest Update
(Bloomberg) -- President Donald Trump's calls for an increased police response haven't been widely embraced by mayors and governors, though because of Washington D.C.'s unique federal status the nation's capital more closely mirrored his vision.
On the other side of the country, Los Angeles said it would pursue a different agenda entirely. The city announced plans to trim its police budget and use that money to invest in the city's black community. Meanwhile ex-Defense Secretary Jim Mattis condemned Trump over his aggressive rhetoric and strategy to quell the protests
Tensions were high at demonstrations in New Orleans and New York as nationwide protests over the death of George Floyd continued. Yet protests remained largely peaceful in most cities, and Seattle lifted its curfew. U.S. officials again struggled to contain the fallout abroad, as the U.S. ambassador to India apologized for damage done in the protests to a statue of Mahatma Gandhi.
The moves came after charges against former Minneapolis police officer Derek Chauvin were upgraded to second-degree murder in Floyd's death while three other former officers were charged with aiding and abetting the crime. Chauvin, who is white, knelt on Floyd's neck for more than eight minutes as the unarmed black man's final words included warnings that he couldn't breathe.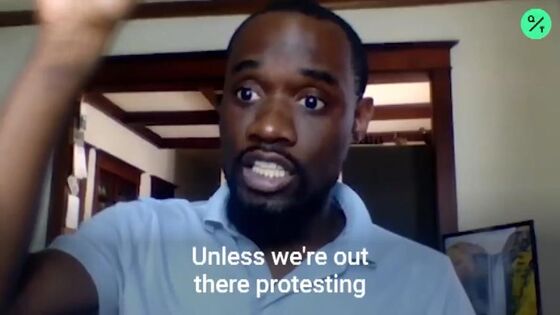 Here's the latest. All times are New York-based:
Meghan Markle Pays Tribute to Floyd, Says 'Wrong' to Stay Silent (2:36 a.m.)
Meghan Markle said in a video message to graduating students at her old Los Angeles-area high school that George Floyd's life "mattered," and told them to be "part of a movement" of hope changing the world for the better.
Markle, the biracial American actress who married Britain's Prince Harry and later moved back to LA with him and their young son Archie, told graduates to have the courage to put others' needs over their own. "I wasn't sure what I could say to you. I wanted to say the right thing and I was really nervous that it would get picked apart," she said in the call, according to U.K. media. "And I realized the only wrong thing to say is to say nothing."
Los Angeles to Cut Police Budget, Invest in Black Community (2:19 a.m.)
California's largest city will identify $100 million to $150 million in cuts from its police budget as part of a review of spending priorities in California's largest city following George Floyd's death, the Los Angeles Times reported.
Mayor Eric Garcetti, a Democrat, said Los Angeles would "identify $250 million in cuts so we can invest in jobs, in health, in education and in healing," especially focused on the city's black community, communities of color and others seen as left behind. Cuts will come to every department to fund the rebalancing, he said.
LA also announced a string of other plans focused on police procedures, including requiring police officers to intervene when they see inappropriate use of force.
U.S. Apologizes to India After Gandhi Statue Defaced in D.C. (1:55 a.m.)
A statue of Mahatma Gandhi was defaced by Black Lives Matters protesters in Washington D.C., ANI reported.
The monument, which stands outside the Indian Embassy, was spray painted with graffiti. Local authorities have started a probe into the incident, according to ANI. The U.S. Ambassador to India Kenneth Juster later issued an apology for the incident, saying that the U.S. stands against prejudice and discrimination of any type.
In New Orleans, Police and Protesters Clash (12:22 a.m.)
Police in New Orleans dressed in riot gear fired tear gas to disperse a crowd of protesters in the city. Local news outlet NOLA.com said it was the first time law enforcement used tear gas in the protests this week.
Among the issues in the Crescent City: New Orleans Saints quarterback Drew Brees voiced opposition to football players kneeling during the playing of the national anthem, saying he "will never agree with anybody disrespecting the flag of the United States of America or our country."
The backlash to anthem-kneeling protests led by former NFL star Colin Kaepernick has been cited as fueling protests today. Protesters on the streets in New Orleans chanted opposition to Brees's comments.
Seattle Ends Its Curfew, Says It Can Balance Protests and Public Safety (12:02 a.m.)
After a day of meeting with protest leaders, Mayor Jenny Durkan and Police Chief Carmen Best opted to lift a nightly curfew that was intended to continue through Saturday. An hour before the curfew was to begin, Durkan announced on her Twitter account that Best had decided the police can balance public safety and allow peaceful protests.
New York Public Advocate Says Police Used 'Aggressive Tactics' (11:54 p.m.)
New York Public Advocate Jumaane Williams says he'll hold a press briefing Thursday "to discuss the police response to demonstrations in New York City after taking part in a nonviolent protest met with aggressive tactics by the NYPD."
Williams posted videos of standoffs between police and protesters in New York on his Twitter feed.
New York Times Criticized For
Sen.

Cotton's 'Send In The Troops' Op-Ed (11:43 p.m.)
The New York Times is getting criticism including from journalists on its own staff for running an op-ed penned by Republican Senator Tom Cotton, who argued military troops should be used if needed to restore order in U.S. cities.
"I'll probably get in trouble for this, but to not say something would be immoral. As a black woman, as a journalist, as an American, I am deeply ashamed that we ran this," said Nikole Hannah-Jones, a Pulitzer prize-winning correspondent who helped lead the Times's recent 1619 Project on the origins of slavery in the U.S. Dozens of others posted messages online saying running the piece puts black staff at the Times in danger.
Editorial page editor James Bennet defended the decision to run the piece, saying the opinion page "owes it to our readers to show them counter-arguments, particularly those made by people in a position to set policy."
Trump's Vision of Police Response Echoes in Washington, While Shunned Elsewhere (11:16 p.m.)
As night fell across America, a place that President Trump will see the sort of militarized security he's called for in cities across the country is its federal capital, Washington, D.C.
Trump has boasted of summoning a phalanx of security to the capital. Photos showed officers from a range of departments, reportedly including the military, Department of Homeland Security and Drug Enforcement Agency, among others. U.S. Customs and Border Protection has also said it was dispatching officers. The move drew the ire of the city's mayor, Muriel Bowser, who said the federal government "continues to militarize our city" because it lacks statehood.
While some cities and states have activated National Guard units in supporting roles, mayors and governors have broadly rejected sending in additional troops to police their streets. So Washington will look different tonight than its counterparts, a live case study of the president's preferred tactics.
Minneapolis Mayor Seeks Federal Aid to Fix Riot Damage (10:54 p.m.)
City officials in Minneapolis will seek state and federal aid to fix damage from riots in the wake of George Floyd's death, the Star Tribune reports. Costs are estimated at $55 million so far, though expected to rise.
Trump Reiterates Call For Tougher NYC Response (10:45 p.m.)
President Donald Trump reiterated Wednesday in an interview with Sean Spicer, his former press secretary who is now a conservative media personality, that New York should formally request military aid to quell protests in New York City. "If they don't get it straightened out soon, I'll take care of it," he said.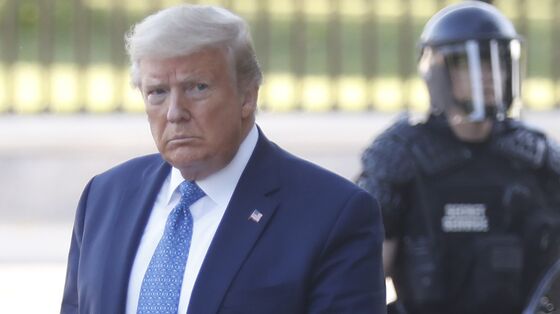 Floyd Tested Positive for Covid-19 in Early April, Star Tribune Reports (10:42 p.m.)
George Floyd, whose death has sparked global protests over the treatment of black people in America, tested positive for COVID-19 in early April, though it wasn't cited as a factor in his death, the Star Tribune newspaper in Minneapolis reports.
The report was released with the consent of Floyd's family.
Thousands Protesting Peacefully Near White House (10:35 p.m.)
Media reports and tweets from Washington on Wednesday night showed thousands protesting peacefully near the White House, unlike in other cities where protesters were clashing with police.
Trump Fires Back at Mattis After Stinging Rebuke (9:03 p.m.)
The White House hit back at Mattis over his criticism of President Trump's handling of the protests, with Trump himself saying he had the "honor" of getting rid of his first Defense secretary, branding him as the "world's most overrated" general.
Meanwhile Press Secretary Kayleigh McEnany dismissed Mattis' condemnation of the president, branding it a "stunt".
Phoenix Protesters Demand Funding for Police Oversight Board (8:47 p.m.)
Phoenix City Council members debated fully funding a new civilian police oversight board amid recent protests against police brutality. The community review board and an accountability office, approved by the council earlier this year, were slated to receive only partial funding under a draft budget reflecting revenue losses due to the ongoing coronavirus pandemic.
A preliminary vote on the budget, which could include increasing oversight funding to $2.9 million from the recommended $400,000, is expected late Wednesday.
Nearly 200 people signed up to speak to the council as protesters circled the Phoenix City Council chambers in 109-degree Fahrenheit heat (42.8 Celsius).
Federal Prosecutors Accuse 3 Men of Plotting to Spark Violence During Protests (7:56 p.m.)
Three white men with U.S. military experience and ties to right-wing extremists have been arrested on terrorism charges in what federal prosecutors say was a conspiracy to spark violence during protests in Nevada.
The three men—Stephen T. Parshall, 35, Andrew T. Lynam Jr., 23, and William L. Loomis, 40—were arrested Saturday on the way to a protest in downtown Las Vegas after filling gas cans at a parking lot and making Molotov cocktails in glass bottles, the Associated Press reported.
The complaint filed in U.S. District Court in Las Vegas on Wednesday said the men self-identified as part of the "Boogaloo" movement, which U.S. prosecutors said in the document is "a term used by extremists to signify coming civil war and/or fall of civilization."
Obama Calls For Police Reform (7:37 p.m.)
"We need mayors, county executives, others who are in positions of power to say: This is a priority," Obama said.
The remarks were the first time the former president had spoken on-camera since Floyd's death, though he published an essay earlier in the week calling for those who are eager for change to vote – particularly in local elections – and make concrete demands for specific criminal justice reforms that leaders can implement.
Walz
Feels

'Sense of Urgency' to Act on Racism (7 p.m.)
"Our justice system needs to make sure that justice is served," Minnesota Governor Tim Walz said Wednesday evening, discussing the state attorney general's decision to file an amended complaint that elevated to second-degree murder criminal charges against Derek Chauvin, a former Minneapolis Police Department officer, for the death of George Floyd.
Walz also said he feels a "sense of urgency" to act on the racism that stains the nation. "I think this is probably our last shot as a state and as a nation to fix this systemic issue," he said.
U.S. Park Police Investigating Australian Reporter Assault (6:48 p.m.)
The U.S. Park Police said it was investigating an incident in which police attacked two Australian journalists during protests outside of the White House on Monday. Two of its officers have been assigned to administrative duties.
Channel 7, which employs the journalists, said in a statement to the New York Times that the attack was "nothing short of wanton thuggery."
Trump Says N.Y. Must Crack Down on Protesters or He Will (6:18 p.m.)
President Donald Trump urged New York City leaders to crack down on police-brutality protests in the city, warning he would end the demonstrations otherwise.
"If they don't get it straightened out soon, I'll take care of it," Trump said of New York in an interview with his former Press Secretary Sean Spicer on NewsMax TV, a conservative outlet.
The remark came as Trump and Spicer discussed whether the president would seek to deploy the U.S. military to break up protests. "I don't think we'll have to," Trump said.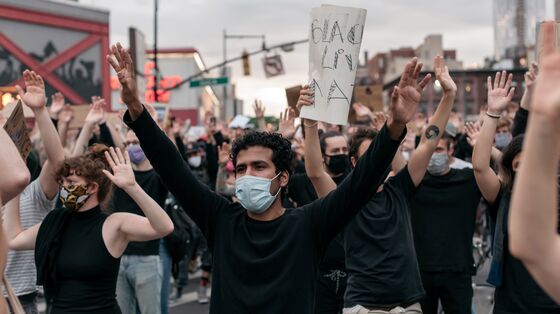 Mattis Says Trump Is a Threat to the Constitution (6 p.m.)
Former Secretary of Defense James Mattis released a statement denouncing President Trump for dividing the nation and using active duty troops for political purposes.
"When I joined the military, some 50 years ago, I swore an oath to support and defend the Constitution," Mattis wrote in a lengthy statement to the Atlantic. "Never did I dream that troops taking that same oath would be ordered under any circumstance to violate the Constitutional rights of their fellow citizens—much less to provide a bizarre photo op for the elected commander-in-chief, with military leadership standing alongside."
Minnesota AG Charges Three More Officers (4:28 p.m.)
Charges were elevated to second-degree murder against Derek Chauvin, the former Minneapolis Police Department officer who was recorded kneeling on the neck of a handcuffed George Floyd for more than eight minutes, Minnesota Attorney General Keith Ellison said Wednesday.
Arrest warrants were issued for three additional former Minneapolis police officers for aiding and abetting second-degree murder, he said.
"Trying this case will not be an easy thing," given the difficulty of convicting a police officer of murder, said Ellison, the first African American and the first Muslim American to be elected to statewide office in Minnesota. "History does show that there are clear challenges here, and we're going to be working very hard. "
Chauvin was initially charged with third-degree murder and manslaughter. He and the other officers at the scene were fired May 27 after video of Chauvin's use of force surfaced.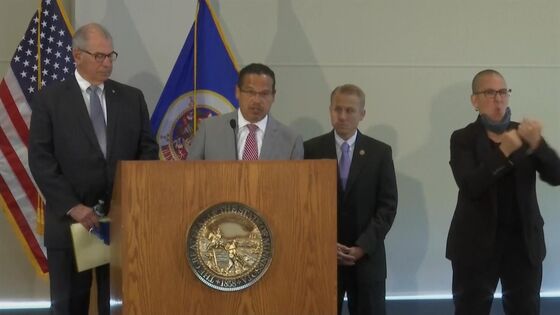 To Curfew or Not to Curfew (3:35 p.m.)
San Francisco will lift its curfew at 5 a.m. Thursday, Mayor London Breed said. The city had been under curfew hours from 8 p.m. to 5 a.m. since Sunday after a spate of violence and looting that has since eased.
"The protests we have seen in this city and across the country are for an important cause and our city will continue to facilitate any and all peaceful demonstrations," Breed said in a tweet.
In nearby Oakland, where there have also been outbreaks of looting, police chose not to enforce the citywide curfew Tuesday, and there were no arrests in two peaceful protests. The city's home of Alameda County has a curfew through June 5.
Salt Lake City lifted its curfew on Wednesday. Orlando imposed an earlier curfew, 8 p.m., for its downtown Wednesday while continuing a 10 p.m. one for the rest of its city. In Virginia, Governor Ralph Northam approved a curfew for Hampton through June 6 after a protest turned violent. Chicago's curfew is in effect until further notice, while New York and Atlanta both have one through June 7. Minnesota extended curfews in Minneapolis and St. Paul through June 4, while Raleigh's is through June 3.