City of London Workers Stay Home as Omicron Turns Off Commuters
The City of London has transformed from a raucous district with thousands of workers celebrating Christmas into a no-party zone in the space of a week.
Almost half of staff didn't go to the office on Monday, the lowest since September, according to data compiled by Google, which tracks the location of its users. 
That came after Prime Minister Boris Johnson told people to work from home where possible, effectively admitting that his strategy of relying on booster jabs rather than social distancing had failed to curb Covid-19. Cases rose by a record on earlier this week as the omicron variant took hold.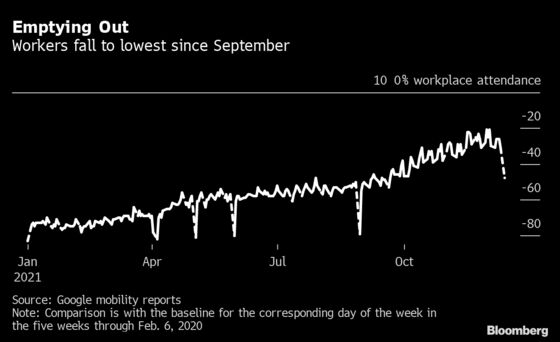 In response to government warnings, firms have cancelled gatherings or shrunk them. Some City of London restaurants had as little as one table occupied at 6 p.m. last night. Scenes like that have left the hospitality industry turning to the government for more support to alleviate the massive falloff in business.
London's biggest financial district had reached almost 80% of workplace attendance prior to the spread of the variant. The vast majority of the 540,000 jobs there are white collar, giving workers the flexibility of working from home.