Citadel's Ken Griffin Expected to Testify at House GameStop Hearing
(Bloomberg) -- Ken Griffin, Citadel's billionaire founder, is expected to testify next week at a House hearing on wild market swings in shares of GameStop Corp. and other stocks, according to three people familiar with the matter.
It's also anticipated that Robinhood Financial Chief Executive Officer Vladimir Tenev will appear to answer questions about the role that the firm's popular online trading app played in the tumult, said the people, asking not to be named before a formal announcement. House Financial Services Committee Chair Maxine Waters, a California Democrat, has said she wants the panel to hear from hedge fund Melvin Capital Management, as well.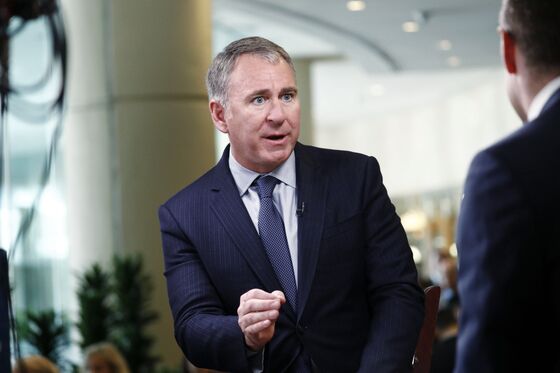 Spokespeople for Citadel, Melvin Capital and Robinhood declined to comment. A Spokeswoman for the House Financial Services Committee didn't respond to a request for comment.
The hearing will give lawmakers their first chance to hear directly from executives whose companies were at the center of a storm that has rattled Wall Street and reverberated far beyond its trading floors. The frenzy, started by retail investors who flooded Reddit message boards with bullish posts on GameStop, has sparked investigations into potential market manipulation and calls for greater scrutiny of mobile trading apps, short-selling rules, broker solvency and social media.
Representative Patrick McHenry of North Carolina, the Financial Services Committee's top Republican, has said it's important to learn whether laws were broken in addition to what created the atmosphere for market volatility. Incoming Senate Banking Committee Chairman Sherrod Brown has also indicated that he plans to hold a hearing on the matter, while fellow Democrat Elizabeth Warren is asking Robinhood to explain why it restricted some GameStop trades amid the volatility.
Robinhood, Citadel and Melvin are all central players in the drama. Most retail investors used the Robinhood platform to make their wagers on GameStop before the brokerage restricted its customers from buying shares in the video-game retailer. Warren said in her letter that Robinhood's trading limits raise "troubling concerns about its relationships with the large financial institutions that execute its trades, most notably Citadel Securities."
Griffin is a major Republican donor who controls one of the largest hedge funds in addition to Citadel Securities, the market maker that handles much of Robinhood's trading. The Citadel investment firm -- a separate entity from the market maker -- along with Griffin and others injected $2 billion into Melvin Capital, a hedge fund run by Gabe Plotkin that took steep losses from its short bets against GameStop as the stock surged.
Citadel Securities executes about 39% of all average daily U.S.-listed retail volume, according to its website. Robinhood has repeatedly said it temporarily restricted customers from buying GameStop because of collateral demands, while Citadel has been adamant that it played no role in the actions taken by Robinhood.
Herds of individual traders have whipsawed GameStop, which began the year as a heavily shorted stock trading around $18 and soared as high as $483 before retreating. The Securities and Exchange Commission is combing online posts for signs that fraud fueled the wild ride, according to people familiar with the matter.
Lawmakers may ask about potential reforms to better protect retail investors who fueled the rise. Some endured losses, prompting concern they took risks they didn't understand or couldn't afford.
GameStop jumped as much as 25% to $62.83 in New York trading Wednesday, the most since Feb. 5. The stock has plunged more than 80% since closing at a high of $347.51 on Jan. 27.