Biden Jabs at Clinton for Neglecting Wisconsin: Campaign Update
(Bloomberg) -- Democratic nominee Joe Biden took a swipe at Hillary Clinton for neglecting Wisconsin in 2016. President Donald Trump spoke for just 21 minutes at a rally in Minnesota. And 10 more states have reported that early voting has reached at least 80% of the 2016 total.
There are four days until Election Day and 45 days until the Electoral College meets.
Biden Jabs at Hillary Clinton for Neglecting Wisconsin
Biden swiped at Hillary Clinton for not paying enough attention to Wisconsin four years ago, emphasizing at a Milwaukee campaign stop on Friday night that he was taking the swing state seriously.
Clinton did not visit Wisconsin during her campaign and ended up narrowly losing it to Trump. Biden made his third visit to the state on Friday, with a late-night stop at a private hangar at Milwaukee Mitchell International Airport, where he delivered his stump speech.
"For a whole lot of reasons – not all of which were her fault – ended up not taking it as seriously," Biden said. "We thought it was different. I've been here a lot."
Biden also criticized Harley-Davidson Inc. for cutting jobs, buying back company stock and moving some production outside the U.S. Biden, speaking on the company's home turf, said the motorcycle maker had cut 800 manufacturing jobs and repurchased about $700 million in stock after Trump "rolled out his irresponsible tax giveaways." -- Tyler Pager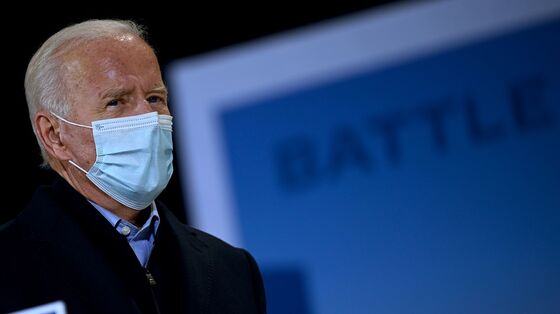 Trump's Minnesota Rally Was Shortest of His Campaign (8:17 p.m.)
A rally in Minnesota on Friday was Trump's shortest campaign event -- capped in size by the state's governor and ended by the president after just 21 minutes.
Trump spoke in Rochester to a crowd that Minnesota's Democratic governor, Tim Walz, had capped at 250, citing the coronavirus pandemic. Trump narrowly lost Minnesota in 2016 but the campaign has been targeting it this year.
Trump visited the overflow crowd after arriving, and then took the stage to complain about the governor. "We were given a very very hard time by your so-called leaders," he said. "I want to thank the thousands of people outside who were barred from entry by radical Democrats."
Trump then delivered his shortest rally speech of the campaign -- sticking closely to his prepared remarks and largely avoiding the ad-libbing that has become a hallmark of those events. Rallies routinely last an hour or 90 minutes. On Friday, Trump left after 21 minutes.
Trump is trailing Biden by 7.8 percentage points nationally and by 4.7 points in Minnesota, according to RealClearPolitics. He nonetheless predicted victory.
"But on Nov. 3rd, I hope you're listening Minnesota, because this is what you've had to put up with a long time, the people of our nation are going to be heard like never before," Trump said. -- Josh Wingrove
Early Voting Reaches at Least 80% of 2016 Total in 10 More States (6:08 p.m.)
Texas isn't the only state seeing a surge in early voter turnout: Ten states, including several key battlegrounds, have said the number of ballots cast early is already equivalent to 80% of the total number of votes in 2016, four days before Election Day.
On Friday, Texas became the latest state where early voter turnout surpassed the total number of votes cast in 2016. Hawaii reached that milestone on Thursday.
Now, 10 more states, including the critical battleground states of Florida, Arizona, North Carolina and Georgia, have reported voter turnout of at least 80% of the 2016 total.
As of Friday afternoon, Montana is at 91.2%, Tennessee is at 89.6% and Washington State is at 88%. In Georgia, early voter turnout is at 86.9% of all ballots cast in 2016; North Carolina is at 85.6% and Florida is at 81.6%, the equivalent of more than 7.8 million votes. The other states with at least 80% of the 2016 turnout are: New Mexico, Oregon, and Nevada. -- Emma Kinery
Biden Trails Other Democrats in North Carolina
Presidential candidates often have "coattails" that help lift up down-ballot candidates, but that's not the case in North Carolina this year.
In fact, Biden is doing less well than his party's candidates for governor and U.S. senator.
In an NBC/Marist poll released Friday, 52% of likely voters back Biden, while 46% back President Donald Trump. That 6-point lead is smaller than Democratic Senate candidate Cal Cunningham's 10-point advantage and Democratic Governor Roy Cooper's 19-point lead over Republican Dan Forest.
The Senate lead is particular notable given that Cunningham was caught exchanging sexually suggestive text messages with a woman who's not his wife earlier this month.
The poll of 800 likely voters in North Carolina was conducted Oct. 25-28. It has a margin of error of 4.7 percentage points.
Senate Candidates Back Out of Debates (10:13 p.m.)
Senate candidates are following a trend started by Trump when he backed out of the planned second presidential debate.
In Georgia, Republican Senator Kelly Loeffler and Democratic challenger Raphael Warnock both declined to participate in a planned Sunday debate, leaving only a second Republican candidate, Representative Doug Collins, willing to take part.
At the same time, Georgia Senator David Perdue backed out of a Sunday debate with Democratic challenger Jon Ossoff in order to attend a Trump rally in Northwest Georgia.
And in Kansas, Republican Representative Roger Marshall declined to debate Democratic state Senator Barbara Bollier, tweeting that he had a prior commitment and telling a reporter that he didn't know the debate was still going to happen and wondering if maybe it was a "set up."
Debate host KSNT devoted the time to interviewing Bollier instead, beginning with a segment in which they showed the certified mail receipt from their debate invitation.
Republican Senator Lindsey Graham also backed out of two debates with Democratic challenger Jaime Harrison, and the only debate between Republican Bill Hagerty and Democrat Marquita Bradshaw for an open Senate seat in Tennessee was canceled because of unspecified "logistical conflicts," according to the TV station hosting it.
Trump May Change Election Night Party Plans (8:45 a.m.)
Trump will likely stay at the White House on election night instead of going to a party at his namesake hotel in Washington, according to a person familiar with his plans.
Trump was slated to appear at the Trump International Hotel but those arrangements are now in flux, according four people familiar with the situation, who asked not to be named to discuss plans not yet public.
Trump's change in plans was earlier reported by the New York Times.
The White House and Trump campaign didn't immediately respond to requests for comment Friday morning. -- Jennifer Jacobs
Biden Ad Highlights Supporters in The Villages (7:34 a.m.)
A retirement community in Florida continues to be at the epicenter of the election fight.
With less than 100 hours until Election Day, the Biden campaign released a minute-long ad featuring residents of The Villages, northwest of Orlando, which one resident describes as "Disneyland for adults."
In the ad, "Villagers for Biden," seniors criticize Trump's handling of the coronavirus and the support for Biden in the country's largest retirement community, citing the "golf cart parades" held in the community.
"I'm proud to carry the name of Biden on my cart," says one woman.
The Biden campaign has run two previous ads featuring residents of The Villages, while Trump campaigned there last week, and infamously retweeted a video of a resident shouting "White power!" at protesters. The White House later said Trump did not realize what the man had said.
Christie Pranked Into Making Negative Ad for GOP Candidate (6:41 a.m.)
Christie unwittingly became the star of a video attacking the Republican gubernatorial candidate in Montana.
Like other former politicians such as Illinois former Governor Rod Blagojevich, Christie joined the service Cameo, which lets users pay celebrities to record short videos, typically for something like a surprise birthday gift for friends or family.
But in one recent case, the user who requested a video was actually working for the Democratic gubernatorial candidate in Montana, Lieutenant Governor Mike Cooney. The campaign paid Christie $200 to record a video asking a man named Greg -- actually Republican candidate Greg Gianforte -- to "come back" to New Jersey.
Cooney then posted the short video on Twitter as a "special message" for Gianforte.​
​Christie then took to Twitter to note that he actually supports Gianforte's campaign and joined Cameo to benefit a New Jersey charity that treats pregnant women with addiction problems.
Trump Rally-Goers in Tampa Treated for Heat
The day after Trump rally attendees were treated for exposure to freezing temperatures in Omaha, other Trump supporters were treated for heat exposure in Tampa.
After a crowded rally outside the Raymond James Stadium Thursday, at least a dozen rally-goers were taken to the hospital, with one fainting and one having a seizure, according to NBC News.
Trump spoke for around an hour at the event, but many in the audience had already waited for hours in steamy 86 degree weather.
Meanwhile, two attendees of Trump's Oct. 21 rally in Gastonia, North Carolina, tested positive for Covid-19, while Minnesota health officials have traced at least 23 cases to Trump and Pence rallies in Minnesota in September.
Biden will travel to Iowa, Minnesota and Wisconsin on Friday.