China Jails Rights Lawyer for 4.5 Years After Secret Trial
(Bloomberg) -- Sign up for our new China newsletter, a weekly dispatch coming soon on where China stands now and where it's going next.
China sentenced a prominent human rights lawyer to 4.5 years in prison, in a case that has spotlighted the country's murky justice system.
The lawyer, Wang Quanzhang, was found guilty of "subverting state power," according to a statement by the No. 2 Intermediate People's Court in the northern port of Tianjin. Wang was among more than 200 lawyers and legal activists detained in 2015, in a crackdown on those representing alleged victims of political repression.
His closed-door trial last month renewed concerns over China's secretive, opaque justice system, as President Xi Jinping's campaign to strengthen China's "rule of law" gives authorities wide latitude to deny suspects due process when threats to national security are invoked.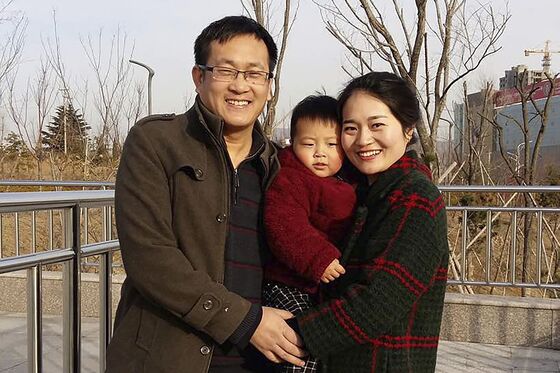 Such practices have come under greater scrutiny after China's spy agency detained an Australian writer earlier this month, and two Canadian nationals in December. The country's courts also sentenced a third Canadian to death on drug charges this month, after the defendant appealed his initial 15-year prison term.
Wang is among more than 1,400 political and religious dissidents jailed in China as of October, according to the U.S. Congressional-Executive Commission on China. The panel said "considerably more" cases have probably not been reported.
Last month, the group Chinese Human Rights Defenders denounced the proceedings against Wang as a "show trial," calling on foreign governments and organizations to seek his freedom.