China Spy Agency Detains Ex-Canadian Diplomat as Feud Brews
(Bloomberg) -- The detention of a former Canadian diplomat by China's spy agency just days after the arrest in Canada of a Huawei Technologies Co. executive signaled an escalation in the feud between the two nations, while raising new questions about the safety of foreigners doing business in China.
Michael Kovrig was detained by a branch of China's Ministry of State Security during a visit to Beijing on Monday, his employer, the International Crisis Group, said in a statement. The Brussels-based non-profit said Wednesday it has received no information from Kovrig since his detention and was working to secure consular access to verify his health and safety.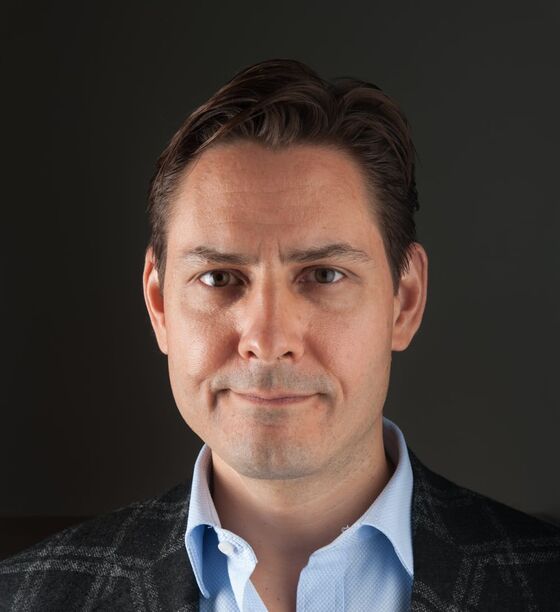 China detained Kovrig in relation to a national security investigation, Beijing News reported Wednesday. Chinese Ministry of Foreign Affairs spokesman Lu Kang declined to comment on the case, deferring questions to the Crisis Group, which he noted wasn't registered as a non-governmental organization. "We welcome people from other countries and various sectors to come to China, as long as they abide by China's laws and regulations," Lu told a regular briefing in Beijing.
Canadian Prime Minister Justin Trudeau said Tuesday that his government has raised the case with Chinese officials. "We are engaged on the file, which we take very seriously," Trudeau said. "We are of course providing consular assistance to the family."
Kovrig's detention marked a potentially explosive twist in the saga surrounding Canada's arrest of Huawei Chief Financial Officer Meng Wanzhou on Dec. 1 in Vancouver at the request of the U.S. Chinese officials expressed outrage over her arrest and threatened "severe consequences" if Canada failed to handle the case to its liking.
Canadian Foreign Minister Chrystia Freeland declined Tuesday to say if she thought there was any connection between the cases of Kovrig and Meng, while Public Safety Minister Ralph Goodale said "there is no explicit indication of that at this point." Canada Trade Minister Jim Carr said Wednesday there is no indication the Kovrig detention was tied to Huawei.
Meng was granted bail Tuesday for C$10 million ($7.5 million) and now will await further proceedings on U.S. efforts to extradite her over alleged sanctions violations. Meng agreed to around the clock surveillance from a house her family owns in Vancouver.
"We could speculate endlessly as to whether these judicial issues are pure coincidence or whether they are tied into a political agenda," Richard Fenning, chief executive officer of Control Risks, said on Bloomberg Television. "It probably doesn't really matter. It is what people believe to be the case on the ground that is probably the most pertinent at the moment."
Canada has argued that it had little choice but to detain Meng after a U.S. request, and that Trudeau's government can't interfere with the courts. U.S. President Donald Trump, however, said he would intervene in the Meng case if it would secure a trade deal.
The case will add to foreign business executives' concerns about traveling to China as Trump's trade dispute with Beijing threatens to escalate into a broader geopolitical struggle between the world's two largest economies. Multinational companies have become more nervous about sending executives to Beijing since Meng's arrest, a Hong Kong-based risk consultant told Bloomberg News this week.
The involvement of the Ministry of State Security will only heighten those fears. The shadowy agency operates out of unmarked offices opposite the Communist Party's headquarters and enjoys almost unchecked authority under national security laws recently strengthened by Chinese President Xi Jinping.
"If they're the ones who are picking him up, they're likely to be related to espionage or subversion rather than run of the mill lawbreaking," said Peter Mattis, a former Central Intelligence Agency analyst and research fellow at the Victims of Communism Memorial Foundation who is co-authoring a reference guide on Chinese intelligence.
Most foreigners operating in China risk running afoul of the country's broad state-secrets protections, since the opaque political environment often requires activities that could be construed as some form of intelligence gathering. Those concerns are even greater for non-profits such as the Crisis Group, who operate without the protection of diplomatic or journalist visas.
Foreign non-governmental organization are required to register with the Chinese authorities under a 2017 law that subjects them to stringent reporting requirements. Under the law, organizations without a representative office in China must have a government sponsor and a local cooperative partner before conducting activities.
Since February 2017, Kovrig has worked as a senior adviser the International Crisis Group, which is focused on conflict prevention, in the former British colony of Hong Kong. For two years to September 2016, he served as a Canadian diplomat in Beijing and Hong Kong, where he helped arrange a visit by Trudeau.
The Crisis Group said that Kovrig was solely employed by the organization and no longer worked for the Canadian government. Kovrig is on extended leave from Canada's foreign service, according to people familiar.
"Michael did not engage in illegal activities nor did he do anything that endangered Chinese national security," Crisis Group Chief Executive Officer Rob Malley said in an email. "He was doing what all Crisis Group analysts do: undertaking objective and impartial research."
Kovrig didn't respond to a message sent to his WhatsApp account, which showed he last accessed the account on Monday at 5:24 p.m. Hong Kong time. Calls to his phone went straight to voicemail.
With Kovrig's detention, China could be attempting to take a stand without directly inflaming trade talks with the U.S., according to John Higginbotham, a fellow at Carleton University's Norman Paterson School of International Affairs in Ottawa.
"The idea that there is retaliation against a Canadian citizen -- unwarranted retaliation -- will make it even more difficult for the Canadian government to squirm its way out of this situation that the United States has presented us with," Higginbotham said.
"We are really in a very difficult position," he said. "The elephants are charging each other and watch out for Canada."