China's Xi Highlights Economic Crossroads Before Trump Talks
(Bloomberg) -- Chinese President Xi Jinping said the global economy is at a turning point as he prepares for a critical meeting with Donald Trump this weekend.
Addressing the Spanish Senate Wednesday, Xi said the world has to decide whether to continue working to support the global trading system. Failure to do so will lead to new barriers emerging between nations.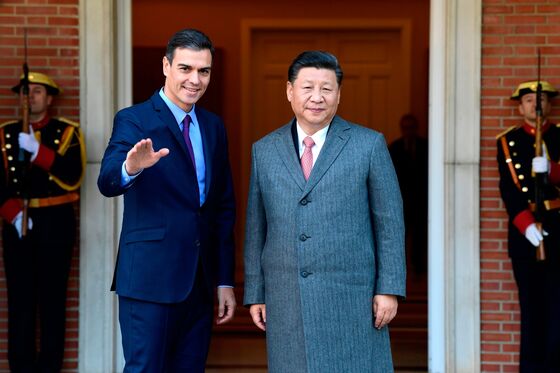 "We're at a crossroads, in economic terms, where we'll either continue with economic globalization and free trade or resort to unilateralism and protectionism," Xi told lawmakers in Madrid. "The coordination and unity of the whole international community are needed to forge more consensus, to contribute more positive energy to help this world develop in the right direction."
Xi is due to hold talks with Trump at the Group of 20 meeting in Buenos Aires this weekend, with the U.S. president threatening tariffs on $200 billion of Chinese goods unless they can strike a deal on revised terms of trade.
The Chinese leader hailed his country's links with Spain during a state visit that culminated in a gala dinner hosted by King Felipe VI in Madrid's Royal Palace. He also met with Prime Minister Pedro Sanchez for the signing 18 commercial or institutional accords.
In a joint statement, both countries committed to a "global, open, balanced" economy. In his speech in the Senate, Xi pledged that China would seek to open itself to the outside world and facilitate market access in areas such as investment and protection of property rights.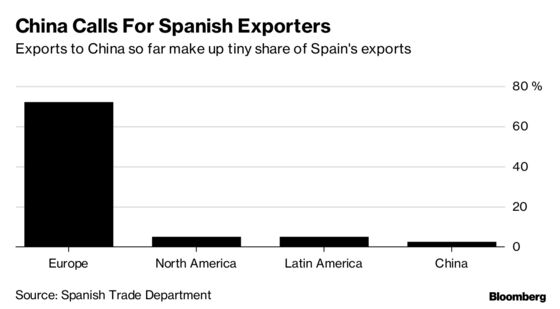 "I give the greatest importance to relations between China and Spain," Xi said at a ceremony during which he was presented with the keys to the city of Madrid by Mayor Manuela Carmena. "For this reason, I hope to use this visit to continue increasing mutual political confidence between both parties."
Spain is backing the European Union's own project to develop connections with Asia and for that reason won't sign up to China's Belt and Road initiative that seeks to boost trade and transportation links throughout Eurasia, a government official said Tuesday. Among the agreements to be signed Wednesday are accords on taxes, cultural exchanges and opening up Chinese markets to Iberian ham and grapes.