China's Fentanyl Fight 'Almost Impossible' Despite Trump Promise
(Bloomberg) -- China won't find it easy to make good on its promise to crack down on fentanyl as part of its trade war truce with U.S. President Donald Trump.
China promised to tighten supervision and revise rules around the production of the highly addictive opioid painkiller as well as boost law enforcement work with the U.S. after President Donald Trump met President Xi Jinping at the Group of 20 summit in Argentina. The pledge, which will also see China ranking fentanyl trafficking among the most serious crimes in the country, is being hailed by Trump and his advisers as a major win.
Trump said the Chinese promises are a "game changer" in curbing the opioid abuse that's blamed for thousands of overdose deaths in the U.S. and has been declared a public health emergency. Still, the byzantine network of thousands of small producers in China's synthetic chemical industry means that China will need to engage in whack-a-mole efforts to make good on its pledge to stop factories and labs that can quickly switch to new variations of chemicals that can produce the same fatal results.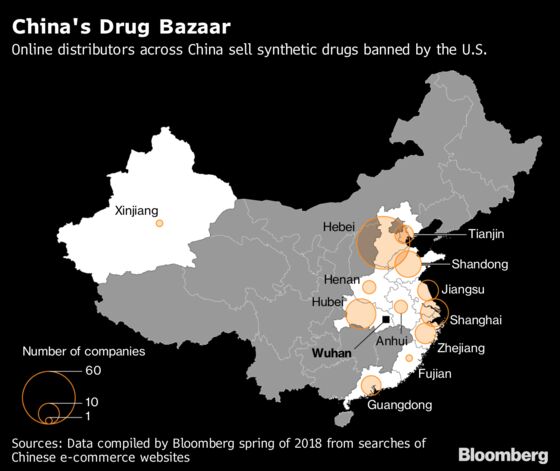 "Small private factories are the main force in manufacturing fentanyl in China and they are flying under the radar while scattered across the country," said Tang Jianbin, a Beijing-based lawyer who specializes in drug crimes at King & Capital Law Firm. "It's almost impossible for law enforcers to identify and crack down on them."
The ease in which fentanyl is brazenly marketed and sold to American buyers online speaks to the difficult task facing the Chinese government. A search Monday of publicly accessible e-commerce portals like www.diytrade.com throw up a long list of Chinese-based suppliers of fentanyl and its analogues, molecules that have similar effects on the body. The website, along with others, also list names of manufacturers, contact details and shipping methods, which include using FedEx and a program that's connected to United States Postal Service.
One provider at smoothpharma.com lists original fentanyl powder among its products, along with a picture of a white powder in a plastic bag with a hand-written label that dates it to August 1, 2018. The fentanyl powder is for "chemical research," according to the website, which markets products sold by Angel Pharmaceutical Co. It also advertises that it sells hundreds of other products including U-47700 and A-PVP, both of which are on the Chinese government's list of controlled substances. A representative who replied to a WhatsApp message at the listed number denied it's selling the products.
Xi's vow to get tougher follows U.S. allegations last week that China has been slow to add new categories of fentanyl analogues to the list of prohibited substances, thwarting enforcement. The accusations, contained in a Nov. 26 report by a U.S. congressional panel, focused on the country as the biggest source of synthetic opioids finding their way to American drug users.
Responding to the panel's report, foreign ministry spokesman Geng Shuang said last week China has listed 25 fentanyl substances and two precursors, or chemical ingredients that can be used to make the illicit drug, as controlled substances, according to a transcript on the ministry's website.
Geng also said that the country has taken effective measures, and that the U.S. has accused China as being the source of its fentanyl without "any solid evidence."
In 2017, China's National Narcotics Control and Prevention Office shared with the U.S. more than 400 drug-related tips involving fentanyl purchases by American consumers, according to the state-backed Global Times.
Compounding the problem is that the raw materials used to make the synthetic drugs are in plentiful supply in China, thanks to its mature chemicals processing industry and deep pool of highly trained chemists, said Tang, the lawyer. Many of the chemicals cannot be regulated too broadly because they are also needed for many legitimate products, he said.
Variants to fentanyl are very easy to synthesize, with new formulas created very quickly and shared online, posing a challenge to governments who are trying to keep up, said Liu Chang, a lawyer at Beijing Zhongwen law firm.
Chinese Nationals Charged
China does not have a similar fentanyl abuse problem within the country, and has blamed high U.S. demand for the export problem. "The abuse of fentanyl-like substances in the U.S. at this point results from many factors," Geng said last week. "The U.S. government surely has a bigger role to play in reducing the demand."
Last September, U.S. federal prosecutors charged two Chinese nationals, Yan Xiaobing and Zhang Jian, with manufacturing and selling drugs related to fentanyl. Yan became the first Chinese national that the U.S. has ever added to its "consolidated priority organization target" list of individuals thought to command the world's most prolific drug-trafficking and money-laundering networks.
Contacted earlier this year in Wuhan, a Chinese metropolis of 11 million, Yan said the first he had heard of the charges was from Bloomberg News. He subsequently stopped replying to messages. There have been no announcements that Yan or Zhang have been extradited to the U.S.