China Rolls Out Further $29 Billion in Tax Cuts Amid Slowdown
(Bloomberg) -- Chinese policy makers are continuing their piecemeal approach to arresting the slowdown in the world's second-largest economy, as further details emerged of measures to ensure credit to small businesses and ease their tax burden.
Late Wednesday, state media announced a package of tax cuts for small and micro-sized businesses -- the backbone of the economy -- worth 200 billion yuan ($29 billion) per year over the next three years. That's consistent with a modest increase in the targeted budget deficit for this year that Bloomberg reported earlier, and matches the aim of a new targeted funding tool that the central bank announced will start this month.
"The government definitely wants to stimulate the economy, but it is also concerned about the slowing fiscal revenue growth amid a down-cycle, as well as the long-term fiscal sustainability due to the aging population," Larry Hu, head of China economics at Macquarie Securities Ltd in Hong Kong wrote in a note late Wednesday.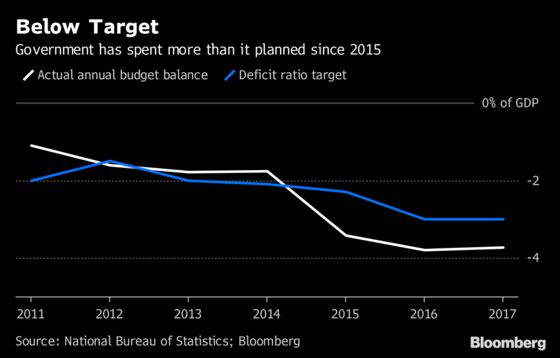 The economy expanded 6.5 percent in the third quarter from a year earlier, the slowest pace since the aftermath of the global financial crisis in 2009.
The decision to cut corporate-income tax, value-added tax and other corporate taxes was announced on CCTV after a state council meeting chaired by Premier Li Keqiang on Wednesday. It came right after the central bank said its new program to encourage banks to lend to small and private companies would begin later this month.
The targeted Medium Term Lending Facility, which lends cash for up to three years, was announced in December and will encourage banks to lend to small and private companies which are facing credit shortages due to a government debt crackdown.
At the same time, banks are responding to some extent to official demands that they keep the credit taps open even amid the slide in confidence. It's prompted some of the largest state-owned banks to cut lending rates to borderline unprofitable levels, according to people with knowledge of the matter.
What Our Economists Say...
We expect most of the extra fiscal stimulus will be reflected in reductions in personal income and corporate taxes. A 2.8% deficit target would be a calibrated policy response aimed at combating continued weakness in domestic demand, flagging external demand and uncertainties associated with a trade war with the U.S.
-- David Qu and Chang Shu, Bloomberg Economics
The twin monetary and fiscal efforts so far mean that the response to the slowdown isn't coming at the expense of a budget blowout. The Finance Ministry agreed the proposed deficit target of 2.8 percent of gross domestic product at its annual work conference in December, two people familiar with the matter said. The figure, which compares with 2018's target of 2.6 percent, will be presented for approval at the National People's Congress, China's legislature, in March. The final number could still change.
While officials have pledged a pro-active fiscal policy this year, the proposed deficit expansion is smaller than many economists had forecast. At the same time, officials can use so-called special bonds, which don't affect the overall budget, to finance local government projects and spur infrastructure investment.
More evidence of the effectiveness, or otherwise, of the government's approach should be available on Jan. 21, when gross domestic product data for the fourth quarter is released. Economists estimate a year-on-year expansion of 6.4 percent. Before that, credit data for December may show a deceleration in the pace of new loans after earlier data had signaled some improvement.
People's Bank of China Governor Yi Gang signaled in an interview published Wednesday that there will be no big expansion of stimulus ahead. The central bank announced a 100 basis-point cut to the required reserves ratio earlier this month.
"We are going to accurately control overall liquidity," Yi said in the interview published by the state Xinhua news agency. "While avoiding overly rapid liquidity contraction which would shake the real economy, we should as well stay away from the flood-like stimulus which would hamper structural deleveraging."