China Makes New Friends in Europe's Former Crisis Nations
(Bloomberg) -- The U.S. is refusing Chinese capital and the European Union is imposing a continent-wide vetting process for Chinese investments. Southern European countries that were close to insolvency a decade ago are much more welcoming.
Investments in and takeovers of Spanish, Italian, Portugal and Greek businesses by Chinese companies have outpaced those in the U.S. and in the rest of Europe this year, according to data compiled by Bloomberg. While the increase is driven by China Three Gorges Corp.'s pursuits of Portuguese utility EDP and its Spain-based renewables unit, there have been 23 other proposed or completed deals, investments and joint ventures across the four countries since the start of the year.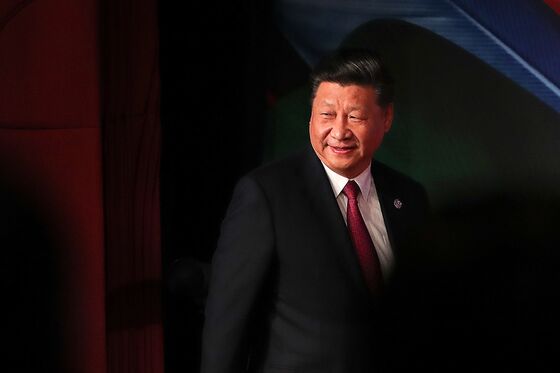 China's interest will be on display starting Wednesday when President Xi Jinping visits Spain and Portugal on the way to and from the Group of 20 summit in Buenos Aires. The trip marks Xi's first official state visit to the two countries, which offer what China thirsts for: technology, brands, and friendly governments.
"In terms of long-term strategy and long-term presence, these places are attractive to China," said Philippe Le Corre, a senior fellow at the Harvard Kennedy School of Government and the author of "China's Offensive in Europe." "These countries are becoming soft supporters of China on the international stage."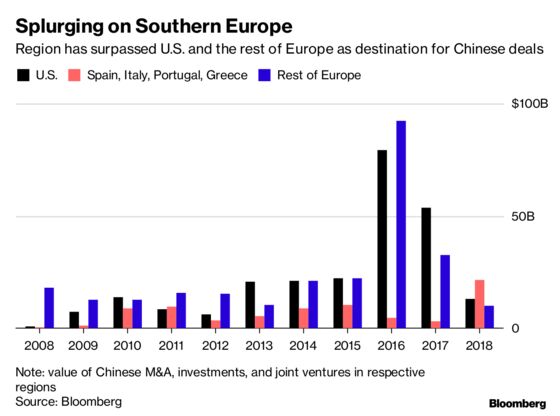 Greece last year vetoed an EU condemnation of China's human rights record in the United Nations. Spain, Italy, Greece and Portugal weren't among the signatories to a letter from at least 15 western ambassadors over the treatment of the Uighur minority in China's Xinjiang region, Reuters reported. Italy's populist government says it wants to be a EU partner in the Belt and Road Initiative, China's massive infrastructure plan.
China was snapping up assets from the cash-strapped nations as long ago as the European debt crisis, which began in 2009. Both state-owned enterprises and private conglomerates have joined in. Chinese companies now own large or controlling stakes in the Greek port of Piraeus; Portugal's largest insurer, Fidelidade; Italian tiremaker Pirelli & C. S.p.A.; and Spanish oil major Repsol SA's Brazilian arm.
The plethora of transactions has spawned European concerns about possible intentions to steal technological know-how. Propelled by growing political unease over Chinese acquisitions, EU negotiators last week approved the first bloc-wide rules to screen foreign investments from outside the bloc. While the new law doesn't grant members the right to veto deals in other EU countries, it would allow them to seek information and provide comments on transactions elsewhere in the union. Member states receiving comments would have to take those reactions into account when making a decision. The rules are to enter into force around the end of 2020.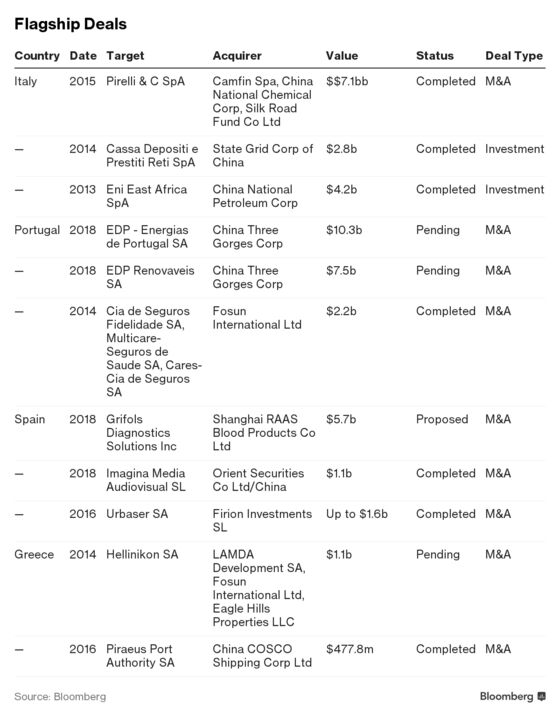 Politicians from Italy and Portugal had initially expressed concerns about the rules, arguing they shouldn't become an excuse for protectionism or encroach on national interests. Germany, Europe's biggest economy, has taken a harder stance on China after seeing national champions such as auto manufacturer Daimler AG and robot maker Kuka AG become targets.
Chancellor Angela Merkel's government decided for the first time this year to veto a possible Chinese takeover, of machine tool manufacturer Leifeld Metal Spinning AG. The country's economy ministry is also considering lowering the threshold at which the government can investigate or intervene in response to foreign investments.
"The pushback is now increasingly coming from the core," said Guntram Wolff, director of Bruegel, a Brussels research institute. Chinese investment in technology-intensive industries "has not gone unnoticed."
Another worry is that some investments seem to misfire, with large Chinese firms seeing a string of divestment this year amid a need to pay down overseas debt. Dalian Wanda sold a 17 percent stake in Spain's Atletico de Madrid football club this year after acquiring it just three years earlier, and HNA in recent months sold its position in NH Hotel Group.
In the U.S., the interagency committee that reviews investment from overseas strengthened its power to block or force changes in deals earlier this month, and a new law passed by Congress makes such review mandatory. Even before that, the committee last year blocked the sale of Lattice Semiconductor Corp. to a Chinese investor.
Cash-strapped countries in southern Europe see another side. Javier Fernandez, a regional government leader in Spain's northern region of Asturias, where EDP operates hydroelectric, coal and gas-fired power plants, said earlier this year that the Three Gorges bid "isn't worrying." The Chinese company would be less likely to intervene in operations or cut jobs than a local competitor, he said. The deal is worth a combined 16 billion euros ($18.2 billion).
Rui Lobo, a digital communications professional in Lisbon, counts his country a winner.
China's bet on Portugal "stirs our economy," the 26-year-old said while waiting for a bus in central Lisbon. Even if it makes Portugal more dependent on Chinese growth the risk is worth taking, he said.
China isn't actively targeting investments in southern Europe as opposed to other regions, and the motivation is entirely economic, according to its diplomatic mission to the EU in Brussels.
"Investment is based on business-oriented activities, and the direction of investment depends on factors such as the company's own advantages and market conditions," the mission said in a statement responding to questions. "There is no such thing as strategic considerations or political intentions."
The fight in Brussels aside, President Xi will be warmly greeted by a gala dinner, medals and a golden key in Madrid this week. "Within the framework of the visit, some activities of an economic-corporate nature will be held," the Spanish government said in a statement.