China, Japan Vow to Cooperate as Trump Hits Both on Trade
(Bloomberg) -- China and Japan capped a restoration of ties with agreements on everything from currency swaps to ocean rescue Friday, a thaw that comes as President Donald Trump seeks better trade terms with both nations.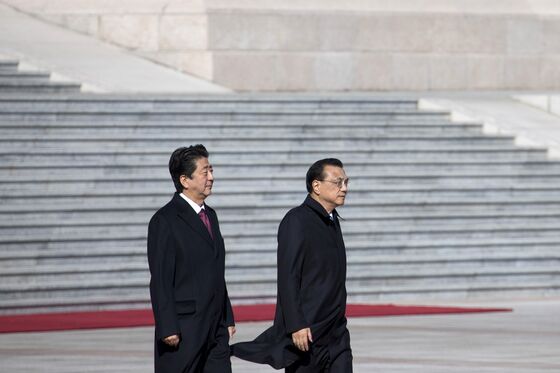 Shinzo Abe became the first Japanese prime minister to pay an official visit to China in seven years, as Asia's two largest economies sought to play down disagreements that have hindered relations for decades. They both reiterated support for free trade and called for the early conclusion of a regional trade pact with 16 Asia-Pacific nations that doesn't include the U.S.
After Abe and Chinese Premier Li Keqiang commemorated the 40th anniversary of a peace and friendship treaty on Thursday, the two held formal talks on Friday and oversaw the signing of cooperation agreements between the two governments. Abe then met and dined with President Xi Jinping, marking a new high point for a relationship he has long sought to mend.
At that meeting, Xi said the two countries are becoming increasingly interdependent and that they should be partners rather than threats to each other, according to a Japanese official. He also said China's Belt and Road initiative provides a platform for cooperation and that the nations will adhere to free trade and face global challenges together.
Read: From Flu Drugs to Solar, 52 Deals Bring Japan and China Closer
Abe was accompanied to China by foreign and trade ministers and a 500-strong business delegation. The two sides signed 50 cooperation agreements, including reviving a 200 billion yuan ($29 billion) currency-swap deal. The neighbors also agreed to discuss establishing a clearing bank for offshore yuan and cooperation between Japan's Financial Services Agency and the China Securities Regulatory Commission.
"China is willing to work together with Japan to take Sino-Japanese relations back to a normal track, maintaining stable, sustainable and healthy development and making new progress," Li said during an appearance with Abe on Friday. Both sides believed that stable relations were important and that they should take "concrete measures" to become cooperative partners, he said.
Japan's relations with its biggest trading partner turned hostile in 2012, when it nationalized part of a disputed East China Sea island chain, sparking sometimes violent protests and damaging business ties. Since taking office at the end of that year, Abe has consistently sought meetings with Chinese leaders, even as anger simmered over the territorial and other disputes.
Abe said he sought frank talks with Xi and Li covering North Korea and trade issues. The two sides also agreed to cooperate on search-and-rescue operations at sea, and assist each other in developing health care and elderly care services.
In a speech to a business forum on Friday, Abe harked back to Japan's role in providing aid and private sector investment from the 1980s that helped turn China into an economic powerhouse.
"The Japanese government and companies invested and worked with the Chinese people toward modernization," he said. "Seeing how China has developed is a source of pride for Japan as well."
The thorniest issues between the two sides had so far received little mention. There were no immediate agreements on how to handle the territorial dispute, or the issue of gas resources around the disputed sea border between their exclusive economic zones.
"The difficult issues are going to stay," said Akio Takahara, a professor at the University of Tokyo, adding that he expected relations to remain cordial at least until Xi visits Japan, which he is expected to do for the Group of 20 summit in Osaka next year.
"The Chinese Communist Party always has this history card against Japan in their pocket," Takahara said. "Whenever they feel the need to take it out, I'm sure they will do that."