Chile's Back-to-Back Key Rate Shocks Hasten End to Stimulus
(Bloomberg) -- Chile's central bank stunned economists with a bigger-than-expected interest rate hike for the second straight meeting and signaled it will remove stimulus even faster as inflation expectations soar above target.
Policy makers led by Mario Marcel lifted the overnight rate by 1.25 percentage points to 2.75% on Wednesday, surprising nearly all analysts in a Bloomberg survey who expected a smaller hike. In a statement, policy makers wrote borrowing costs will reach neutral - which is neither stimulative nor contractive - before their prior forecast of early 2022.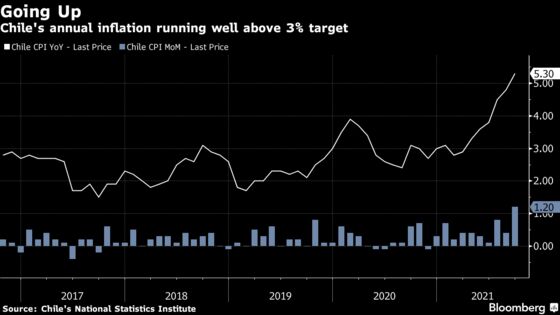 "The evolution of the macroeconomic scenario has increased the risks regarding the convergence of inflation to the 3% target within the policy horizon," they wrote. "The Board has decided to anticipate the withdrawal of the monetary stimulus, projecting that the policy rate will reach its neutral level sooner than foreseen in the September Report's central scenario."
Central banks across Latin America are raising borrowing costs quickly as industries reopen and inflation spikes. In Chile, consumer prices blew past estimates in September, surging by the most since 2008 on a month-on-month basis. Gross domestic product will expand as much as 11.5% this year, according to policy makers, and lawmakers are debating new pension withdrawals that would inject another $20 billion into the economy.
Read More: Chile Deputies Approve Fourth Round of Early Pension Withdrawals
What Bloomberg Economics Says

"This decision shows that activity and domestic demand in particular are very strong, more than in other countries, and that it has recovered from Covid much faster. The economy is overheated. The key rate rate should be no lower than 3.75% by 1Q22."

-- Felipe Hernandez, Latin America economist

For the full note, click here 
The borrowing cost hike was the biggest in two decades. Policy makers have now raised rates by a total of 225 basis points since July. The peso gained 1.1% to 807.08 per dollar at the open on Thursday.
"This was a surprising and aggressive rate decision that incorporates inflation expectations," said Sebastian Diaz, economist at Pacifico Research in Santiago. "The central bank is trying to get ahead of inflation. They are going to continue raising rates."
In the August policy meeting, the bank board raised borrowing costs by three-quarters of a percentage point. At that time, most economists were pricing in an increase of either a quarter or a half of a percentage point.
In the statement, policy makers wrote that sectors such as services that have lagged are now returning to their pre-pandemic levels. At the same time, investment has shown a "significant rebound, reflecting a recovery that has become more transversal."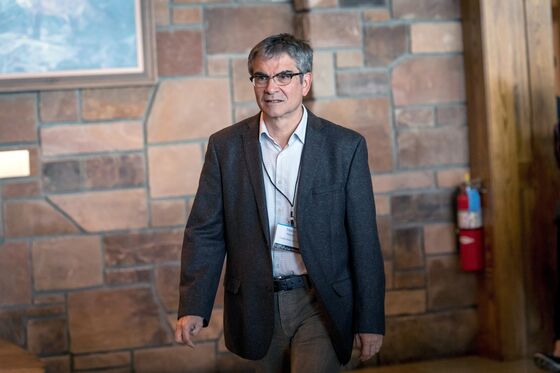 Strong demand, along with factors such as a weaker peso and higher commodity costs, has driven a recent inflation jump. "There have been notorious increases in fuel prices, with oil rising above US$80 per barrel, that is, an increase of more than 15% since the latest meeting," they wrote.
Annual inflation reached 5.3% last month, while consumer price expectations have risen in all horizons, according to the central bank. Indeed, traders surveyed by the monetary authority see cost of living increases running above target through the next two years. 
At the same time, worsening inflation prospects, together with political uncertainty and early retirement withdrawals, are weighing on local financial markets, policy makers wrote. The pension funds, known as AFPs, are the bedrock of Chile's capital markets.
Additionally, the central bank board agreed to suspend the reserve accumulation program initiated last January, given the recent evolution of financial markets and the level of international reserves already reached.