Chile's Communist Contender for President Seeks Economic Overhaul
(Bloomberg) -- An early front-runner for Chile's presidential vote in November is proposing a radical overhaul for one of South America's richest countries, with higher taxes, a revamp of the pension system, more state involvement in the economy and regional cooperation to discourage companies from crossing borders for lower tax rates.
Daniel Jadue, the Communist mayor of a Santiago neighborhood, said if elected he would prioritize a tax reform to raise revenue by about 10 percentage points of gross domestic product to pay for the creation of a new state pension system and other programs designed to reduce inequality. He expressed little concern about reassuring international investors nervous about another country in the region making a sharp turn to the left.
"I would call on international investors to think about the role they've played for the mess and problems in the region," Jadue said during an interview with Bloomberg News on Wednesday. "They will have to make a greater contribution when they come to operate in Chile, and those who are willing to make that contribution to ensure the basic well-being of our people will be welcomed with clear rules."
The 53-year-old is hoping to break from three decades of center-right and center-left governments that have ruled Chile since the Augusto Pinochet dictatorship ended. His demands for social justice and better public services have tapped into discontent that's fueled a broad rejection of the ruling political class. At the same time, his sharp criticism of Chile's persistent inequality is raising alarm among executives who fear he could undo the business-friendly framework Pinochet created.
Jadue's rise comes amid a broad rebellion against political elites across Latin America, exemplified by Pedro Castillo's apparent win in Peru's presidential race this week and violent demonstrations against Colombia's government over the past few months. Chile experienced a wave of unrest before the pandemic driven by demands for better public services and support for the poor.
"This is the result of people coming to the realization that neo-liberal policies are incompatible with democracy," Jadue said. When asked how he responds to accusations that he's going to convert Chile into the next Venezuela, Jadue said the neoliberal right is responsible for the current "disaster" in Chile.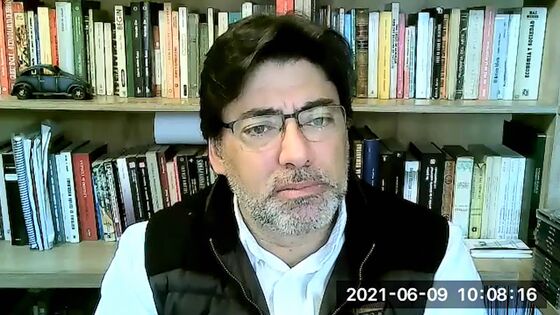 Jadue's revenue proposal would increase income taxes, create a wealth tax for the super rich, eliminate loopholes and exemptions and set a mining royalty. The idea would be to increase the take to 31% of GDP from the current 21%. For pensions, which have been one of the most contentious issues in the country, Jadue wants to create a state-run system that guarantees payments above the poverty line and which will be funded by contributions from the state, employers and workers. He likened his model to Sweden's system.
The current pension system, which is administered privately, will have no role in this model. Their $190 billion in assets under management won't be nationalized or confiscated and they'll function only as a saving option for people with higher income, he said.
When it comes to mining in the world's top copper producer, Jadue said that his government will respect existing contracts and will then sit down with companies to renegotiate terms. He will also talk to regional neighbors to set basic production rules "to keep transnational mining companies pitting ourselves against each other so they can protect their profits," he said.
"The state must have a stake in all mining operations, because the state is the owner of all of the minerals," Jadue said.
He also said the government should have larger roles in key industries such as pharmaceuticals, pulp production and salmon farming. The two latter ones have also been among the largest polluters in Chile and "have left the bill for their actions to be paid by everybody's taxes," he said.
Regarding the central bank, Jadue said the entity should remain autonomous but with a wider mandate such as protecting employment and not only controlling inflation.
An architect and sociologist by training, Jadue has been mayor of Santiago's working-class Recoleta district since 2012. He has participated in demonstrations against current President Sebastian Pinera and has accused his administration of committing human-rights abuses during a wave of protests. Locally, he has been praised for starting a program that provides medicine at reduced costs and has since been replicated in other districts.
Jadue has vaulted ahead of other left-wing and centrist presidential contenders, tying conservative candidate Joaquin Lavin atop a poll released May 31. His popularity reflects the distaste right now for incumbents in Chile, where voters in last month's election for a Constitutional Assembly dealt a stunning blow to establishment candidates.
Jadue's popularity has raised alarms in the country's business community and among investors. Juan Sutil, head of one of the country's most important business chambers, has said that a Jadue presidency would hurt confidence and the future of entrepreneurship in Chile.
Jadue's criticism of Chile's businessmen "is exactly the type of thing that leads to uncertainty," Sutil said in a May interview with local radio station ADN.
If elected, Jadue would be Chile's first president ever from the Communist Party, which was banned from local politics at multiple points in the country's history. The party has just nine deputies among the 155-member national legislative body and just a few mayors scattered across the country.
Jadue's next electoral test will come on July 18, when he faces off against former student protest leader Gabriel Boric in a primary vote. The first round of presidential elections will be Nov. 21, with a possible runoff in December.