Conservative Candidate Cements Lead in Chile's Presidential Race
(Bloomberg) -- Chile's conservative presidential candidate extended his lead in two separate opinion polls just three weeks before the hotly contested election.
Jose Antonio Kast jumped nearly 6 percentage points to 22.2% of voting intention in a Pulso Ciudadano poll released Monday, while his closest rival, leftist Gabriel Boric, fell almost 4 points to 17.4%. Late on Sunday, a phone survey carried out by research firm Cadem showed Kast gaining 1 percentage point to 24%, and Boric losing 1 point to 19%.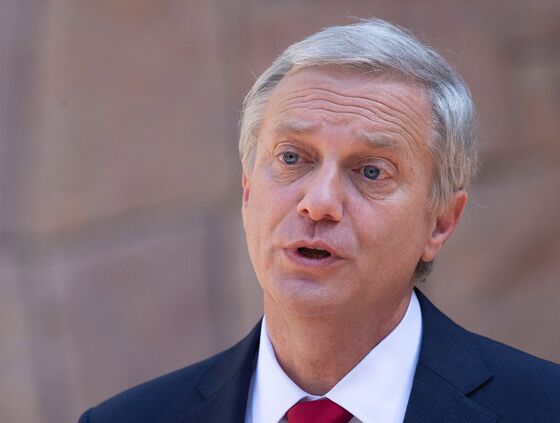 Kast, a former congressman, defends more socially conservative proposals including stronger migration controls and a tougher instance on crime, as well as tax cuts and a smaller role for the state. In the past, he also expressed support for the dictatorship of Augusto Pinochet, one of the reasons why he is often compared to Brazil's Jair Bolsonaro, a former army captain who made a career in politics before becoming president. 
This is Kast's second run for president in Chile. The 55-year-old lawyer won a seat at the lower house in 2001 with Union Democrata Independiente, but resigned from that party in 2016 to run as an independent candidate in the 2017 presidential elections, when he obtained 7.9% of votes. In the following year he founded his own political party, Accion Republicana, which changed name to Republican Party in 2019.
Kast, a father of nine, has said he doesn't like to be compared to Donald Trump or Bolsonaro. He met in 2018 with the Brazilian leader and gave him a shirt of Chile's national soccer team. "Bolsonaro represents the hope for liberty, security, development and social justice in a Brazil that has been destroyed by the left," he then wrote in his Twitter account. 
Kast's recent popularity surge coincided with the debacle of Sebastian Sichel, candidate for the pro-government alliance Chile Podemos Mas. Sichel surprisingly won the coalition's primary vote in July, but fell in disgrace after confessing that he withdrew money from his pension account while opposing a bill to allows Chileans to do the same. 
Sichel's support plummeted to 8% in the latest Cadem report from 24% in August, while Pulso Ciudadano showed it falling to 6.9% from 7.5% in the previous poll.
In third place, Senator Yasna Provoste, representing the center-left coalition Unidad Constituyente, also saw her performance weaken. She fell 1 percentage point to 11% at the Cadem poll, while Pulso Ciudadano showed support for her candidacy dropping to 9.5% from 13.1%.
Provoste and Boric, a former student leader, seek more social services from the state and to dismantle part of Chile's free-market economic model, including private pensions.
Fourth-placed Sichel, meanwhile, who's held three high-ranking government jobs under outgoing President Sebastian Pinera, has said the country's economic framework should stay as it is.
Uncertainty about the economic and fiscal policies Chile will adopt under a new president, coupled with the possibility of yet another round of pension withdrawals that started being allowed during the pandemic, has left investors on the edge. Government bond yields have reached their highest in about ten years, the peso has been the worst emerging market currency after the Turkish lira in the past six months and the stock market benchmark has fallen the most in the world in the same period, in dollar terms.
The Cadem poll surveyed 1,005 people between Oct. 27 and 29, with a margin of error of 3.1 percentage points. Pulso Ciudadano surveyed 2,027 people between Oct. 25 and 29, with a margin of error of 2.2 percentage points.
The first round of the presidential vote will take place on Nov. 21. If no single candidate wins at least 50% of the vote, a runoff will be held on Dec. 19.