Chile Leftist Frontrunner Contracts Covid Weeks Before Vote
(Bloomberg) -- Chilean presidential candidate Gabriel Boric tested positive for Covid-19 on Wednesday, the latest blow to the left-wing contender as his campaign loses momentum before the Nov. 21 first round vote.
Boric is in contact with local health authorities over case traceability, he said in a Twitter post. He had suspended activities including a scheduled television appearance on Tuesday and underwent a PCR test after saying he had a fever.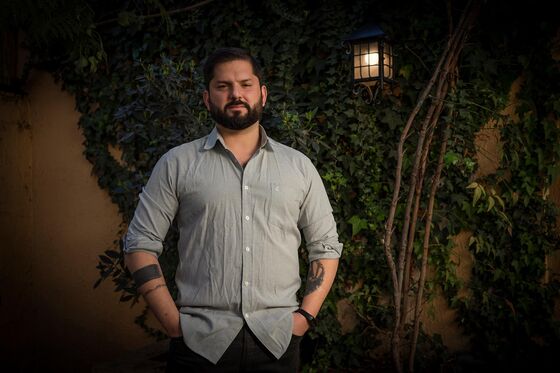 Boric, who gained prominence as a student protest leader, has placed at or near the top of all new polls after unexpectedly winning a primary vote within Chile's leftist parties in July. Yet in recent weeks, he has been challenged by the rise of conservative candidate Jose Antonio Kast, who would likely beat him in an eventual runoff according to two polls released earlier Wednesday.
Boric caught the virus amid the final stretch of the campaign that will include the last televised presidential debate.
"I am not going to lie. I am very frustrated," Boric said in a separate statement. "But, I trust that, if we do things right, I will be able to be back in the streets again."
Boric is running on a platform that calls for better social services and equality, as well as the dismantling of some aspects of Chile's economic model, such as the private pension funds. He serves as a lower house member.
The leftist candidate still has a fever and was resting as of late Wednesday, according to his press advisers. Boric had previously tested negative for the virus in separate antigen tests on Sunday and Monday, and he was scheduled to receive a booster shot against Covid-19 on Thursday, the advisers said.
While Boric may gain a sympathy bump from the news, it is still a setback that will keep a skilled speaker off the campaign tour just when he needs to energize his base. 
He has faced scrutiny over citing incorrect statistics in recent interviews, and was chided earlier on Wednesday by Senator Yasna Provoste, another presidential candidate, over delays in revealing the result of his PCR test.
Boric has lost strength in a series of recent polls before the upcoming vote. He garnered 19% of voter intention in a Cadem survey released Oct. 31, down from 25% in mid-September.
Kast would get 53.7% of valid votes over 46.3% for Boric in the event of a second round, according to an Atlas Intelligence survey released Wednesday. A separate Studio Publico poll showed the right-wing contender with 53.2% over 46.8% for Boric.
Kast's message of law and order has resonated with some voters who are fed up with years of social protests, as well as an insurgency among indigenous groups that has prompted a state of emergency in parts of Chile's south. At the same time, Boric has been criticized for being soft on violence.
If no candidate obtains at least 50% of the vote in the first round of the general election, a run-off will be held on Dec. 19.
Chile is facing a flare-up in coronavirus cases driven by the spread of the contagious delta strain. Roughly 79% of the total population is fully vaccinated against the disease, according to Bloomberg's Vaccine Tracker.