Chile Lays Out Plans for Gradual Tightening After Key Rate Hike
Chile signaled it will continue to raise its interest rate gradually after its first borrowing cost increase in two years, as policy makers weigh a strong economic rebound and risks from new coronavirus strains.
The bank's board, led by its President Mario Marcel, voted unanimously on Wednesday to lift the overnight rate by a quarter-point to 0.75%. In an accompanying statement, policy makers wrote fuel prices are pressuring inflation while consumption and government spending propel activity.
Board members saw conditions for a "gradual withdrawal" of monetary stimulus, according to the statement. Still, "starting from one of the most expansive levels among comparable economies, the Board anticipates that the MPR will be below its neutral value throughout the two-year policy horizon."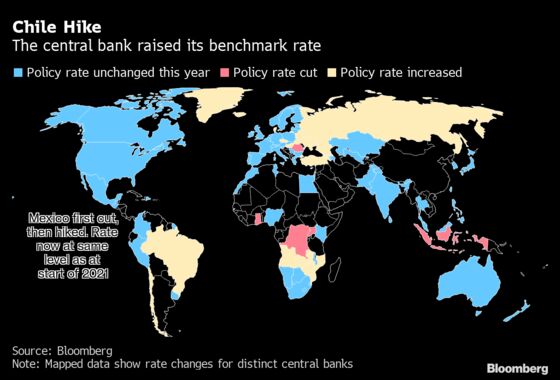 The South American nation joins countries including Mexico, Brazil and Turkey as it tightens monetary policy to combat inflation. The central bank forecasts that the economy will grow by as much as 9.5% this year, and that consumer prices will exceed the 2-4% target range for the first time since 2016. Even so, board members struck a cautious tone regarding the future rate decisions.
"It's a dovish statement because it emphasizes gradual interest rate increases and the fact that borrowing costs will be below neutral throughout the policy horizon," said Agustin Garcia, an economist at Banchile Inversiones. "We expect rates to end the year at 1.25% after two more hikes of a quarter-point each."
One of the reasons for Chile's rebound in growth is its successful vaccination program. The country has fully inoculated about 60% of its population against the pandemic, more than richer nations like the U.S. and the U.K., according to Bloomberg's Vaccine Tracker. Those advances are fueling optimism that virus restrictions will be further relaxed in upcoming months.
Still, many emerging economies are lagging the global rebound, and the spread of new strains of Covid-19 represent a risk factor, policy makers wrote. Locally, total employment remains well below pre-pandemic levels, they wrote.
While job vacancies are rising and there are signs of faster wage growth, labor supply has been "affected by quarantines and state aid to informal and self-employment, as well as by the departure of hundreds of thousands of women from the labor market due to increased family responsibilities," according to bank board members.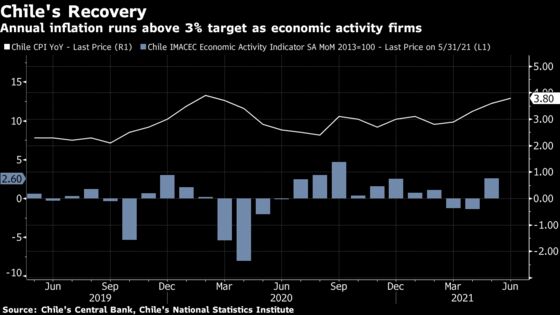 Regarding inflation, policy makers wrote the impact from food cost increases has waned, and financial market surveys show price expectations near the 3% target midpoint two years from now. In that context, the bank's monetary policy will "continue to accompany the recovery of the economy."
"This is clearly a dovish start to the cycle of interest rate increases," said Sergio Godoy, chief economist at STF Capital. "We expect hikes of 25 basis points in upcoming monetary policy meetings."