Chile Central Bank Lifts Inflation Forecasts After Hiking Rates
Chile's central bank raised its inflation forecasts for this year and next, hours after it lifted the key interest rate for the fourth straight meeting amid the fastest economic growth on record.
Prices will rise 6.9% this year and 3.7% in 2022, up from previous forecasts of 5.7% and 3.5%, respectively, according to the bank's monetary policy report published on Wednesday. Annual inflation will ease to the 3% target at the end of 2023, the document showed.
Policy makers led by Mario Marcel raised the overnight rate by 125 basis points to 4% on Tuesday as they try to slow rampant inflation, warning that rates will have to remain high for an extended period. Price pressures are being fueled by economic growth that will top 11.5% this year, policy makers forecast today, more than previously estimated.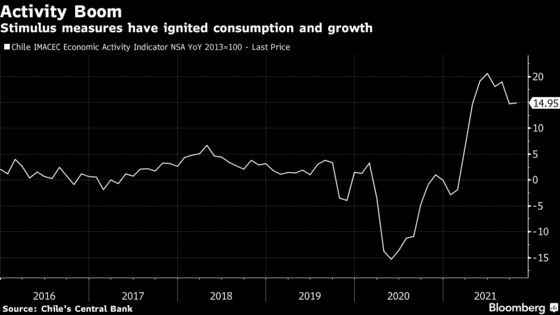 Chile's monetary policy rate "will be further increased in the short term, to exceed its nominal neutral level," they wrote on Tuesday, adding it will remain there during much of the monetary policy horizon. "This will help the economy to resolve its cumulative imbalances, which have contributed to the fast increase in inflation."
Workers, flush with cash from early pension withdrawals and emergency aid during the pandemic, have propelled demand for goods from food to cars. Meanwhile, political uncertainty ahead of the presidential runoff is weakening the peso, pushing up the cost of imports.
What Bloomberg Economics Says

"The message is clear. They will continue to raise rates to a level with restrictive monetary policy. Considering that inflation expectations were more stable in December and also that a rapid deceleration in activity is expected in 2022, the additional rate increases will likely be smaller. Borrowing costs won't go significantly above neutral."

--Felipe Hernandez, Latin America economist 

Click here for full report 
Chile's annual inflation soared to 6.7% in November, marking the highest level since 2008. Both economists and traders surveyed by the monetary authority see price-growth running above target for the next two years.
The rate hike also comes ahead of Sunday's highly-contested presidential runoff. The election pits leftist Gabriel Boric, who pledges higher taxes and improved public services, against conservative rival Jose Antonio Kast, who wants lower levies and a smaller role for the state. 
Faster inflation and higher interest rates are a worldwide phenomenon. Last week, Brazil and Peru raised borrowing costs, while Mexico and Colombia are expected to lift rates later this week.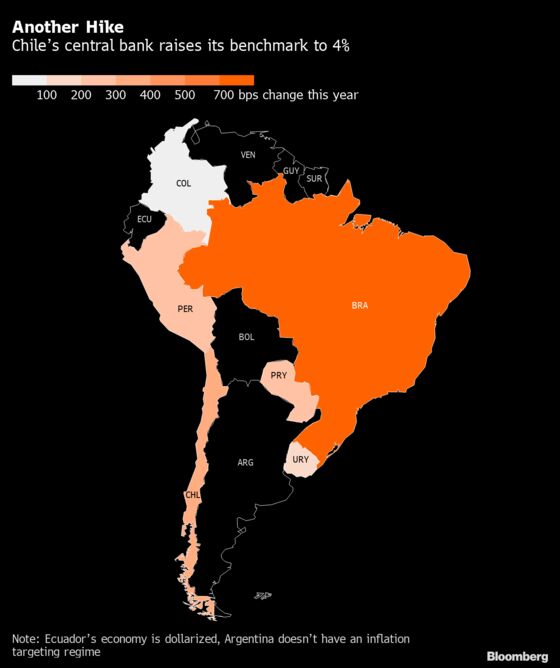 In the statement on Tuesday, policy makers wrote that Chile's labor market recovery has been slow. Both household and businesses expectations have recently worsened due to greater consumer price concerns, they wrote.
Globally, economic growth prospects have moderated, especially in emerging markets, board members wrote. Supply shocks have continued to affect certain sectors, and risks stemming from the pandemic remain. 
Chile's economic growth will slow to between 1.5% and 2.5% next year, according to the central bank report published on Wednesday. Domestic demand will slip by 0.5% in 2022, while investment will fall 2.2%.
Put together, the bank will continue raising rates in the short-term, though likely at a slower pace, said Sebastian Diaz, an economist at Pacifico Research. By saying that policy will be restrictive over much of their horizon, board members leave the door open to eventually bringing rates back down to neutral, he said.
"Inflation expectations are important," Diaz said. "They are what's worrying the central bank."