Chile Central Bank Says It Will Gradually Pare Back Its Stimulus
(Bloomberg) -- Chile's central bank signaled it will gradually pare back stimulus due to forecasts for faster spending and economic activity that will propel inflation well above target at year's end.
Policy makers expect consumer prices to rise 4.4% in December, above the previous forecast of 3% published in March, according to their quarterly monetary policy report released on Wednesday. Gross domestic product will expand 8.5% to 9.5% this year, above the prior estimate of 6%-7%.
Read more: Chile Central Bank Sees 2021 GDP Growth Between 8.5%-9.5%
"The higher growth forecast for spending and activity will make it less necessary for the monetary impulse to support the recovery of the economy with the current intensity, so it should gradually begin to moderate, earlier than was expected in the previous MP Report," policy makers wrote.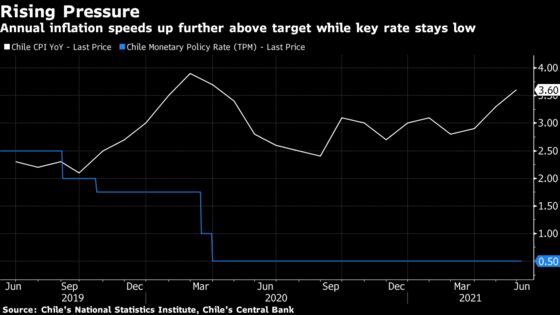 Strong domestic demand has helped Chile's economic activity hold up better than expected this year despite a lagging labor market and a fresh surge in coronavirus cases. An improving global backdrop has also boosted prices of copper, the nation's top export. Meanwhile, annual inflation has surged to the highest level in over a year, well exceeding the 3% target.
Read more: Chile Will Issue More Debt After $10.8 Billion in New Virus Aid
Late on Tuesday, the bank's board, led by its President Mario Marcel, kept the overnight rate unchanged at a record low of 0.5%. In an accompanying statement, policy makers wrote that strong dynamism in consumption and stimulus including pension withdrawals make it necessary to "recalibrate" monetary policy.
"The statement is clearly preparing financial markets for an interest rate increase this year," Martina Ogaz, an economist at Euroamerica, said late on Tuesday. "It gives clear signals regarding dynamism that's connected to consumption and private spending in general."
Chile would join a growing number of emerging markets from Brazil to Russia that are raising borrowing costs as growth recovers from a pandemic-driven downturn and commodity costs rise.
Annual inflation sped up to 3.6% in May from 3.3% the month before amid higher transport costs, according to government data released earlier Tuesday. Part of the increase can be attributed to temporary base effects, with comparisons to the year-ago period when the first wave of the pandemic swept the country.
'Heterogeneous Improvement'
Regarding unconventional measures, the bank board wrote the period of reinvestment of bank bond coupons concluded in early June. "From now onwards, the stock will be gradually reduced as the assets in the portfolio are extinguished," they wrote on Tuesday.
Chile's recovery is still being tested by a virus surge that's overwhelmed hospitals and prompted the government to extend border closures through June. The slow pace of hiring is also weighing on the economic outlook, as the jobless rate has remained stuck in the double-digits for the past year.
"The labor market continues to exhibit heterogeneous improvement, with self-employment and informal salaried employment, low-skilled workers and women lagging the furthest behind," the central bank board wrote.
Meanwhile, Chile is entering a period of high political uncertainty marked by the drafting of a new constitution and November's presidential election.
"The process of rate normalization will be highly conditional on the evolution of investment and employment, as well as sanitary conditions," according to a research note from Scotiabank signed by Chief Economist Jorge Selaive.