Chile Holds Key Rate at 3% Amid Slow Inflation and Growth Doubts
(Bloomberg) -- Go inside the global economy with Stephanie Flanders in her new podcast, Stephanomics. Subscribe via Pocket Cast or iTunes.
Chile kept its benchmark interest rate unchanged as weaker-than-expected activity and subdued inflation temper pressure to lift borrowing costs.
The bank's board, led by its President Mario Marcel, on Thursday held borrowing costs at 3% for the second straight meeting as expected by all 21 analysts in a Bloomberg survey. Policy makers last lifted rates in January as part of their tightening cycle that started in October.
The central bank is pausing amid signs that Chile's economy is hitting a slowdown that's curbed both consumer prices and activity. Last month, the government cut its 2019 growth forecast on lower mining production and a tougher international outlook. Meanwhile, inflation cooled in April from the previous month, and traders see consumer prices failing to rise to the 3% target within the next two years.
In the statement published with the rate decision, officials wrote that the last month's economic data did not substantially modify the central bank's evaluation in the March monetary policy report. The central bank board reiterated its willingness to act with flexibility, in order to reach an inflation target rate of 3% in two years. Policymakers said the lower level of inflation required keeping the monetary stimulus for a prolonged period of time.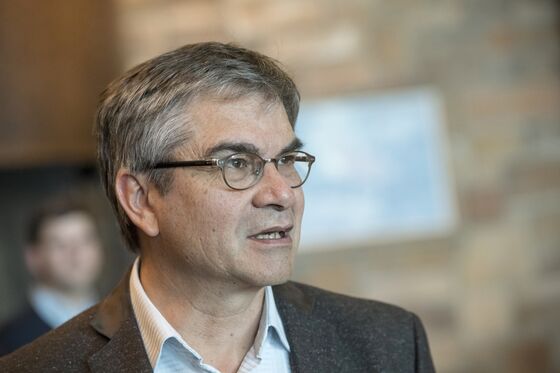 What Bloomberg's Economist Says

"Policy makers are likely to wait for more information before deciding on any changes to their interest rate outlook, but subdued inflation through April and weaker than expected first-quarter economic growth suggests risks are for further delaying the next tightening cycle."
--Felipe Hernandez, Bloomberg Latin America Economist
Economic activity expanded 1.9 percent in March from the year prior, the national statistics agency reported on Monday. Finance Minister Felipe Larrain said growth will pick up in the second half of 2019 and that there are positive signs in the services and construction sectors.
Consumer prices rose 0.3 percent in March, while annual inflation remained at 2 percent. Traders expect the key rate to remain stable until May 2020, when the central bank is seen increasing borrowing costs by a quarter point.