Chile Stocks Surge as Communist Knocked Out of Presidential Race
(Bloomberg) -- Chilean assets bucked a global sell-off after a communist presidential hopeful unexpectedly lost a primary vote before the country's November election, making room for a more moderate candidate to move forward.
One-time student protest leader Gabriel Boric won the far-left vote with 60.4% of support, beating Communist Party candidate Daniel Jadue, a front-runner who had spooked financial markets with calls for radical economic reform.
Chile's benchmark stock index closed up 1.9% on Monday, the biggest gain in the world, while yields on government bonds fell.
Among right-wing contenders, former government minister Sebastian Sichel, who has called for keeping the country's pro-market economic pillars intact, won with 49.1%. He defeated three other candidates, including Joaquin Lavin, one of Chile's best-known politicians. Both Boric and Sichel will now advance to the first round of presidential elections on Nov. 21.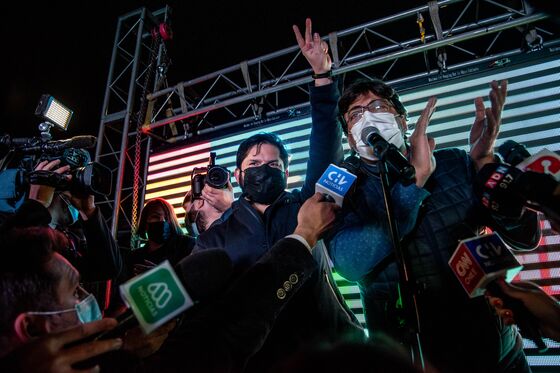 The primaries give investors a glimpse at the balance of power between the political left and right ahead of a presidential election that remains open. It's also the latest blow to Chile's traditional parties amid lingering social discontent.
"Voters saw that Jadue was radical and intransigent in his proposals and ended up associating him with political practices that are rejected today," said Kenneth Bunker, a political analyst and founder of polling electoral website Tresquintos.cl. "Boric has capacity for dialogue and the ability to establish agreements. Lavin lost because people want new faces. They saw political renewal in Sichel."
Roughly 1.8 million votes were cast in the far-left primary, while over 1.3 million voted in the right-wing contest, according to government electoral body Servel. About 21% of Chileans who were allowed to vote ended up participating in the primaries.
Boric, 35, is a prominent member of a newer generation of lawmakers that has shaken up Chilean politics. He became known while leading nationwide protests starting in 2011 that called for free and high-quality education.
He ran successfully as lower house deputy in 2013 and was later re-elected to his second term in a landslide vote. More recently, Boric helped forge a political agreement for a referendum on the nation's constitution.
"Don't fear the youth who want to change this country because we learn from the mistakes and the good choices of those who came before us," Boric told supporters late on Sunday. "If Chile was the cradle of neo-liberalism, it will also be its tomb."
Sichel, 43, has sought to broaden his appeal by running as an independent candidate while boosting his ties with conservative parties. In 2018, he was tapped to help run economic development agency Corfo and later commanded the social development ministry, where he helped establish an emergency cash transfer program for poor families.
Chile's economic model can be improved from within, and does not need radical reform, Sichel said in an interview last month. He has called for boosting cash transfers and improving public services.
"We are a coalition that is prepared to win the presidential election," Sichel told supporters. "We know our plans are the best for Chile's future."
Numerous public opinion surveys carried out in June showed both Boric and Sichel placing second in their respective primaries.
Going forward, both may also be challenged by other candidates in November. The traditional center-left parties that ruled Chile for much of the past 30 years following the end of the Augusto Pinochet dictatorship did not put forth contenders for the primary, yet may compete.
Within this group, former government spokeswoman Paula Narvaez, from the Socialist Party, has already launched her candidacy. Senate President Yasna Provoste, who is from the Christian Democrat party and consistently ranks high in polls, may follow suit.
Meanwhile, on the far right, Jose Antonio Kast of the Republicanos Party confirmed he plans to run. The presidential contest will likely go to a runoff in December.
Chile's next head of state will oversee the rewriting of the constitution and a nationwide referendum on the document. The winner will also face challenges such as rising debt stemming from emergency aid during the pandemic and demands for increased social spending following the 2019-2020 unrest.