Chile Eyes Faster Rate Hikes as Economy Runs Hot: Decision Guide
Chile is forecast to accelerate the pace of interest rate increases as the economy runs hot and inflation soars while the government continues to pour on fiscal stimulus.   
The central bank will raise its overnight rate by half a percentage point to 1.25% on Tuesday, according to 12 out of 17 analysts surveyed by Bloomberg. That would be the biggest increase in a decade. The other five expect a second straight hike of a quarter percentage point.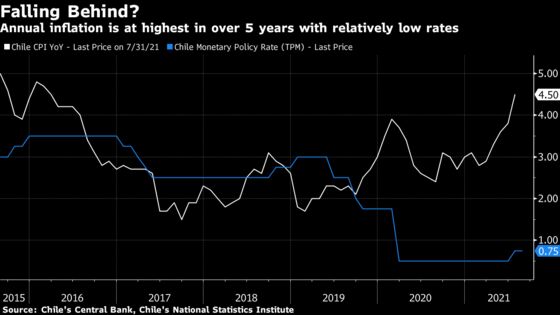 To speed the recovery from last year's slump, Chile's government is adding billions of dollars of extra fiscal stimulus on top of a Covid-19 response that the International Monetary Fund says was already the largest among major emerging markets. That's raised the risks of the economy overheating, and Goldman Sachs Group Inc. said the central bank has been slow to react as annual inflation accelerated to a five-year high of 4.5% last month. 
What Bloomberg Economics Says

We expect the central bank to hike its benchmark rate by 50 basis points to 1.25% and sound a more hawkish tone at its meeting on Tuesday. Increasing fiscal stimulus and higher-than-expected inflation have raised concerns about growing pressure on prices from an overheating economy. July activity may show strong growth and robust domestic demand.

--Felipe Hernandez, Latin America economist

Click here to read full report
Tuesday's decision will be published on the central bank's website at 6 p.m. in Santiago, along with a statement from the board. Here's what investors will be focusing on:
Investors expect the bank to acknowledge that Chile's recovery has gained strength, which would be an argument to further withdraw stimulus going forward. Economic activity has beat expectations for three straight months, while retail sales jumped 66% in June and 72% in May from a year earlier. 
In that context, analysts have cautioned that the government's efforts to boost demand are becoming excessive. Congress is also debating whether to allow people to tap more of their pension savings, which central bank President Mario Marcel said would raise risks of overheating the economy. 
Any comments from the bank on additional cash transfers to families -- an emergency measure to help the population cope with the effects of the pandemic -- and also the impact from another round of pension withdrawals will be eyed closely. Traders are seeking clues as to how much monetary stimulus will be removed to accommodate the surge in spending and activity.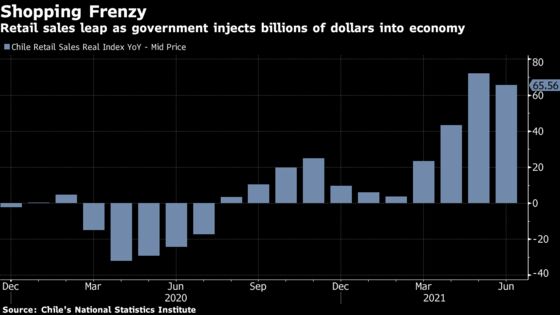 Investors will scour the statement for changes in policy makers' language regarding inflation. Until now, the bank board has said the spike in consumer prices is largely caused by temporary factors. 
Still, strong consumer demand, the extension of cash transfers and higher global commodity prices may prompt a reassessment of that outlook.
"Imported inflation, the re-opening of the economy, and strong consumer demand should keep inflation high over our forecast horizon," Morgan Stanley economists including Lucas Almeida wrote in a note. "We see conditions in place for a prolonged acceleration of core inflation coming from both goods and services."
Given both stronger demand and inflationary pressures, investors are betting the central bank will signal the need for more interest rate hikes. 
At their last policy meeting in July, the bank board said some monetary stimulus was still needed to boost the recovery. Now, economists will look for signs that policy makers are considering a "front-loaded" hiking cycle, with increases concentrated in coming meetings.
"The central bank has fallen behind the curve," Alberto Ramos, chief Latin America economist at Goldman Sachs, wrote in a note. "We fail to see a compelling reason to keep the monetary stance so accommodative."