Chile Economic Activity Surprises Again as Rebound Powers On
Chile's economic activity rose more than expected in June due to broad-based gains, signaling that families and businesses rode out fresh lockdowns caused by a coronavirus surge.
The Imacec index, which is a proxy for gross domestic product, increased 2.1% from the month prior, more than the 0.6% median estimate in a Bloomberg survey. It was the third straight month with an upside surprise to growth. Activity leaped 20.1% from a year ago, the central bank reported on Monday.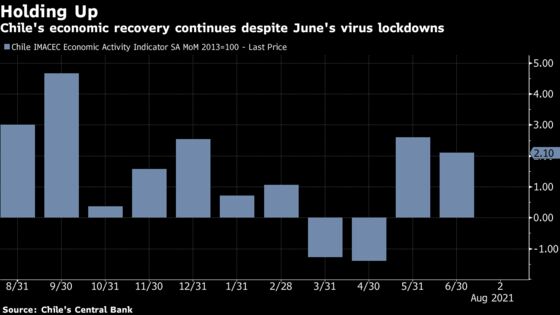 Early June marked a virus peak for Chile, one of Latin America's richest economies, which had cities including Santiago under strict limits on movement and commerce. Since then infections have tumbled, while demand has gotten a boost from billions of dollars in government stimulus and early pension withdrawals. Still, the recovery is uneven and job creation remains weak.
Read more: Chile Raises Borrowing Plans by $8 Billion on Stimulus Spending
Analysts at Credicorp Capital raised their 2021 growth forecast to 9.3% from 8.3% after the data release. An extension of cash transfers beyond September or a fourth round of pension fund withdrawals will be likely going forward, they wrote in a report. A prompt economic reopening will also help consumption.
"Economic activity data has been persistently surprising to the upside, both market expectations and central bank estimations," according to the report. "With this monthly result, we estimate that the 2Q21 GDP growth stands at 17.4% year-on-year, more than 1 percentage point above the base case of the central bank's June IPoM report."
Services rose by 2.3% in June, while industry gained 3.9%, according to the central bank. Mining crept up by 0.8%.
Chile's central bank expects gross domestic product to expand 8.5%-9.5% this year, according to estimates published in June. It will publish the official second quarter growth figures on Aug. 18.