Chile's Pinera Suffers Shock Court Defeat Over Pension Bill
(Bloomberg) -- Chilean President Sebastian Pinera will sign into law a bill allowing billions of dollars in early pension withdrawals after the Constitutional Court threw out his bid to block the proposal.
The court voted 7 to 3 against his request, even before discussing the basis of the appeal, according to a statement. It didn't immediately give its reasons. Shortly after, Pinera said in a televised speech that he will enact the legislation on Tuesday.
"We respect and accept the Constitutional Court's decision even though we don't agree with it," Pinera said. We "will do all in our power to assure the money gets to people starting next week."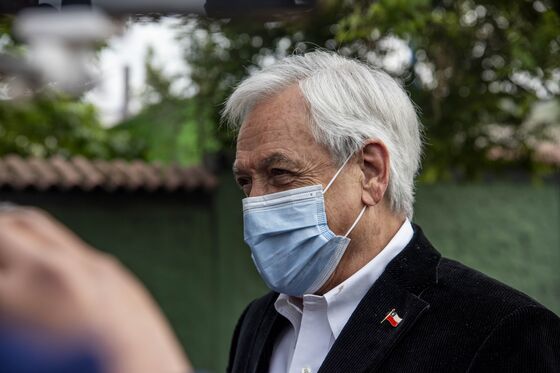 The court decision is a stunning blow for Pinera, who challenged the opposition-backed bill even as it garnered support across the political divide. Chile is weathering its worst coronavirus wave to date, and the bill's backers say it's key to getting aid to cash-strapped families. The court move sent stocks and bonds lower amid calls for Pinera to fire his advisers and overhaul his cabinet.
Within the next few days, the administration will introduce a bill to provide cash transfers to workers who don't have any money left in their pension funds, Pinera said. The legislation will also allow most workers to tap their money tax-free and create a mechanism to replenish savings that have been withdrawn from the accounts, he said.
The proposals were part of a rival pension withdrawal bill Pinera had announced Sunday, but which he is now withdrawing from Congress.
At stake is a portion of the $210 billion managed by the pension funds, known as AFPs, the bedrock of Chile's capital markets. Itau estimates outlays from the legislation at between $14 billion and $19 billion, while JPMorgan says they could reach $20 billion.
Read more: Bonds Knew that Pinera Was Going to Balk: Chile Fixed Income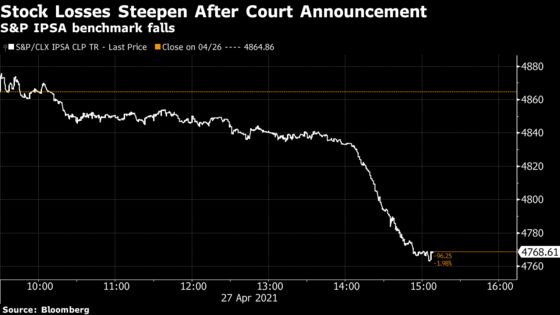 Chile's benchmark stock index extended losses after the court announcement and was down 2.4% at the close of trading, the biggest drop since Jan. 29. The yield on the government's nominal BTP 2030 bonds rose 11 basis points to 3.78%
Chilean government bonds have slid in recent days on bets that the pension funds, known locally as AFPs, will be forced to unload fixed-income assets in order to make the payouts.
Pinera initially took the proposal approved by congress to the court last week, arguing that the presidency has prerogative over bills dealing with pensions. Still, the government later ceded to pressure and introduced its own early withdrawal bill.
In the past year, the South American nation has spent billions of dollars on measures including cash transfers, job protection programs and low-interest loans. Critics say the stimulus is filled with fine print that ends up excluding many families and businesses in need.
Chileans have so far yanked $37.5 billion from their retirement savings through two previous rounds of withdrawals approved last year. At the time, the central bank stepped in to smooth out financial market volatility stemming from the payouts.