Chicago Teacher Strike Idles 25,000 in Test for Mayor, Finances
(Bloomberg) -- Some 25,000 Chicago teachers and other employees went on strike Thursday after contract talks broke down, disrupting the lives of more than 360,000 students and threatening to deepen the financial burdens facing the third-largest U.S. school district.
The walk-off, the first open-ended work stoppage in Chicago since 2012, is a result of a dispute over pay raises, class sizes and the need for more critical support staff such as counselors and nurses. School buildings will remain open during the strike and meals will be served, though there won't be any classroom instructions, after school activities or busing available.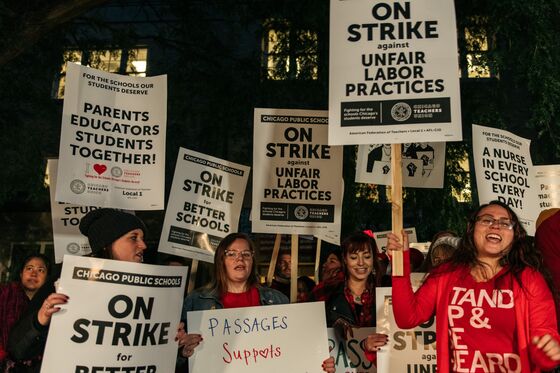 "We want to be in our schools," Chicago Teachers Union President Jesse Sharkey said in a press conference late Wednesday. "Sometimes you have to take a hard step to get what's right."
The labor dispute marks the biggest challenge to date for new Mayor Lori Lightfoot, a Democrat who defeated union-backed foes earlier this year by promising to tackle long-simmering social issues and economic inequalities. It follows similar walkouts in other cities such as Los Angeles and comes on the heels of the United Automobile Workers' fight with General Motors Co., which pulled Chief Executive Officer Mary Barra to the bargaining table.
So far, municipal-bond investors have mostly shrugged at the possibility of a walkout, though they've said they are watching to see how a new contract might impact the district's credit down the road. Chicago's public school system, with a budget of about $6 billion, has been squeezed by mounting pension costs, leaving it with a junk credit rating that once prompted state Republicans to suggest it be allowed to file for bankruptcy.
The union had already rejected a district offer of a 16% pay increase over five years, saying the duration is too long and doesn't help deal with issues such as classroom overcrowding and a shortage of nurses, social workers and librarians.
The union has been pushing Lightfoot, who won a landslide victory earlier this year as champion of greater equity and opportunity for the most hard-pressed residents of the city, to act on those promises. They are asking her to help solve the problems that their students bring from the city and their homes into classrooms.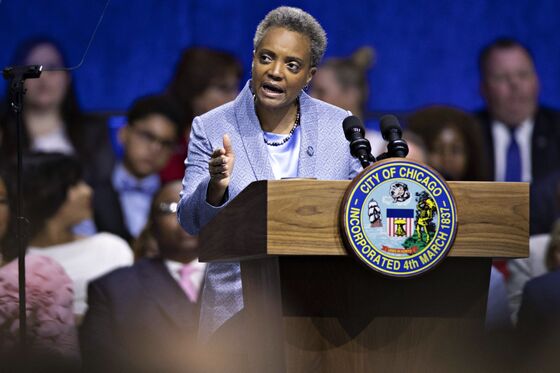 They want more nurses to help care for the children's medical needs, librarians to help with reading and counselors to advise students. The union also wants greater affordable housing in the city.
Not only does Chicago have a mayor who ran on issues the teachers union is pushing for but the state has also funneled more money to the district in the last year and "there is a national mood in this country that it's time to deal with the problems of public education," Sharkey said.
The strike begins just about a week before Lightfoot is expected to unveil her first spending plan and show how she will close an $838 million hole in the cash-strapped city's budget. She's been seeking ways to stem the loss of city residents longer-term and avoid raising property taxes.
Lightfoot said on Wednesday her team will continue to come to the table until a contract is negotiated and try to limit the length of the work stoppage.
While the additional state funding over the last year has helped the district, using that money immediately for pay raises and more staff may be short-sighted given the district's large pension liability and decline in student enrollment, said Dora Lee, director of research for Belle Haven Investments, which holds Chicago school bonds among its $10 billion of municipal debt.
"I hope the strike ends soon and both parties can come to a solution that preserves the improved financial situation," she said.