Chicago Mayor Sees Teacher Strike Thursday as Deadline Nears
(Bloomberg) -- Chicago Mayor Lori Lightfoot said she is preparing for the city's 25,000-member teachers union to walk out on strike Thursday after the two sides failed to forge a deal even after months of talks.
The union and district have been sparring over issues ranging from salary to student homelessness and staffing levels. They are expected to meet again Wednesday for eleventh-hour talks to avert a walkout at the nation's third-largest school system.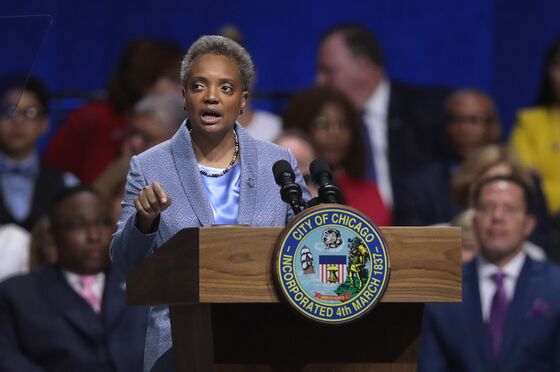 "At every turn, we bent over backwards to meet the union's needs," Lightfoot said at a press conference Wednesday morning. "Despite all this the Chicago Teachers Union intends to forge ahead with a strike."
The Chicago Teachers Union's bargaining team said Tuesday it will recommend moving forward with a strike on Oct. 17 because contract talks with the district's negotiators have stalled over issues such as class size and staffing. About 94% of union members voted in late September for the strike to demand higher pay as well as more social workers, librarians and nurses. The district so far has not met those demands, according to Chicago Teachers Union President Jesse Sharkey.
The strike would come just about a week before Lightfoot is expected to deliver her spending plan and show how she will close an $838 million hole in the cash-strapped city's budget. She's been seeking ways to stem the loss of city residents longer-term and avoid raising property taxes.
"We came into these negotiations asking a lot because we give a lot," Sharkey said during a press conference late Tuesday. "Conditions we work in are difficult."
The bargaining team has not achieved enough during these negotiations "to say we are done fighting," he said. The roughly 40-member team plans to tell the union's 800 delegates from across the district's schools that it can't recommend postponing a strike, Sharkey said. The delegates will weigh the issue on Wednesday.
Lightfoot said on Wednesday her team will continue to come to the table until a contract is negotiated. She has offered to take part in the talks but hasn't done so yet.
"This whole process has been a day late and dollar short," Sharkey said Tuesday.
The union knows the difficulty a strike would cause parents, students and the community, and it is not taking a walkout lightly, Sharkey said.
"We feel as though right now the only way to make important long-term changes in the schools is to do a short-term strike," Sharkey said. "So please know this: we are fighting for what's in the best interest of all our children and the city's schools."
Chicago school buildings will remain open to provide a safe place for children to go during the day and will serve meals, according to Janice Jackson, chief executive officer of the district.
SEIU Local 73, which represents staff such as security guards in the city's schools as well as Chicago Park District employees, also had set Thursday as a strike date for its members if it could not seal a deal.
The union announced Wednesday that park employees have come to an agreement with the district that addresses many, but not all, of the issues of pay, benefits and working conditions, especially for part-time and the lowest paid workers. SEIU Local 73 has decried issues such as rising health care costs and lack of vacation for part-time workers in the park district.
The push for improved pay and benefits isn't over with this contract, Jeffrey Howard, executive vice-president of SEIU Local 73, said during a press conference on Wednesday.
"We hope to be able to build upon this," he said.
SEIU is still negotiating on behalf of schools staff and no announcements has been made about the results of bargaining for that group.
While the strike would have been the first for Chicago Park District workers in 85 years, the city's teachers last had a one-day walkout in April 2016, and in 2012, the union staged the city's first public school strike in 25 years.
Over the last week, the unions have pushed Lightfoot to live up to campaign promises to promote equity and opportunity across the city. In addition to salaries, the union has brought up issues such as homelessness at a rally on Tuesday as it publicly sparred with school and city officials.
The teachers have rejected the Chicago Board of Education's offer for a 16% pay raise over five years and have asked for more support staff in the schools.
Lightfoot, the daughter of a steel union worker, said she supports collective bargaining and the right to strike but is working to keep the expected work stoppage as short as possible. She's also balancing the needs of students, parents and teachers with her fiscal responsibility to taxpayers, she said.
"CPS's finances are still recovering from the brink of insolvency," she said. "I also must be responsible to taxpayers."
Investors and credit rating firms have been watching the negotiations with unions closely to see if the deal increases headcount and wage and benefit costs that could erode the school district's recently found structural balance.
"The potential for a strike is unsettling for the credit, however we do not think the outcome will have an immediate material impact on the district's finances," Dennis Derby, a portfolio manager for Wells Fargo Asset Management in Menomonee Falls, Wisconsin, said in an email Wednesday. "We continue to have longer term concerns with the large pension liabilities and increasing debt burden, however that is tempered by substantial improvements in state funding."