Chicago Asks Court to Stop Police Union Head's Vaccine Rhetoric
(Bloomberg) -- Chicago Mayor Lori Lightfoot asked a circuit court to stop the head of the police union from urging officers to defy a mandate for reporting Covid-19 vaccination status.
The city is requiring all employees to provide their vaccination status by Friday. John Catanzara Jr., the president of Fraternal Order of Police Chicago Lodge #7, has urged members not to report their vaccination status on the city's employee portal.
Chicago has said those who don't comply could be placed on unpaid leave. In a statement on Friday, Lightfoot said the city's law department filed a lawsuit against the union and Catanzara "for engaging in, supporting, and encouraging a work stoppage or strike," which is illegal under state law. It was filed in the Circuit Court of Cook County's chancery division.
"I cannot and will not stand idly by while the rhetoric of conspiracy theorists threatens the health and safety of Chicago's residents and first responders," Lightfoot said in the statement. "President Catanzara has time and again deliberately misled our police officers by lying about the requirements of the policy and falsely claiming that there will be no repercussions if officers are insubordinate and refuse to follow a City and Department directive or order."
Lightfoot said that "by predicting that 50% or more officers will violate their oaths and not report for duty, Catanzara is encouraging an unlawful strike and work stoppage which carries the potential to undermine public safety and expose our residents to irreparable harm," according to the statement.
The union and its president did not respond immediately to a message at its office and an email seeking comment. Catanzara "has never engaged in, supported, or encouraged a work stoppage," a post on the lodge's Twitter account said.
"@LoriLightfoot is the only one who has said she will send our dedicated Officers home without pay if they choose to reject her unlawful orders," according to the comment on Twitter. "Hold the line, CPD, like you always do."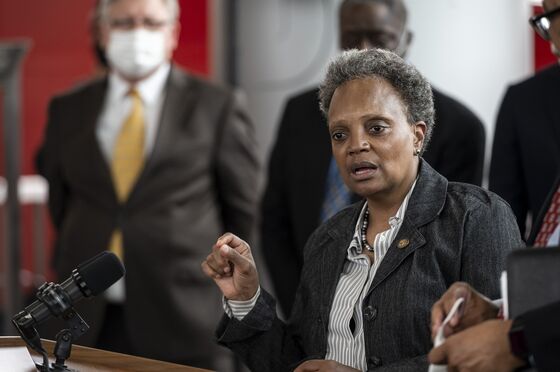 The lodge on its website had provided forms for members to fill out to seek religious, conscientious and medical exemptions.
Lightfoot said Thursday that she didn't expect a shortage of police officers that would imperil public safety after the mandate kicks in. But she said the city could turn to the state police and other resources if needed. 
The pushback from the police union comes even after the city extended its vaccination deadline. The clash in Chicago is among several playing out nationally between employers and workers over such requirements.
Read more: Vaccine Mandates Withstand Challenges as Suits Surge Across U.S.