Trump Critic Liz Cheney Ousted From House GOP Leadership
(Bloomberg) -- House Republicans removed Representative Liz Cheney from her leadership post Wednesday as her vocal and persistent criticism of former President Donald Trump widened the rift in the party over its future direction.
The 212-member House GOP conference brought the long-running drama to an end on a voice vote behind closed doors. The decision to replace her as House GOP conference chair boldly underscores the firm grip Trump continues to exert on many Republican lawmakers, who view his support as essential to winning back the House in 2022.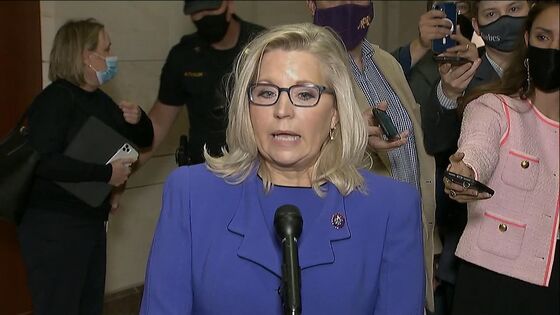 The move was backed by Trump, House Republican leader Kevin McCarthy and his top lieutenant, Steve Scalise. Cheney remains in her seat as Wyoming's lone representative in the House, and said she will continue to speak out against Trump's false claims about 2020 election and the danger they pose for the party and the country.
"We must go forward based on truth," Cheney told reporters after the vote. "The nation needs a party based on fundamental principles of conservatism."
Cheney, one of 10 House Republicans who voted to impeach Trump after the Jan. 6 Capitol insurrection by his supporters, also said she will "do everything I can to ensure" that Trump has no chance of getting elected to the presidency again.
"We have seen the danger that he continues to provoke with his language. We have seen his lack of commitment and dedication to the Constitution," she said.
Trump has kept up a steady drumbeat against Cheney and in repeating his unfounded assertions that he lost the election because of fraud. In a statement released Wednesday morning before the vote, he said she "is bad for our Country and bad for herself. Almost everyone in the Republican Party, including 90% of Wyoming, looks forward to her ouster -- and that includes me!" He issued a second statement after the vote calling her "a bitter, horrible human being."
McCarthy and others insist the party remains a "big tent," and that lawmakers are able to speak freely and debate issues. But they also argue that the party's leadership team should reflect rank-and-file sentiment and not be a distraction from party goals.
"I don't think anybody is questioning the legitimacy of the presidential election," McCarthy said after meeting with President Joe Biden at the White House on infrastructure, despite Trump calling it "rigged and stolen" as recently as Tuesday. "I think that is all over with."
House Republicans held off on choosing a Cheney successor until at least later this week. They plan to hold a candidate forum on Thursday, with a vote on Friday on Cheney's replacement.
McCarthy and Scalise both have already publicly endorsed another Trump loyalist, Elise Stefanik of New York, for the role. So has Trump.
"We have broad support going into Friday," Stefanik said after the meeting.
The post of House GOP conference chair is a little-known outside of Washington, with a scant policy portfolio. It has only a modest modern history in being a springboard to higher leadership positions, and even has been a dead end for some.
Removing Cheney from the post hasn't completely closed the party rift. Some of the most conservative House Republicans, led by Representative Chip Roy of Texas, say they aren't yet on board with picking Stefanik, who was elected as a moderate and has voted against the Republican agenda more often than Cheney.
"I think we need to have a real contest and not a de facto coronation of a hand-picked successor," Representative Bob Good of Virginia said.
Representative Ken Buck of Colorado said he wanted to have another candidate for the conference chair job, "So those of us who do not want to vote for Elise Stefanik will have somebody else to vote for."
Some suggest the current conference vice chair, Mike Johnson of Louisiana, should at least temporarily hold the post. Johnson declined to discuss that possibility Tuesday night.
Democrats were quick to capitalize on the split among Republicans. House Speaker Nancy Pelosi called Cheney "a leader of great courage, patriotism and integrity."
"For the sake of our democracy, reasonable Republicans across the country must take back their party," she said in a statement.
Speaking on the Senate floor, Majority Leader Chuck Schumer called Cheney's ouster "a very dark moment for the Republican party."
"Congresswoman Cheney spoke truth to power, and for that she's been fired," he said.
Republican Representative Adam Kinzinger of Illinois, who also voted to impeach Trump in January, said removing Cheney risks doing damage to the party.
"What happened today was sad," Kinzinger said. "Look, I'm all for unity. I'm for unity and the truth," he added. "I think that is what Liz has been saying."