Central Bank Boss Hails Renewed Faith in Latvia After Scandals
(Bloomberg) -- Latvia's central bank chief says he's succeeding in rebuilding public trust after his predecessor was charged with bribery and a string of local lenders were closed following money-laundering scandals.
Governor Martins Kazaks, who sits on the European Central Bank's Governing Council, took charge in late 2019 after the discovery of dirty-cash schemes centered around the former Soviet Union sparked a wave of investigations that engulfed banks across the continent.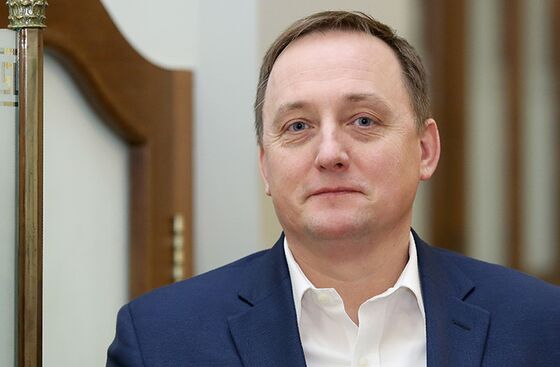 Kazaks has since helped Latvia embark on a crackdown -- outlawing shady offshore dealings and turning its back on deposits from non-residents that at one point dwarfed savings of the European Union member's 1.9 million people.
Within the central bank, he's sought to close the book on an era when ex-Governor Ilmars Rimsevics was revealed to have at one point been earning more than then-U.S. Federal Reserve Chairman Ben Bernanke. Kazaks has taken a 10% pay cut and backs relief for borrowers saddled with debts from the 2008 crisis, which still haunts the region.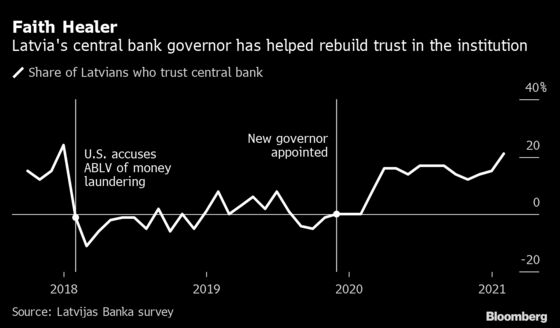 Polling suggests his changes are paying off, while the government sold 1.25 billion euros ($1.5 billion) of Eurobonds last week at a record-low coupon.
"In terms of trust in the institution, we're back to the levels perhaps of what we saw somewhere at the time of euro introduction," Kazaks said in an interview. "There's been a very strong recovery."
Kazaks declined to discuss Rimsevics, who despite his exit remains in the headlines. The latest twist in his trial, where he denies all wrongdoing, came as a key witness recanted his testimony.
The bank Rimsevics left, meanwhile, is set for an expanded remit if a government plan to merge it with the market regulator goes ahead. That will leave Kazaks overseeing a financial sector he says has learned its lesson.
Some still see risks. Ilze Znotina, who heads the Financial Intelligence Unit, warned this month against complacency as the pandemic harms business activity and drains state coffers.
Latvia must avoid "the temptation to lower supervisory standards, weaken regulation, become 'gray' or open the door widely to new flows of money in the hope of creating stronger economic growth," she said.
Faced with tougher regulation and pressure from the U.S. to adhere to its cleanup, Kazaks says there's no way back to old habits for Latvia.
"In the 1990s and early 2000s it was very much advertised as a bridge between the east and the west," he said. "There's a realization currently that there's really no bridge. Maybe there's some kind of pathway, but it can't turn you into a prosperous nation."