Central African Republic Leader Wins Vote; Rivals Cry Foul
(Bloomberg) -- The Central African Republic's electoral authority declared President Faustin-Archange Touadéra the winner of last month's election, with ballots from about half of registered polling stations counted.
Touadéra received 54% of the vote, while rivals Anicet-Georges Dologuele garnered 21% and Martin Ziguele got 7.46%, the National Electoral Authority announced late Monday. Voter participation was about 76%, it said.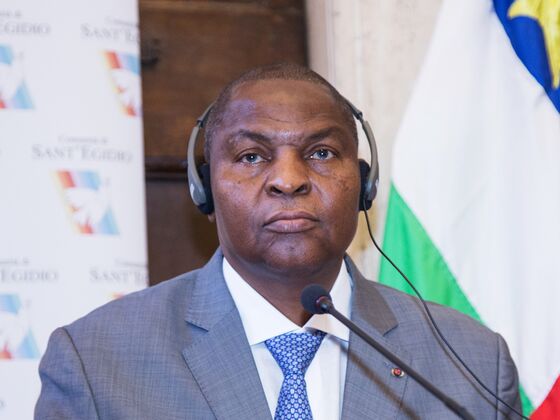 "The Central African people have understood that it is not necessary to change a winning team," Touadéra's national campaign manager, Simplice-Mathieu Sarandji, said by phone from Bangui, the capital. "It is a victory for democracy against violence and terror. The people of Central Africa have suffered a lot from multiple wars carried out by enemies of democracy."
The Central African Republic has been beset by conflict since 2013, when former President Francois Bozize was ousted in a coup. Violence escalated in the diamond- and gold-rich nation around the Dec. 27 election, after a Constitutional Court ruling blocking Bozize and other politicians from running raised tensions.
Troops from Russia and neighboring Rwanda were flown in to help curb violence.
Dologuele, a former prime minister, said he would challenge the results as the vote lacked transparency and there was "massive fraud." Many Central Africans did not vote as they feared violence at polling stations, he said.
Ballots were counted from polling stations with a total of about 910,000 voters, or half the registered number, according to Théophile Momokoama, the electoral authority's spokesman. Elsewhere, "voting could not take place or the ballot papers were destroyed," he said.
"There's no way Faustin-Archange Touadéra would be re-elected in the first round," Dologuele said. "Since the government believes in violence and backing from Russian mercenaries and Rwandan forces, they went ahead to organize a fraudulent election that will not bring peace but exacerbate trouble."
Ziguele, who came in third, said the vote was irregular. Results were not displayed at polling stations as stipulated by the electoral code and party representatives were also denied copies of the results, he said.
"This is stealing in broad day light," he said. "We cannot accept this."