CDC Will Put Out Guidance 'Very Soon' on Churches, Trump Says
(Bloomberg) -- The U.S. Centers for Disease Control and Prevention plans to put out guidance for reopening churches "very soon," President Donald Trump said on Thursday while touring a Ford Motor Co. plant in Michigan.
"I said I want the churches to open," Trump said, suggesting the guidance would be released on Thursday or Friday. "We want to get our churches back."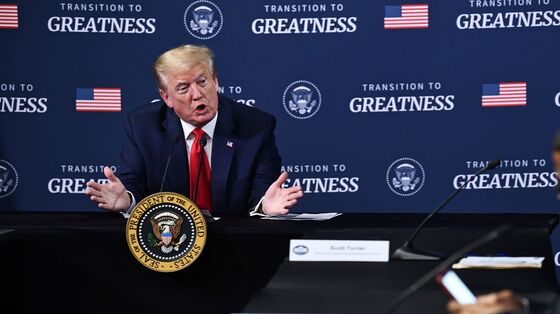 Recommendations for restarting activities by religious organizations weren't part of CDC suggestions for opening workplaces, schools and restaurants released over the weekend, though they had been included in a draft first reported by the Associated Press. The release gave detailed suggestions for social distancing, hygienic practices and symptom-checking that are in many cases tailored to the organization and its activities.
The White House and CDC have clashed over providing guidance to religious groups because the Trump administration didn't want to restrict them, the Washington Post reported on Thursday.
As with hospitals, long-term care facilities, family gatherings and other places people meet, religious organizations have been notable sites of coronavirus outbreaks since the pandemic's start. In mid-March, for instance, a Bible study group meeting was tied to an outbreak of 35 confirmed cases in a rural county in Arkansas, according to a CDC report Tuesday.
"Faith-based organizations that are operating or planning to resume in-person operations, including regular services, funerals, or other events, should be aware of the potential for high rates of transmission," the report concludes.
Samuel Church, a family physician in Hiawassee, Georgia, said in an interview prior to Trump's comments in Michigan that a number of his patients want to go back to church, but can't as many have remained closed.
"That's been decided for them," he said.