Catalan Separatists Keep Control and Sanchez Gets a Boost
(Bloomberg) -- Catalan separatist parties won a majority in the regional parliament in Sunday's election, but Spanish Prime Minister Pedro Sanchez was one of the night's big winners.
Sanchez's Socialist party won the most votes and saw its main national rival, the conservative People's Party, suffer a humiliating defeat. All the same, the next regional leader is set to come from the separatist camp, since the two leading parties in favor of independence claimed 65 seats in the 135-strong assembly, while a smaller left-wing group that also backs secession has nine more. Sixty-eight seats are required for a majority.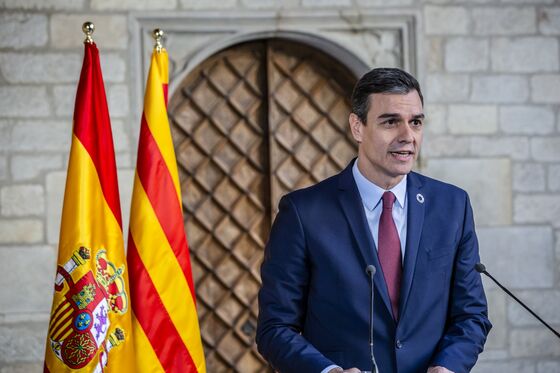 Esquerra Republicana and Junts per Catalunya have jointly governed Catalonia since 2016 and in 2017 pushed through an illegal referendum on independence which created deep anger across the rest of Spain. The separatist groups also claimed vindication with more than 50% of the vote even as turnout slumped to 2.8 million from 4.4 million in the previous election.
The prospect of a renewed separatist alliance will pose headaches for Sanchez, with Junts looking to set limits on doing business with the central government. But with the more pragmatic Esquerra overtaking Junts to become the senior partner in the potential coalition, life may become slightly easier for the prime minister.
Esquerra's candidate for the regional presidency, Pere Aragones, issued a challenge to Sanchez in a speech following the results.
"The time has come to negotiate a referendum of self-determination," Aragones said, speaking in Spanish and English as he addressed Sanchez and European authorities, and calling for the jailed separatist leaders to be freed.
Sanchez's Socialist party was aiming to clinch the top position after he asked his Health Minister, Salvador Illa, to run for the regional presidency. Sanchez was betting on Illa helping the party recover its presence in a traditional stronghold, where support has tumbled in recent years.
Illa wound up beating second-placed Esquerra by almost 2 percentage points and offered a different interpretation of the results.
"Catalonia has said it loves Spain, Spain has said it loves Catalonia," he said in his speech. "There is no solution other than coming back together, that is what the ballots have said tonight."
The PP trailed in eighth place with only three seats and was overtaken by a more hardline rival, Vox. Vox has been calling for drastic action to clamp down on the separatist movement and won 11 seats.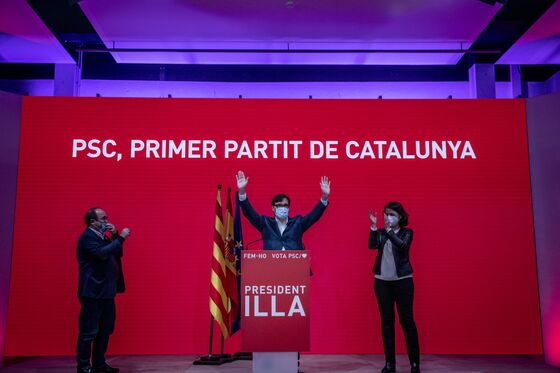 The outcome of the election carries particular significance for the Sanchez because his fragile parliamentary majority in Madrid relies on support from Esquerra lawmakers. Junts is vocally opposed to Sanchez and any prospect of working with the central government, and is likely to demand assurances that its partner won't cozy up with the premier once a regional coalition is in office.
Although Esquerra has repeatedly backed Sanchez in the national parliament, the relationship has at times also been difficult, with the Catalan group turning its back on the premier when its popularity in Catalonia looked at risk.
The party's leader Oriol Junqueras is in prison for his role in the botched proclamation of independence in 2017 and has for several years tried to position itself as a pragmatic party willing to negotiate with the national government. Junts's leader Carles Puigdemont is living in what he describes as exile in Brussels and faces arrest if he returns to Spain.