Catalan Conundrum Leaves Spain at a Crossroads All Over Again
(Bloomberg) -- The volatile Catalan secessionist movement that came to a head 16 months ago when pro-independence groups staged an illegal referendum is poised to become a central campaign issue when Spain holds a snap election in just over two months.
Prime Minister Pedro Sanchez relied on Catalan votes to oust the conservative government last year, but lost that support this week, ending the awkward relationship between his Socialists and the rebel parties. That rupture will end the detente and thrust the controversial break-away issue back into the limelight just as Spain's political system undergoes another jolt.
"Ninety percent of the campaign is going to be around the Catalan issue,'' Angel Talavera, an economist at Oxford Economics, said in an interview. "It dominates all the debates and messages, which is a pity as there are other challenges in Spain.''
The April 28 election will likely perpetuate a period of political uncertainty in Spain, which hasn't had a stable government with significant power in more than three years. And despite having a strong economy, Spain's slowing expansion and indications that European Union growth is wobbling could presage even more instability.
The fractured political landscape in Spain opens the door to smaller parties, giving them the opportunity to wield greater influence on the national stage. One such party, Vox, shook Spanish politics in December with an unexpectedly strong showing in regional elections in Andalusia, helping knock the Socialists out of power there. Vox, a nationalist political movement, found success, in part, by tapping into voter anger at Catalonia's independence drive.
This fits a broader paradigm playing out across the EU that has seen populist and euroskeptic parties win power or disrupt legislative work. Nationalist or populist parties are already in charge of the governments in Italy, Poland, the Czech Republic, Hungary and Greece, with far-right groups gaining importance in Germany, Sweden, Latvia as well as Spain.
If Sanchez's government falls, it could usher in a new right-of-center alliance that includes Vox, the conservative People's Party and the center-right Ciudadanos party. Those three groups, which formed a coalition in Andalusia, have more than 50 percent support, according to a Feb. 13 opinion poll by Celeste-Tel and published by the news website Eldiario.es.
"The early general election will produce another highly fragmented parliament, which will probably delay government formation," Antonio Barroso, an analyst at Teneo Intelligence, wrote in a Feb. 15 report, underscoring the possibility of a tie-up between the three right-wing parties.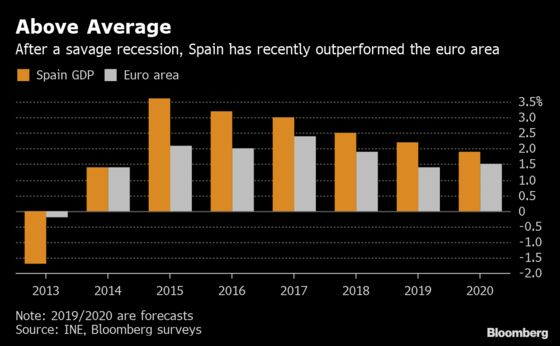 Notwithstanding its political frailty, Spain has enjoyed economic growth that has surpassed the euro area since 2014, when it pulled out of a brutal recession. The country's economic expansion, however, is slowing down and Spain still has the second-highest unemployment rate in the currency bloc.
But gloomier economic prospects throughout Europe have left businesses craving more stability from their governments, with Italy close to stagnation and even the German economy showing significantly weaker momentum.
"A few years ago, we could see a direct impact from political uncertainty on business, but we don't see that now," Alfonso Rodes, chairman of French advertising firm Havas Group Media's Spanish unit, said in an interview. "That said, it is clear from what you see in places such as Italy, that this cannot be the norm, that in the longer term you need political certainty."