Peru Markets Extend Tumble With No Finance Minister in Sight
(Bloomberg) -- Peruvian assets tumbled on concern new President Pedro Castillo's top economic adviser may not take a cabinet role, further fueling investor anxiety over his government's plans to remake the economy.
An ETF tracking Peru stocks fell more than 7%, the currency had its worst day since 1994 and overseas bonds due in 2031 slipped to the lowest in seven weeks. Peru equity funds recorded their biggest outflow in more than eight years this week, according to EPFR Global data, continuing a streak of market volatility that's upended the Andean nation's reputation among investors for relative stability and reliable policy making.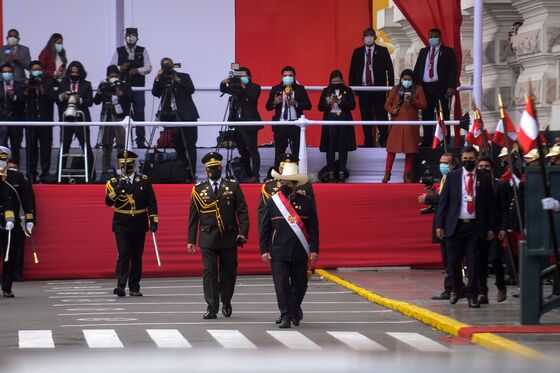 Castillo, a former schoolteacher and union leader affiliated with a Marxist party, emerged out of relative obscurity this year to win the presidency after consolidating support from Peru's left-wing. While investors have been unsettled by some of his proposals, they took solace from the expectation that his chief economic adviser, former World Bank economist Pedro Francke, would take over as finance minister and largely preserve macro-economic policy, albeit with a greater focus on social spending and fighting unemployment.
But Francke left a ceremony to swear in cabinet members shortly before it got underway Thursday, stoking speculation he was upset at the radical stances of some of the ministers and wouldn't be taking the post. He didn't reply to a request for comment. Health Minister Hernando Cevallos said in a radio interview Friday that Francke is still analyzing his participation in Castillo's cabinet. Later, he said the president should reveal the name of his finance minister in the coming hours.
Read more: Peru Leftist's Aide Rejects Hugo Chavez Comparison: 'No Way'
If Francke or someone seen as moderate doesn't lead economic policy, investors will likely sour further on the outlook for the South American country, worried it could veer toward policies embraced by Venezuela's government that have devastated the economy there and scorched investors.
"Medium-term, Castillo's presidency is on shaky grounds," said Carlos de Sousa, an emerging-market strategist and portfolio manager at Vontobel Asset Management in Zurich.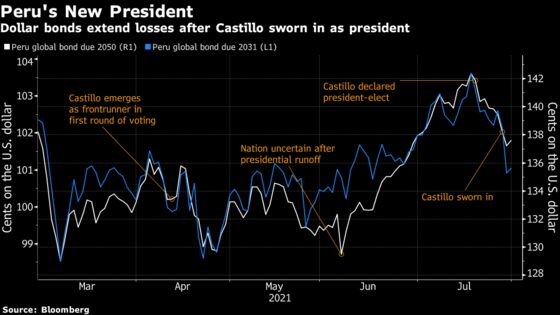 Guido Bellido, a lawmaker who considers the communist government of Cuba to be a democracy, was named prime minister. Later in the day, he tweeted that he backs Francke's policies.
"Pedro Francke has our full support for the application of the economic stability policy expressed in the bicentennial plan without corruption in the country," Bellido said. "We will work together for the country."
Castillo named Hector Bejar, a writer and former Marxist guerrilla leader, to be his foreign affairs minister. Some of the other ministers were from Castillo's Marxist Peru Libre party, while others were from allied leftist parties, or were independents.
"It seemed the market was starting to price in a more moderate version of Castillo compared to his campaign rhetoric," said Malcolm Dorson, an emerging-market portfolio manager at Mirae Asset Global Investments in New York. The selections "will be seen as a setback."
Whoever eventually becomes finance minister will need to steer a country that has struggled to recover from one of the world's deepest economic slumps last year and the worst death rate from the Covid-19 pandemic. The sol fell 3.3% to 4.06 per dollar Friday, while the iShares MSCI Peru exchange-traded fund slumped 7.4% to the lowest since May 2020.
Still, Peru's investment-grade credit ratings are among the best in the region, and its assets aren't pricing in a calamity. Its benchmark bonds are trading above par and credit-default swaps show just a tiny chance of default over the next five years.
"I believe Castillo is going to have to take a step back," said Victoria Faynbloch, a strategist at TPCG Valores in Buenos Aires. "The moment Pedro Castillo becomes more radical, he loses governability. It's not about whether he's a moderate or not, but he's going to have to negotiate."
Francke is popular with investors, having called for inflation-targeting, fiscal prudence and respect for private property. Investors were spooked by Castillo's inaugural address this week, in which he called for Peru to retake control of its natural resources, renegotiate its-free trade deals and dramatically boost social spending.
Castillo took office Wednesday promising to rewrite the constitution in order to make "responsible changes" to the nation's economic model.