Carney's Brexit Views Are About to Be Weaponized
(Bloomberg) -- The Bank of England is getting dragged deeper into politics.
Governor Mark Carney is getting it from all sides. He's frequently lambasted by pro-Brexit lawmakers for outlining his economic views on the nation's departure from the European Union, and in the past month another set of lawmakers has lined him up to assess any deal reached by the U.K. government.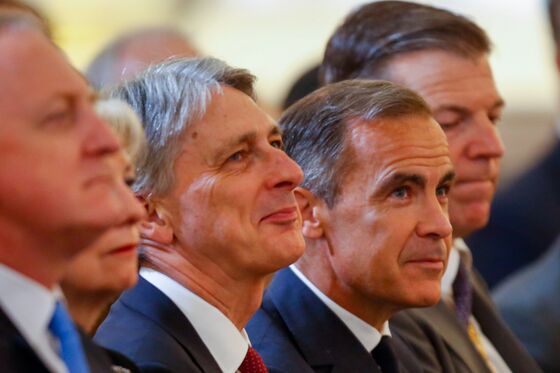 Whatever his analysis, Carney's views will be weaponized in the vitriolic debate surrounding Brexit. Two decades after the BOE was granted operational independence -- with the idea of putting interest rate-setting above the election cycle -- the situation shows just how mired in politics the central bank has become.
"It's difficult for them to give these forecasts and stay out of the firing line," said Victoria Clarke, an economist at Investec. "You can see why they're being asked to produce the numbers for Parliament to be able to have a debate. But they're not going to come out of it unscathed."
Last week, Carney agreed to a request from the Treasury Committee to provide a report on how a withdrawal agreement between the U.K. and the EU "would affect monetary and financial stability." The assessment, to be delivered after a deal is agreed and before lawmakers vote on it, will include the BOE's view on a "no deal, no transition scenario."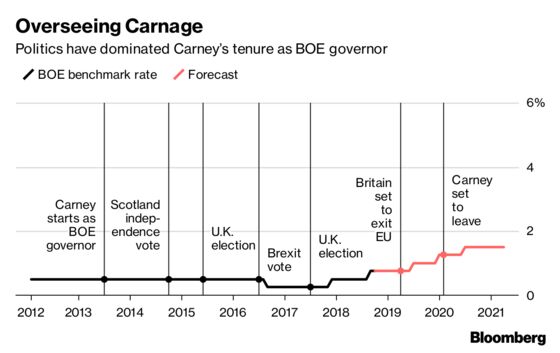 That panel is now run by Nicky Morgan, a Conservative Party member who backed staying in the EU. The report is likely to reignite criticism of the BOE from Brexiteers such as Jacob Rees-Mogg, who as recently as September called Carney the "high priest of project fear." Two years ago, a lawmaker suggested the BOE chief had stoked anti-Brexit sentiment at the behest of previous employer Goldman Sachs -- a suggestion that he responded to with "wow."
The governor has long defended the BOE's economic forecasts ahead of the vote, which were derided as overly gloomy, and repeatedly justified the warnings with the observation that suppressing his concerns would have been a political choice. The central bank will update its forecasts for growth and inflation on Nov. 1.
Carney is also aware that politicians will use whatever he says for their own ends. When he briefed U.K. Cabinet on possible worst-case economic scenarios last month, details of the private meeting, chaired by Prime Minister Theresa May, were leaked to the press within hours.
If anything, the environment has grown more fraught since then, with Tuesday's meeting of senior government ministers descending into open conflict as seven of the cabinet spoke out against May's current plan.
The heightened tension over Brexit has eroded the idea that the BOE operates above the political fray, though it's never been too far removed from it, either. Carney was criticized for his remarks before the Scottish independence referendum in 2014. His predecessor Mervyn King was scolded for welcoming a new government's budget plans in 2010.
More recently, the opposition Labour Party said it would be open to extending the BOE's remit to include productivity growth, as well as to respond to every government budget.
In response, the government tapped BOE Chief Economist Andy Haldane this month to chair the new Industrial Strategy Council, charged with overseeing delivery of the U.K.'s flagship economic policy.
While Haldane will chair the council in a personal capacity, and receive no salary, the involvement of a senior official from the independent central bank in government policy is a relatively unusual step, and could raise further questions about the BOE's objectivity once the committee starts to report.
While BOE officials have been pulled into world of politics, it's been grimmer for other technocrats. The nation's most senior tax official Jon Thompson was reported to have received death threats after he said that a post-divorce customs option preferred by Brexit supporters would cost up to 20 billion pounds ($26 billion).