Canada Extends Olive Branch to Saudi Arabia After Diplomatic Blowout
(Bloomberg) -- Canada is extending an olive branch to Saudi Arabia after a diplomatic blowout, as the countries weigh whether they can potentially avoid a prolonged standoff affecting Canadian firms and Saudi students.
Tweets about a human rights case erupted last month into an unusually public brawl between two Group of 20 nations -- both a rebuke of Prime Minister Justin Trudeau's preachy brand of liberal foreign policy and the latest sign of the Crown Prince Mohammad bin Salman's rising tendency to throw his weight around. The Saudis expelled the ambassador, curbed investment, recalled medical students and lambasted Canada for interfering in domestic affairs.
While there's been virtually no progress since then, next week will signal how long-lasting the damage will be. The Canadians are suggesting talks between the countries' foreign ministers during meetings of the United Nations General Assembly, according to a Canadian government official who spoke on condition of anonymity. At stake is a Saudi order to freeze any new deals for Canadian firms operating in Saudi Arabia, such as SNC-Lavalin Group Inc., and to end an arrangement under which the kingdom provides thousands of doctors a year, and funding, that's become a key part of Canada's medical system.
"Mohammad bin Salman was trying to send a message that he is not to be disrespected by anyone. Unfortunately, many Saudi students who were in Canada are paying a heavy price," said Paul Sullivan, a Saudi specialist at Georgetown University in Washington. "Investors are looking more askance at Saudi Arabia, and none of this helps Saudi relations with the rest of the world."
The Saudis, as part of their response last month, announced a freeze on certain Canadian commercial deals. It won't affect relations between the state-owned Saudi Arabian Oil Co. and its customers in Canada, and Cirque du Soleil's show in the kingdom will go on. One Canadian government official said the move may be more of a guideline than a hard rule.
Any long-term freeze would affect Canadian firms, with one official saying four in particular look exposed: engineering firm SNC-Lavalin, the Canadian unit of defense giant General Dynamics Corp., pharmaceutical maker Apotex Inc., and McCain Foods Ltd.
SNC increased its exposure to the kingdom with a pair of takeovers since 2014. In a statement last month, the company said it was studying the impact of the Saudi measures, adding if the freeze is prolonged, "there will be an impact on our future financial performance." A spokesperson declined further comment.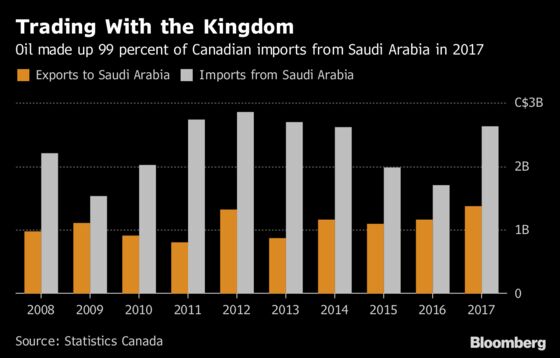 Saudi Arabia is one of Apotex's key growth markets, according to spokesman Jordan Berman. The dispute with Canada "has had a significant and negative impact on our business," he said in a statement, adding the company was the fastest growing generic drugmaker in the kingdom.
McCain didn't respond to a request for comment, nor did the Canadian unit of General Dynamics. Its C$15 billion ($12 billion) arms sale to the Saudis remains in effect -- despite, ironically, some longstanding discomfort in the Trudeau government about the sale, one official said.
Within Canada, a freeze on Saudi investment isn't expected to have a major impact.
While the Saudis used Canada to flex their muscle and a new brand of checkbook diplomacy, the spat was the latest sign of global weariness with Trudeau, who has a habit of virtue-signaling abroad. China and India have bristled at the tone of the Canadian liberal leader, an advocate for women's and minority rights who is unafraid to stick his nose into the fray with countries with bigger economies, populations and military might.
The tweets about women's rights activist Samar Badawi that sparked the feud came from official government accounts, including Foreign Minister Chrystia Freeland's, and were sent during the dead of the Canadian summer. Trudeau and many key government officials were on vacation, along with much of the capital, and scrambled to figure out how to respond to uproar from what they thought was a mundane statement, two officials familiar with talks said. They believed that even the previous Conservative government in Canada had said essentially the same thing, the officials said.
There was, however, another problem: The tweets were accurate. Trudeau's government couldn't apologize, and has no plans to apologize, because it is alarmed by the Badawi case, the officials said. Instead, Canada doubled down and spoke out about a second human-rights case -- that of Israa al-Ghomgham -- later in the month, though didn't tweet it from the minister's account.
Canada worked informally through back-channels to quell the spat, one official said. Freeland spoke with U.S. Secretary of State Mike Pompeo on Aug. 11, discussing "human rights and the situation with Saudi Arabia," according to a Canadian readout, while Pompeo's office said he reiterated "the hope for a quick resolution of differences through diplomatic channels." The Trump administration has also tried to privately coax the Saudis to dial back hostilities.
It all means a standoff for now, as Canadians cope with the fallout. Freeland and Canadian diplomats "continue to seek clarity from the kingdom of Saudi Arabia," spokesman Alex Lawrence said in a written statement Wednesday. "Canada will always defend human rights, including women's rights and freedom of expression. We will never hesitate to promote these values ​​in public and in private."
The most pressing practical issue for Canada is a Saudi-financed program that places medical graduates in Canadian hospitals as residents and fellows. Care facilities were initially given less than a month's warning that more than 1,000 Saudi doctors were being ordered to leave Canada.
Although the medical community understands they will now be allowed to stay, at least until new assignments are arranged, the fate of next year's program is still up in the air and information from Saudi envoys has been sporadic and unspecific. A day after initial reports of a reprieve, the Saudi cultural bureau in Canada said all students must still leave by Sept. 22. The bureau declined to comment when reached by telephone.
"It's unclear whether Saudi Arabian residents and fellows who are scheduled to start programs in Canada this year will be able to do so," Andrew Padmos, chief executive of the Royal College of Physicians and Surgeons of Canada, said in a written statement. However, the report of an extension is "positive news for Canadian medical schools."
The country's medical system relies on Saudi post-graduate medical students, and the funding they bring with them, for patient care and research, according to Nadia Alam, president of the Ontario Medical Association. "That impact is huge and it's on multiple levels." Smaller community hospitals are particularly vulnerable and are often "literally one person away from a health human resources crisis."
"Healthcare is not a game. It certainly shouldn't be a political spin the bottle."