Can China Afford to Be The World's Next Superpower?
Donald Trump has launched a trade war with China, worried that previous administrations have unwittingly been helping Beijing to overtake the U.S. But can China afford to be the world's next superpower?
The average Chinese, after all, is still poorer than the average Mexican. China's greatest natural resource — its 1.4 billion-strong population — has largely finished urbanizing, is already aging and, as soon as 2023, will start to shrink. No superpower has developed in those circumstances before.
Nor has any big country escaped the so-called middle income trap — the theory that emerging economies tend to get marooned between $10,000 and $15,000 per capita GDP — without liberalizing and developing a reliable rule of law. China, under President Xi Jinping, is doing the opposite.
Xi's supporters say their country is different and Western economic models just don't apply. China will be a great power, they argue, but one entirely unlike the U.S. There's evidence to suggest China can afford to be whatever it wants: Beijing increased defense spending more than tenfold since 1990, while actually reducing the military's share of the government's overall budget.
Not even China knows yet what kind of superpower it will be. The answer, though, is likely to determine issues of war, peace and global economic growth for decades to come.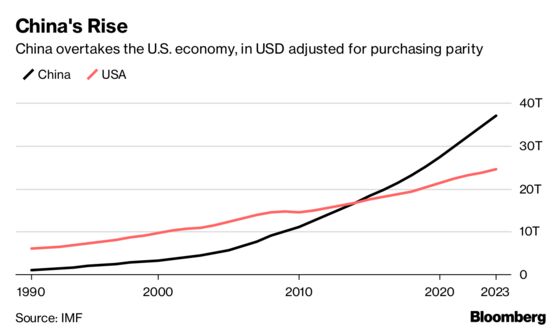 Just in ... In an early morning tweet, Trump accused Alphabet Inc.'s Google of rigging its search results to display only negative stories about him, calling it "a very serious situation" that "will be addressed." It was his latest claim of bias on the part of a news or social media company. 
Allies diverge | One longstanding U.S. ally still thinks North Korea poses an urgent nuclear threat. Another is increasing economic ties with the regime. And Kim Jong Un is exploiting the divide. Less than three months after shaking Kim's hand in Singapore, Trump is confronting a fractured diplomatic landscape as his two key allies — Japan and South Korea — pursue differing sides of his two-pronged North Korea strategy, David Tweed, Isabel Reynolds and Jihye Lee report.
Nafta maneuvering | U.S. business groups are encouraged by progress on a Nafta replacement but have concerns about weakening protections for investors and don't want to see separate deals with Mexico and Canada. Trump announced in a hastily arranged Oval Office event yesterday that the U.S. is signing a new accord with Mexico and called on Canada to join the deal soon or risk being left out. Canadian Foreign Minister Chrystia Freeland is due in Washington today for talks.
Flag pressure | Under intensifying pressure from veterans' groups, the White House returned its flag to half-staff to honor Republican Senator and Vietnam war hero John McCain, whose death has cast a shadow over today's party nominating contests in his home state of Arizona. The Senate contest will set candidates running to replace retiring Senator Jeff Flake, who like McCain was a frequent Trump critic.
Myanmar generals | Myanmar's top generals should be investigated and prosecuted for genocide against its Muslim Rohingya minority, the United Nations said in a report that also blames the civilian government for failing to stop the violence. It's another blow to the reputation of Nobel Peace Prize-winner Aung San Suu Kyi, who lived for years under house arrest before becoming the country's de facto leader, and raises pressure on the international community to act.
Pop star rebel | Ugandan President Yoweri Museveni has seen off electoral challenges, protests and revolts during his three decades in power, but now he's facing a different sort of nemesis: a pop star known as Bobi Wine. As Fred Ojambo reports, treason charges against the self-styled "ghetto president" and his alleged beating by police have galvanized the East African nation's youth and sparked widespread protests against 74-year-old Museveni.
U.K. Prime Minister Theresa May arrives in South Africa on a five-day visit to three African nations. Speaking on the flight to Cape Town, she said leaving the EU without a deal "wouldn't be the end of the world."

With party nominating contests in Arizona, Florida and Oklahoma, Toluse Olorunnipa and Shobhana Chandra report that Trump has made no real progress on his promise to raise the wages of America's "forgotten man and woman" and what that could mean for the midterms.
And finally ... Northern Ireland has overtaken Belgium for a democracy with the longest peacetime stint without an elected government. Some protests are planned to mark the 589 days since the power-sharing accord collapsed between the two largest parties, the DUP and Sinn Fein — an initial dispute over a subsidized energy program has widened to take in grievances including the rights of Irish language speakers. In London, May's government seems to be giving the crisis little attention, but as she's finding with issues on the Irish border, ignoring problems in Northern Ireland rarely makes them go away.