Campaigning While on Bail, Two House Republicans May Still Win
(Bloomberg) -- Democrat Nate McMurray is under no illusions about why his long-shot campaign for a heavily Republican district in New York against one of President Donald Trump's top congressional allies is now so competitive.
"When your opponent is out on bail, it helps," McMurray said of his opponent, Republican Representative Chris Collins.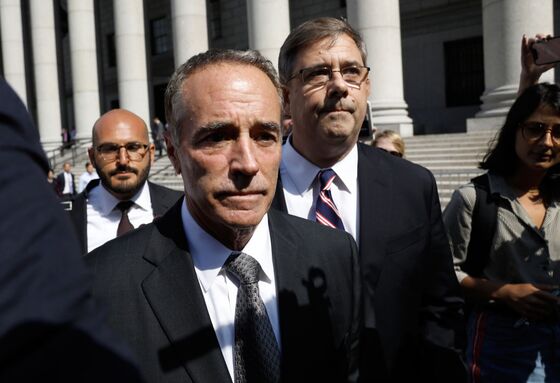 Collins, who represents a district extending from the Buffalo area to Rochester, isn't the only House Republican running for re-election while under federal indictment. San Diego-area congressman Duncan Hunter is campaigning under a similar cloud.
The legal troubles of the lawmakers -- the first two House Republicans to endorse Trump's 2016 presidential candidacy -- have given Democrats an unexpected shot at picking up a pair of seats that otherwise should be out of reach. At stake is whether the GOP can keep control of both chambers of Congress after the Nov. 6 election.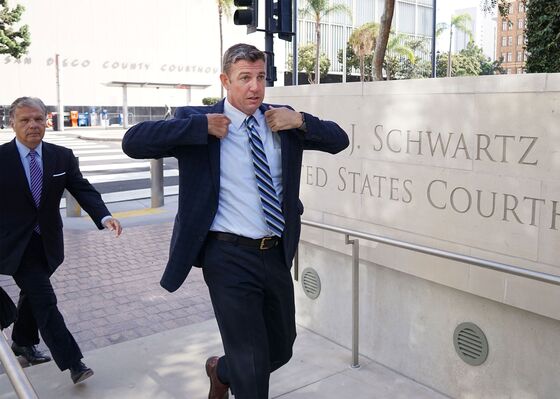 "This is certainly not a headache national and local Republicans had been counting on just a few short months ago," said pollster Steven Greenberg of Siena College in Loudonville, New York, who tracks the Collins-McMurray race.
The two House races are quirky sideshows in an election season in which Democrats can seize majority control of the chamber by gaining a net 23 seats on Nov. 6. Also fighting for re-election is New Jersey Democratic Senator Bob Menendez, who won dismissal of corruption charges against him after a federal trial ended in a hung jury. Polls show the ethics case is weighing on Menendez with voters, making a race that should have been an easy win for Democrats more dicey.
Heavily GOP Districts

Yet, as Collins and Hunter are facing charges, independent political analysts say they're still likely to win their races because their districts are heavily Republican.
Collins was indicted in August in an alleged insider-trading scheme tied to his role on the board of an Australian drug company. Hunter and his wife were indicted the same month on charges of misusing $250,000 in campaign funds for personal expenses and lying about it on federal campaign finance disclosure forms. Neither consented to an interview.
The timing of the indictments prompted Trump to criticize his own attorney general, tweeting on Sept. 3: "Two long running, Obama era, investigations of two very popular Republican Congressmen were brought to a well publicized charge, just ahead of the Mid-Terms, by the Jeff Sessions Justice Department." Trump added, "Two easy wins now in doubt because there is not enough time. Good job Jeff......"
Hunter, who won his fifth term two years ago by 27 percentage points, also has questioned the timing of his indictment, suggesting political motivations by the Justice Department. Both congressmen have pleaded not guilty. Hunter's next court appearance has been set for Dec. 3, while Collins's trial isn't set to start until February 2020.
A Spectrum News/Siena College poll released Oct. 16 showed Collins leading McMurray by just 46 to 43 percent in a district that has 40,000 more Republicans than Democrats. The poll's margin of error was plus or minus 4.7 percentage points. A Monmouth University Polling Institute survey released Sept. 27 showed Hunter ahead of Democratic opponent Ammar Campa-Najjar by 49 to 41 percent with 10 percent undecided. The error margin was plus or minus 4.9 percentage points.
Collins, seeking his fourth term in the House, initially said he was suspending his campaign after being charged with insider trading. But in September he did a U-turn, saying New York election law makes it too difficult to take his name off the ballot and he didn't want to leave the seat vulnerable to Democrats.
He is accused of tipping off his son about negative results of a clinical trial for a drug being developed by Australian company Innate Immunotherapeutics Ltd. Collins, a shareholder and board member, had access to nonpublic information. His son passed the news to people who sold shares to avoid losses before the information became public, prosecutors said.
"Will voters show their loyalty to the president and their party inclinations by re-electing Collins? Or will they spurn the indicted pol and vote for Democrat McMurray despite their yearning for the House to remain in Republican control?" said Siena's Greenberg.
McMurray, in an interview, called Collins a "coward," contending he was avoiding public appearances. "It's extremely frustrating to run against a man who thinks he can just hide," he said. A Collins campaign spokeswoman didn't respond to questions about the race.
In the California race, the Monmouth survey showed that one in 10 voters in Hunter's district thought he was probably guilty of campaign finance fraud but plan to vote for him anyway. Trump defeated Democrat Hillary Clinton in the district by 15 percentage points in 2016.
"I think enough partisan Republicans are willing to vote for him no matter what, because they cannot imagine voting for a Democrat," said Gary Jacobson, an emeritus professor of political science at the University of California-San Diego. Another big advantage for Hunter is that his father, the senior Duncan Hunter, held the House seat for 28 years before him and is campaigning for his son.
"Obviously, it's not ideal," said Hunter campaign spokesman Michael Harrison, of the circumstances of running while indicted. Harrison said Hunter has been working to stay on issues important to the district, "rebuilding the military, defending the border, building the wall, cutting taxes."
But Hunter's opponent, Campa-Najjar, a former White House fellow during the Obama administration and communications director for the U.S. Hispanic Chamber of Commerce, said in an interview, "I'm a viable option to a corrupt congressman."
Campa-Najjar and McMurray said they're focusing on policies and other issues important to their districts. But among the initiatives McMurray announced is an anti-political corruption plan. And Campa-Najjar said Hunter's indictment "is part of a cumulative case we are making. He used to be a lawmaker, now he is a lawbreaker."
Campa-Najjar said he can already make that claim because Hunter has reimbursed his campaign for more than $60,000 in expenses that he determined were personal, mistaken or insufficiently documented. Campa-Najjar said voters were "turned off" when Hunter deflected responsibility by blaming his wife for the alleged misuse of campaign funds, or the Justice Department for bias.
When asked about Trump, both Democrats say they aren't ready to support calls for impeachment. "My job in Washington is not going to be to ruin the president," says McMurray.
But they're split on whether Nancy Pelosi should remain the House democratic leader. Campa-Najjar isn't calling for his fellow Californian to be replaced, while McMurray says it's time for someone else to lead House Democrats.
Most of more than two dozen U.S. senators and representatives who have faced indictments and trials since 1980 either resigned, didn't seek re-election, or lost their re-election bid.
But there are exceptions. Former Republican Representative Michael Grimm of New York won re-election in 2014 while facing indictment but resigned a month later after pleading guilty to a felony tax fraud count. He ran again this year, but lost a GOP primary.
Congressional research reports show that if indicted people win their races, but are later convicted, there is no constitutional provision or House rule requiring them to lose their seats -- even if imprisoned.
But the House can vote to expel any member deemed unfit to serve. Democratic member James Traficant Jr. of Ohio was expelled after a 2002 conviction on federal corruption charges.
McMurray and Campa-Najjar say they hope voters toss Collins and Hunter out first. McMurray conceded there may be more pressure on him now that his long-shot chances aren't so long, but also said Collins's "super-high" name recognition remains a hurdle. He said people encourage him wherever he goes.
The constant shout-out, he said, is: "You've got to beat that crook!"