Biden Shores Up Staff in South Carolina, Nevada: Campaign Update
(Bloomberg) -- Joe Biden is betting big on Nevada and South Carolina.
The former vice president's campaign is moving 60 staffers to those two states ahead of the Feb. 22 Nevada caucuses and the Feb. 29 South Carolina primary.
After poor showings in Iowa and New Hampshire, Biden has said he views the first four states as a group, highlighting South Carolina in particular as a state where he expects to do well.
"The rest of the nation is out there," Biden said.
But there's a risk to the approach, as some of the staffers are being moved from Super Tuesday states voting on March 3, which will account for more than a third of the pledged delegates needed to clinch the nomination.
Powerful Nevada Labor Group Declines to Endorse (4:10 p.m.)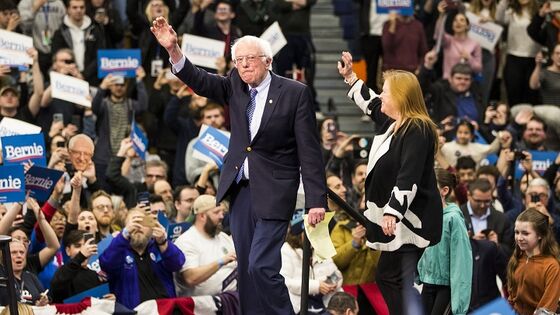 Nevada's powerful Culinary Workers Union on Thursday declined to endorse a Democratic presidential candidate ahead of the state's Feb. 22 caucus, depriving Joe Biden of a needed boost to his campaign.
The former vice president needed a jolt of support following a fourth-place finish in Iowa and a fifth-place finish in New Hampshire, but the union's decision not to back anyone deprives him of a chance to rally his flagging candidacy and to add organizational muscle.
"The official announcement is we are going to endorse our goals," the union's secretary-treasurer, Geoconda Arguello-Kline, said at a news conference. "We're not going to endorse a candidate, a political candidate."
But she mentioned just one candidate by name while delivering a prewritten statement -- Biden. "We respect every single political candidate right now. We know they are great people. We know Vice President Biden for many years. We know, he's been our friend," she said. -- Jennifer Epstein
Klobuchar Website Doesn't Address Black Voters (4:04 p.m.)
If you search for "African-American" on Amy Klobuchar's campaign website, you will get precisely one result, and it's a link to an outside new story.
Asked about that lack of attention to black voters -- a crucial constituency in the Democratic primaries -- during a call with the nonpartisan Black Economic Alliance Thursday afternoon, the Minnesota senator said that was an oversight that she would quickly address.
"I'll fix that on my website," she said. "I think I talk about it fairly often out there at forums and other things all over the country. I can fix that overnight. I don't know why that is."
Klobuchar then spelled out proposals that she said would help African-Americans, including spending $1 trillion on infrastructure, expanding the child tax credit and earned income tax credit and boosting spending on food stamps.
Later in the call, she said that it was "really good advice for me to gather all of this together and address it in one place."
Buttigieg Debuts Spanish Language Ad in Nevada (2:18 p.m.)
Pete Buttigieg's new TV ad in Nevada features him giving a central part of his election pitch in Spanish.
In the ad running statewide, the former South Bend, Indiana, mayor asks viewers to imagine "the first day after the Trump presidency" -- a line he has used in the Democratic debates.
"This particular brand of chaos and corruption will be over," he says in Spanish. "But these big issues, from the economy to health care, will not have disappeared."
Vermont Senator Bernie Sanders is also running an ad in Spanish in Nevada, which calls on viewers to "vote for the future today."
Trump Takes Victory Lap at Republican Annex (12:37 p.m.)
President Donald Trump took a victory lap with the Republican National Committee Thursday, days after sweeping the Iowa and New Hampshire presidential nominating contests with only token opposition.
On the same day that his campaign and the RNC reported raising more than $60 million in January, Trump made and an unannounced visit to the party's annex in Arlington, which is also home to his campaign headquarters.
According to a White House spokesman, Trump is there "for meetings and to thank campaign officials." He will be joined by campaign manager Brad Parscale and his son-in-law, Jared Kushner.
The Trump campaign and the RNC have been aggressively fundraising, and are heading into the general election with more than $200 million in cash on hand.
Democratic presidential candidates will meet for their next debate on Feb. 19 in Las Vegas.
Nevada holds its caucuses on Feb. 22, and South Carolina has a primary on Feb. 29.
(Disclaimer: Michael Bloomberg is seeking the Democratic presidential nomination. He is the founder and majority owner of Bloomberg LP, the parent company of Bloomberg News.)